GARMIN Zumo 350LM Motorcycle GPS Navigator
GARMIN Zumo 350LM GPS navigator is designed especially for motorcycling and is one the best choices for allroad touring. It has rugged housing and a large 4,3 inch touch screen display which works very well with the left hand and gloves on. The GARMIN Zumo 350LM is a basic motorcycle GPS navigator that has all the essentials features that the rider really needs, but leaves all extras out. The 350LM is the most rational and cost efficient allroad touring navigator so far.
Internal memory of GARMIN Zumo 350LM GPS navigator supports remarkable 100 routes and 1000 waypoints which can be extended with a micro SD memory card. New Zumo 350LMs include also lifetime map updates which is really good and extends the practical utilisation time. Before this it was somewhat reasonable to buy a new navigator instead of updating the current one, since the price difference was often quite minimal and new maps were expensive. Probably a small part of customers bought frequently new maps and kept the old device running.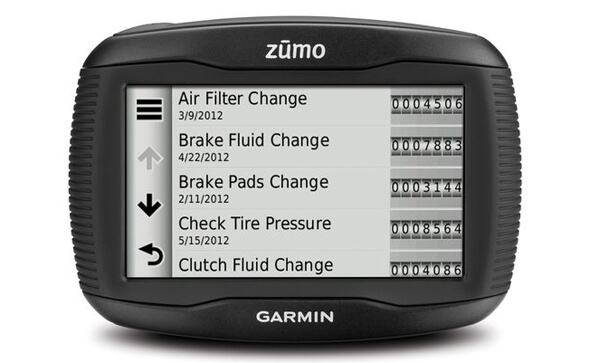 Those who need some help to keep track on bike service history, can use the Zumo 350LM as a log too. The log includes the date, a comment and the odometer reading. There are also several default service categories and a possibility to create custom categories. The basic features of GARMIN Zumo 350LM motorcycle GPS navigator are:
Rugged waterproof housing
TFT 4,3″ touch screen display
Bluetooth
Spoken directions
Lane assist with junction view
Speed camera warnings
Trip computer with offroad compass
Fuel tracking
Speed limit indicator
Point of interests (POIs)
Route sharing through GARMIN BaseCamp
Free route management software GARMIN BaseCamp
Calculator
Unit and currency converter
Alarm clock
Bike service history log
Micro SD memory card slot
GARMIN Zumo 350LM GPS Navigator Touch Screen Display
The large GARMIN Zumo 350LM GPS Navigator 4,3 inch touch screen display offers more visible map and larger buttons to work with fingers. The big map view helps to orientate when several junctions follow each other and the rider wants to get a better picture of the general direction. Also large buttons eliminate unintentional tapping of wrong buttons close by. This is relevant factor when tapping just shortly screen buttons while riding and zooming is one those buttons I tend to use quite often. Small buttons are especially problematic with colder climate gloves and small buttons in the left corners are the worst. The large GARMIN Zumo 350LM navigator display offers also enough room for a full keyboard which is practical when tapping addresses or naming point of interests for example. The GARMIN Zumo 350LM touch screen works well also in sunlight even without any sun visor.

GARMIN Zumo 350LM GPS Navigation
Navigating with GARMIN Zumo 350LM GPS navigator is very simple, even without really reading the manual. After selecting the destination, the route is shown in magenta and directions are at the top of the normal riding view. When the rider departs from the route, the Zumo 350LM recalculates a new route automatically. If the rider faces an obstacle such as a construction zone and the road is closed, by selecting a detour, the GARMIN Zumo 350LM finds an alternative route.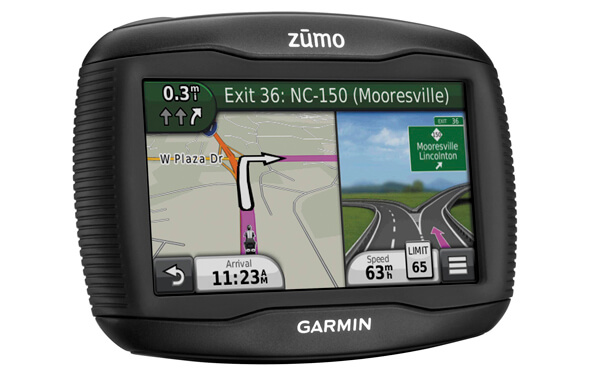 There are also assisting features such as spoken directions and the GARMIN Lane Assist provides junction views on display. Both of them are useful in dense traffic with frequent exits and several lanes, by allowing the rider to concentrate on traffic and riding. Another navigation feature is the Track Back command which is useful when making spontaneous detours or riding to a dead end. For allroad touring riders the trip computer feature is a practical tool to monitor the refuelling range especially, when the allroad bike has no trip computer in the dashboard. Another practical tool is the digital compass which is useful when offroad navigating with a paper map outside the charted territories.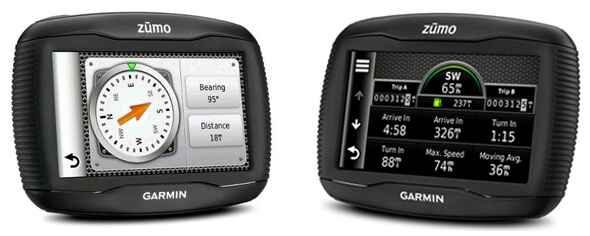 GARMIN Zumo 350LM Motorcycle GPS Navigator Mount Cradle
The standard GARMIN Zumo 350LM motorcycle GPS navigator mount cradle is enough for most of us, but those who take more challenges, ride a lot on gravel and even offroad, a more robust mount cradle would be in order. The TOURATECH designs such handlebar mounts with a lock to secure the navigator in place. This is also an interesting safety feature at the gas stations and the parking lot while being shortly out of sight.

GARMIN Zumo 350LM Motorcycle GPS Navigator Package
The GARMIN Zumo 350LM motorcycle GPS navigator package is a complete set for the most of us, but a TOURATECH robust handlebar mount would be an upgrade to recommend. A standard GARMIN Zumo 350LM motorcycle GPS navigator package includes:
Zumo 350LM GPS navigator device
Preloaded City Navigator® map (local variations) with life time updates
Motorcycle handlebar mount
Car mount with suction cup
Car power cable
AC wall charger
USB cable
Manual