Medium Size Allroad Touring Motorcycles
Start around 800cc downwards and provide you good performance with less weight. These enduros are especially good for solo riders and even more demanding terrains such as trails. Engines in question deliver a reasonable and very practical amount of power and in relation to weight these enduros are clearly more agile than big touring enduros.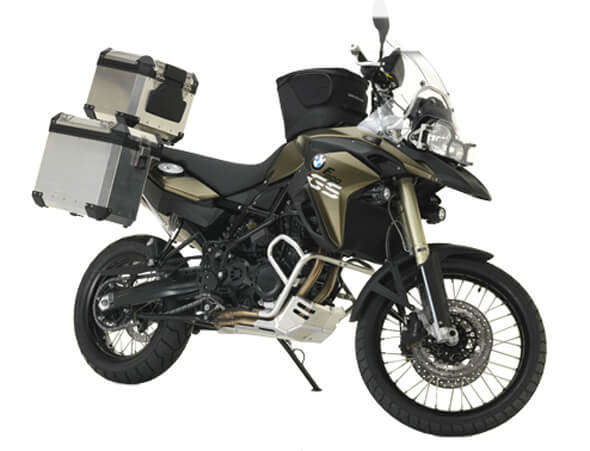 Dynamic Allroad Touring Enduros
The medium size touring enduros are the most dynamic allroad touring enduros to the widest range of versatile adventures. Less limitations and more excitement thank you. When you are focusing outside urban areas and setting your preferences mainly to functionality giving less weight to the highest comfort, this category is probably all yours.

In general medium size allroad touring enduros are very easy to ride and practical also for every day biking. Best known example of the medium size touring enduro category would the BMW F800GS which has been very popular due to obvious reasons. BMW F800GS is designed and tuned exactly for this purpose and there is a significant amount of experience and history behind it. Another excellent choice would be TRIUMPH Tiger 800XC which is also exactly what the doctor ordered.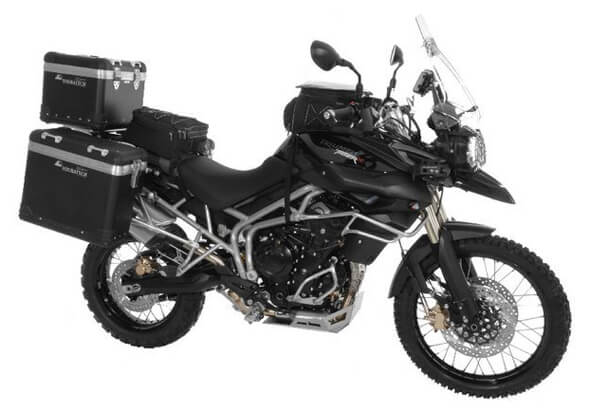 MS Touring Enduro Controls & Instrumentation
Generally the riding controls are down sized to ABS, perhaps due to the heavy competition in this category, and less instrumentation comes as standard. Traction and stability controls are basically not available, but that is not relevant for medium size enduro touring. Heated grips may come as standard, but the rest would be accessory.
Upgrading Adventure Touring Motorcycles
In case the bike comes with aluminium rims, I would change them to spoked rims and go with gravel tyres, perhaps even offroad capable, unless you are planning to stay on tarmac. Some of the medium size touring enduros are available in two types. One for urban & tarmac and one for adventuring.
The accessory producers provide a complete range of touring equipment for the medium size allroad touring enduro segment. Depending on your make and model, you probably need at least the hand guards, engine cover, crash bars and taller windscreen from the list. Fog lights, head light-, cooler- and radiator covers are also useful when the gravel roads are calling, but have a look at TOURATECH, Wunderlich, AdventureSpec and ALTRider to see if you could find something additionally.
Loading Adventure Touring Enduros
Depending on your hunger for challenge, you might choose between robust aluminium pannier systems or lighter saddlebag & pack options. Basically I would leave the top case out or save it for urban tours and use tail pack options which provide better balance for challenging circumstances. The weight should be put as low as possible in order to maintain balance and best maneuverability. If you are going to put up a big load, the aluminium panniers are ideal due to the reason that you can put up more packs on top- and both front and backside of the panniers. There are several good alternatives designed by Hepco Becker, Givi and ZegaPro at least. If you are rather travelling light and taking few challenges along the way, I would go with a saddlebag option along with a tail-, back- and tank bag. Today those packs and bags are water tight and durable. Check at least KRIEGA, GiantLoop, Wolfman and ORTLIEB.
Long Distance Touring Fuel Tanks
The standard fuel tank is usually relative small (16-19 litres) which means that extra fuel is often necessary. There are travel tank options available at least by TOURATECH, but even if there are non for your favour, a separate canister with proper rack turns your bike into long distance touring at the latest. As soon as you can carry fuel around 33 litres and more altogether, you could travel beyond 700 kms depending on speed, routing and weight factors in question. Pay also attention to weight balance with the fuel reserves and note that you can empty the canisters first.
Share Your Passion On