KLIM Dakar Enduro Gloves with Short Cuffs
KLIM Dakar Enduro gloves have short cuffs and they are designed with exact handlebar grip in mind, also featuring efficient ventilation for active riding in high temperature offroad conditions such as in the DAKAR rallies. It is clearly a basic dirt bike riding glove with excellent fit.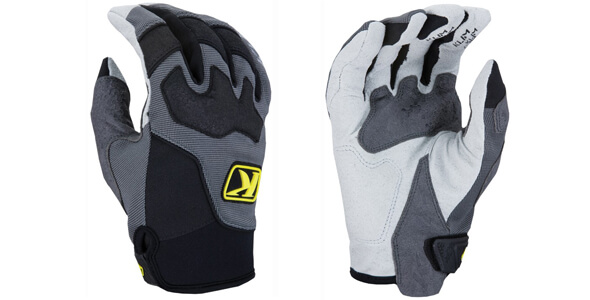 The KLIM Dakar Enduro gloves come in 4 colors. The backhand is very breathable stretch corded nylon. The Dakar glove is slim, light weight and it adapts to the grip posture easily. The fingertips are silicon striped for better brake and clutch lever grip. There are no impact protectors to interfere the grip contact or riding comfort. The KLIM Dakar Enduro glove palms, thumbs and knuckles are reinforced with synthetic CLARINO leather overlay and foam padding. The micro fibre CLARINO® leather remains soft and flexible, even in cold and wet conditions. It is lighter and 3 times stronger than real leather being very abrasion and tear resistant.

The KLIM Dakar Enduro gloves have so called pull on tabs and micro VELCRO® closure which is not pulling the base and mid layer cuffs. The Dakar gloves are simple, easy to fall for and inexpensive warm weather adventure touring gloves without crash protection features. The key KLIM Dakar Enduro glove features: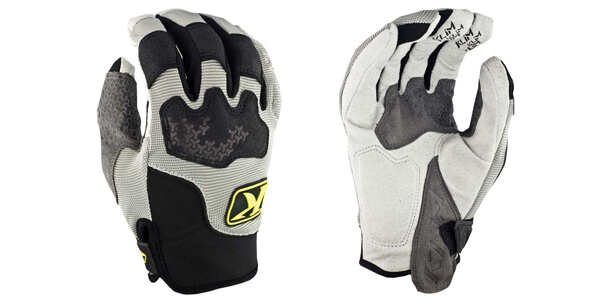 Breathable stretch corded nylon back hand
CLARINO leather palms and reinforcements
Silicon stripes on finger tips
Pull tab on palm side
Micro VELCRO® closures
Alternative colors Light- or Dark GREY, RED or BLUE
Share Your Passion On