BARKBUSTERS Motorcycle Hand Guards with Rugged Frame
BARKBUSTERS motorcycle hand guards with a rugged aluminium frame are designed for adventure and dual sport touring. This configuration consists of an aluminium hand guard frame and 4 alternative wind guards. The light weight backbone is exceptionally strong and 2 mounting points on the handlebar increase the rigidity. The aluminium BARKBUSTERS guard is one of the most solid hand guard structure on the market. The ALU frame alone without the plastic wind guards could be used as a rugged crash guard allowing the best possible ventilation features around the hands during the hottest conditions, on top of the safety factors. Alternatively the aluminium BARKBUSTERS motorcycle hand guard frame could be upgraded with a pair of wind guards called the STORM, VPS, JET and the CARBON. The accessory wind guards could be changed or removed easily by opening a couple of screws and placed in the luggage during the trip when the temperature rises. This is not the case with most of stock bike hand guards and the BARKBUSTERS motorcycle hand guards with rugged aluminium frame are a very competitive alternative for demanding offroad conditions.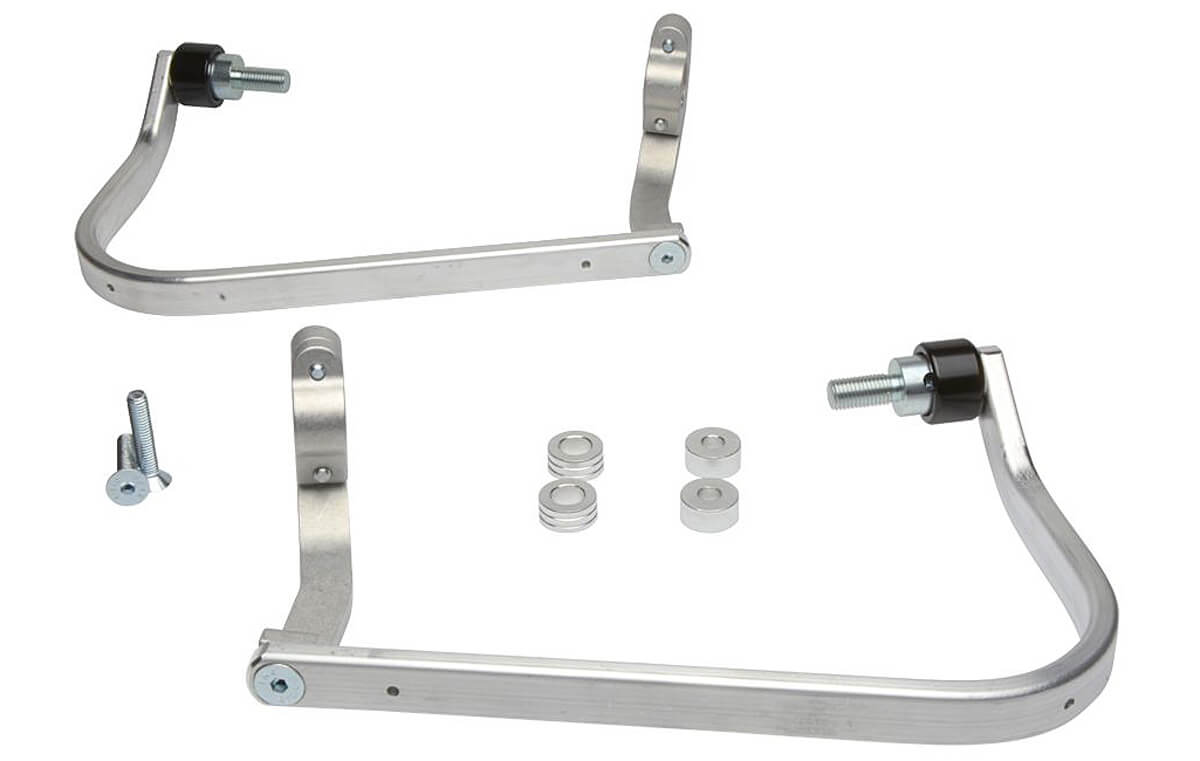 The BARKBUSTERS motorcycle hand guards with rugged aluminium frame offer one of the highest level of impact and crash protection features for hands and the levers. Thanks to the heat treated aluminium backbone and the 2 solid mounting points on the handlebar. Although the BARKBUSTER wind guards could be installed with additional 2 mounting options. In addition to the rugged aluminium frame with 2 mounting points and bike specific hardware such as the BHG032 kit above for a BMW R1200 GS Adventure, the wind guards could be also installed with single point 22 and 25 mm. handlebar clamps (7/8 or 1") or bar end mounts (both hollow & threaded bars) as in the picture below. Note that there is a clear difference in these alternatives and the single point mounts are not as protective as the 2 point backbone from the crash protection point of view. The design of the bike specific BARKBUSTERS motorcycle hand guards with rugged frame is very accurate which makes the installation quick and simple. The mounting instructions are included in the delivery package, but any handyman could see right away how it`s done.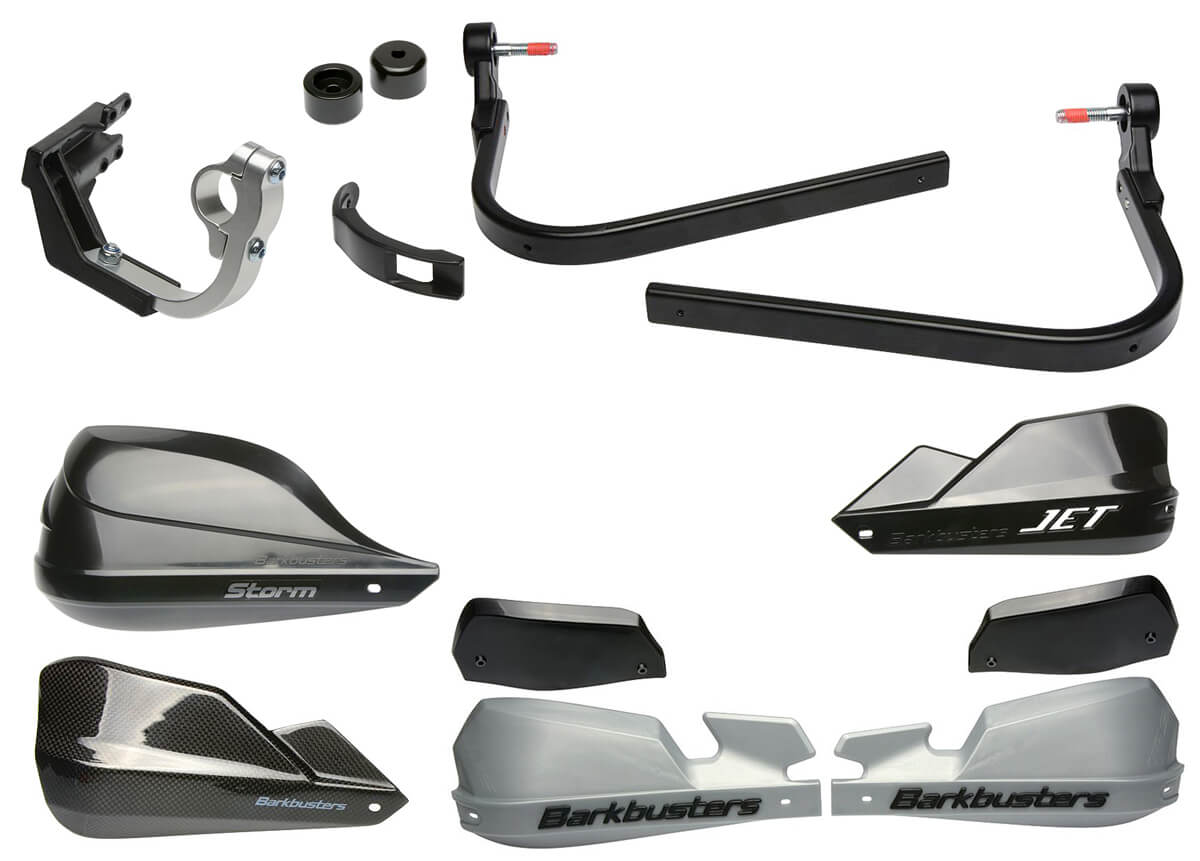 The BARKBUSTERS motorcycle hand guards with rugged aluminium frame could be upgraded with plastic STORM guards offering extensive protection against the bush, flying debris and a harsh weather which makes the combination ideal for moderate and low temperature dual sport touring conditions. One step smaller alternative would be the VPS guards which are designed for offroad and warmer riding conditions. The VPS guards offer less protection in STD configuration, but the guards can be equipped with additional wind deflectors. The VPS deflectors can be installed in 2 positions or removed according to weather conditions and the phase of the season. The aluminium BARKBUSTERS hand guard frame could be equipped with a plastic skid plate against the abrasion when using the smaller VPS guards. The STORM guards are larger and offer no room for an additional skip plate. In addition the aluminium frame could be equipped with a bar end weight which reduces handlebar vibrations. For example the bike specific BMW R1200 GS Adventure 2013 STD kit includes bar end weights in form of a threaded steel bolt and a bar end cap. The key BARKBUSTERS motorcycle hand guards with rugged aluminium frame features are:
Rugged aluminium hand guard frame
Universal & model specific mounting options
Complete mounting hardware / parts
2 point mounting system with
Handlebar end mounts (hollow & threaded)
Handlebar clamp mounts
Installation instructions incl.
Single point handlebar clamps (optional)
Single point handlebar end mounts (optional)
Large plastic STORM guards (optional)
Medium size VPS guards (optional)
Medium size JET guards (optional)
Medium size CARBON guards (optional)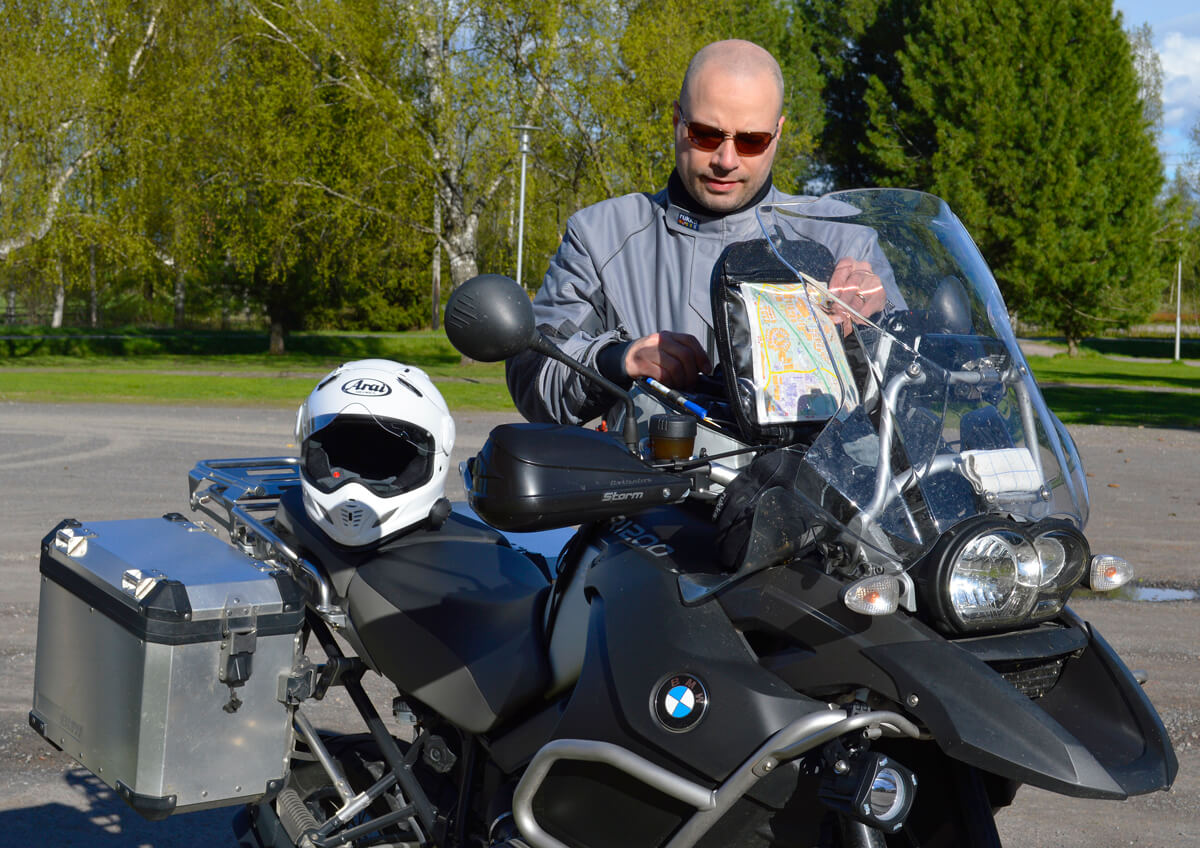 Share Your Passion On