SUZUKI VStrom 1000 ABS 2015 Touring Motorcycle
SUZUKI VStrom 1000 ABS 2015 is the newest generation of SUZUKI allroad touring motorcycles. The SUZUKI has a very long history in allroad, offroad riding and dakar racing since 1988 when SUZUKI DR750S was launched. After the launch of SUZUKI DR800S 1997 the factory stepped out from the adventure touring enduros and concentrated on urban models. I am so glad that SUZUKI is back and interested in the allroad segment. There has been some problems and the previous VStrom generation was drawn back 2009 due to tough EU emission regulations. Development took place and the VStrom has now a popular V2 engine and an exhaust system which applies to regulations, is lighter and generally fits very well to allroad touring purposes due to a torque and an easy going nature. Nevertheless the SUZUKI VStrom 1000 ABS 2015 is far from it`s origin and hardly an interesting choice for demanding offroad conditions and adventurous routing without major upgrades.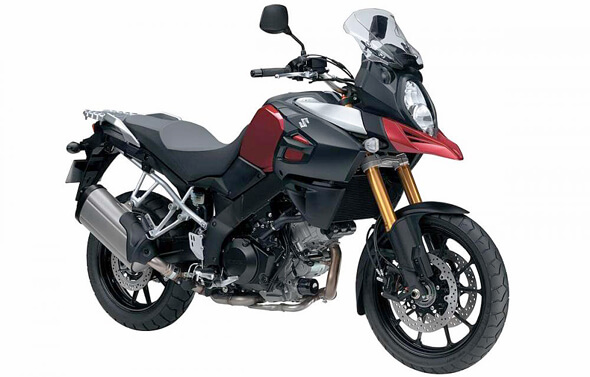 The basic SUZUKI VStrom 1000 ABS 2015 is clearly an urban touring motorcycle due to the cast aluminium wheels, entirely urban tyre tread patterns, slightly less than average size of fuel tank, modest alternator capacity, street type foot pegs, absence of hand guards, engine protection, low octane fuel settings, but also due to permanent ABS system and a modest ground clearance. The VStrom is from it`s nature more comfort oriented and slightly conventional touring enduro than a sporty high tech adventure motorcycle. The wind cover is rather modest, although quick adjustable, but the VStrom has no cruise control what so ever. The SUZUKI has been able to reduce the weight and the VStrom is only few kilos heavier than the market leader BMW R1200GS 2015 and 8.17kgs (18lbs) lighter than the previous generation. The V2 engine, frigid frame and easy handling features make the SUZUKI VStrom 1000 ABS 2015 a very practical touring enduro and good for everyday motorcycling.
SUZUKI VStrom 1000 ABS 2015 Features
The SUZUKI VStrom 1000 ABS 2015 offers a traction control TC system as standard. There are 2 riding modes and an off setting. The mode 1 allows some wheel spin and the mode 2 is more restrictive, stepping in earlier. The setting traction control OFF can be done while riding, but the throttle must be first closed. In addition the SUZUKI Clutch Assist SCAS provides smooth down shifting and lighter clutch lever operations. Unfortunately the ABS can not be switched off without taking the fuse off. This may be irrelevant for urban riders, but important for gravel road riding. How hard can it be to include a simple ON/OFF switch? The key SUZUKI VStrom 1000 ABS 2015 features are:
Seat height 850 mm. or 33.4in.
Cast aluminium wheels
Tyres 110/80 R19 and rear 150/70 R17
Engine type V2 (liquide cooled)
Max performance 99HP and 103Nm.
Alternator capacity 490W
Onboard computer
12V cockpit power outlet
Electronic immobiliser system
Chain driven
ABS (off without fuse)
Traction control TC
Weight fueled 242kgs or 533.5lbs.
Payload capacity 198kgs or 436.5lbs.
Fuel tank 20L, 5.2USgal., 4.4UKgal. (min. 95RON – 89AKI)
The SUZUKI VStrom 1000 ABS 2015 KYB suspension can be adjusted for versatile roads and riding with a passenger. The VStrom windshield can be adjusted manually at any time without any tools or knobs. The windshield has a ratchet joint mechanism which can be turned by hand easily to 3 positions and vertically lifted in 3 different heights (+15 and +30 mm.) with basic tools. The VStrom single seat can not be adjusted, but it is designed comfort in mind. The front end is narrow to allow better reach to the ground with both feet. Typical for weight reductions, the VStrom has no center stand as standard feature which makes regular chain maintenance slightly inconvenient.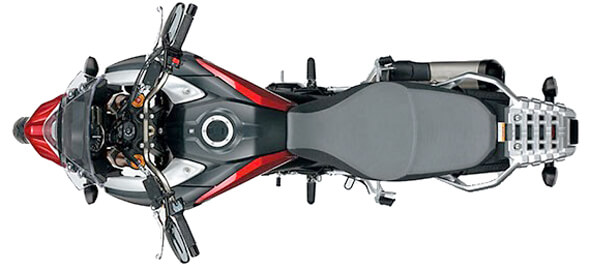 The SUZUKI VStrom 1000 ABS 2015 has also few short comings like any other motorcycle. The compact riding ergonomics may be good for average size of riders, but since the single piece seat, the handlebar nor the foot pegs can not be adjusted, the VStrom would not fit to all of us without modifications. In addition the VStrom is not designed for riding in standing posture which is of course less relevant for urban touring, but a factor for those with more attempt. The VStrom is not ride by wire throttled and there is no cruise control which would be a relevant STD feature for any touring bike today. The lighting system is not based on LED which leads to the need for a bigger alternator capacity due to the twin headlights, a number of traveling electronics, a pair of proper fog lights and grip heaters. A relative small windshield, absence of side deflectors and hand guards leave the VStrom rider slightly unprotected against the elements.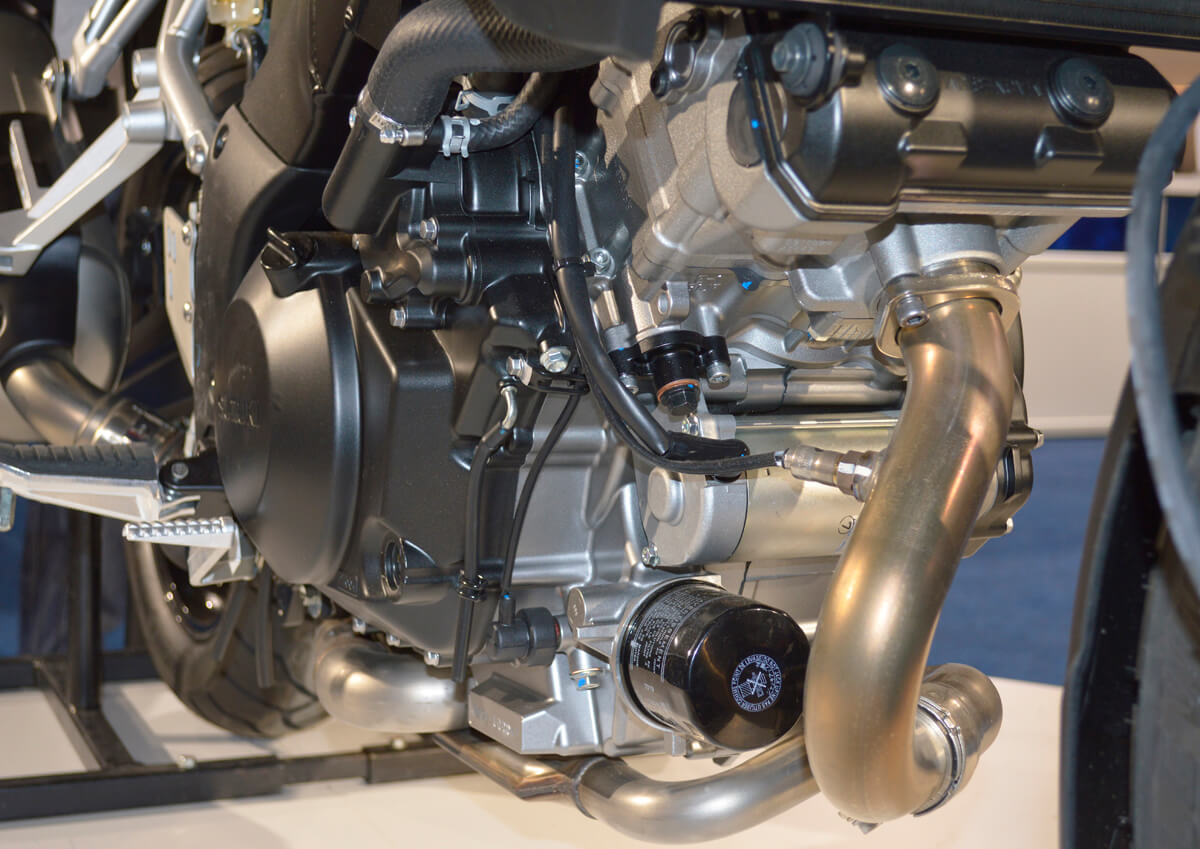 SUZUKI VStrom 1000 ABS 2015 Engine
The SUZUKI VStrom 1000 ABS 2015 engine provides very practical bottom and mid range torque which is good for touring purposes. Also heavier flywheel speaks from smoother engine performance and better traction control. The SUZUKI V2 engine offers peak torque already at 4000RPM and the single exhaust system with the Suzuki Exhaust Tuning SET technology, generates even smoother and more controlled engine performance. The exhaust system also reduces the weight about 4,7kgs (10.4lbs.) along the 1,5kg (3.3lbs) lighter water cooling system. The V2 has no oil cooler anymore (1kg/2.2lbs). Nevertheless, the SUZUKI VStrom 1000 ABS 2015 is hardly a sporty touring enduro. There is enough power for touring even with the passenger, but the nature of this V2 is in comfort and practicality which makes a lot of sense.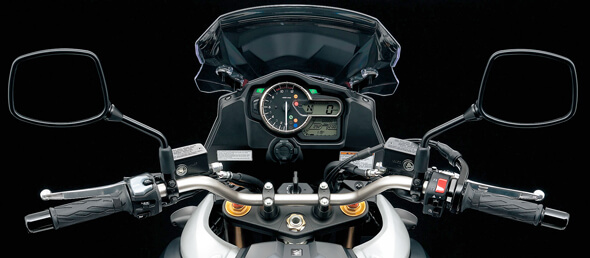 SUZUKI VStrom 1000 ABS 2015 Instrumentation
The SUZUKI VStrom 1000 ABS 2015 has a modern and basic LCD instrumentation with analogue tachometer. Everything is basically in order and the setup works well, but there is some cap to the market leading KTM 1190 Adventure 2015 instrumentation and no room for a GPS navigator above the cluster. The SUZUKI VStrom 1000 ABS 2015 LCD display backlight can be adjusted and the display offers the following:
Speed
Odometer
Trip 1 & 2
Gear in use
Traction control TC modes
Time
Outside temperature
Coolant temperature
Voltage
Fuel gauge
Average & current fuel consumption
Fuel range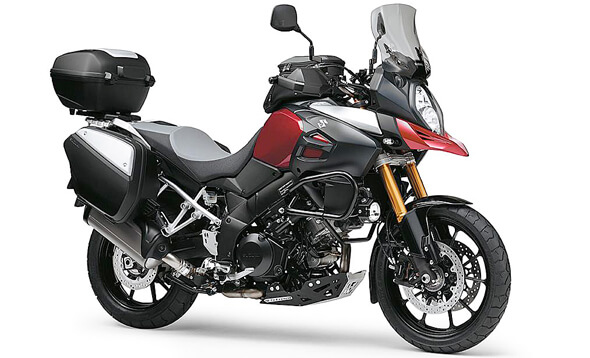 SUZUKI VStrom 1000 ABS 2015 Equipment Accessory
The basic SUZUKI VStrom 1000 ABS 2015 is rather conventional urban touring motorcycle which requires proper hand guards, heated grips, taller touring windscreen, center stand and set of auxiliary LED lights to support the travel. I would also recommend to install a chain lubrication system which makes the maintenance a little bit easier. Those who enjoy the gravel and dirt roads could additionally invest on proper engine protection, skid plate and perhaps a set of cross spoked rims depending on how well maintained the dirt roads are. Fortunately the SUZUKI offers both lower and taller riding seats which improve the overall ergonomics a bit more. The OE list has several add ons, but not from the most rugged and hard core offroad point of view. Nevertheless the SUZUKI VStrom 1000 ABS 2015 could be also equipped for slightly adventurous routing.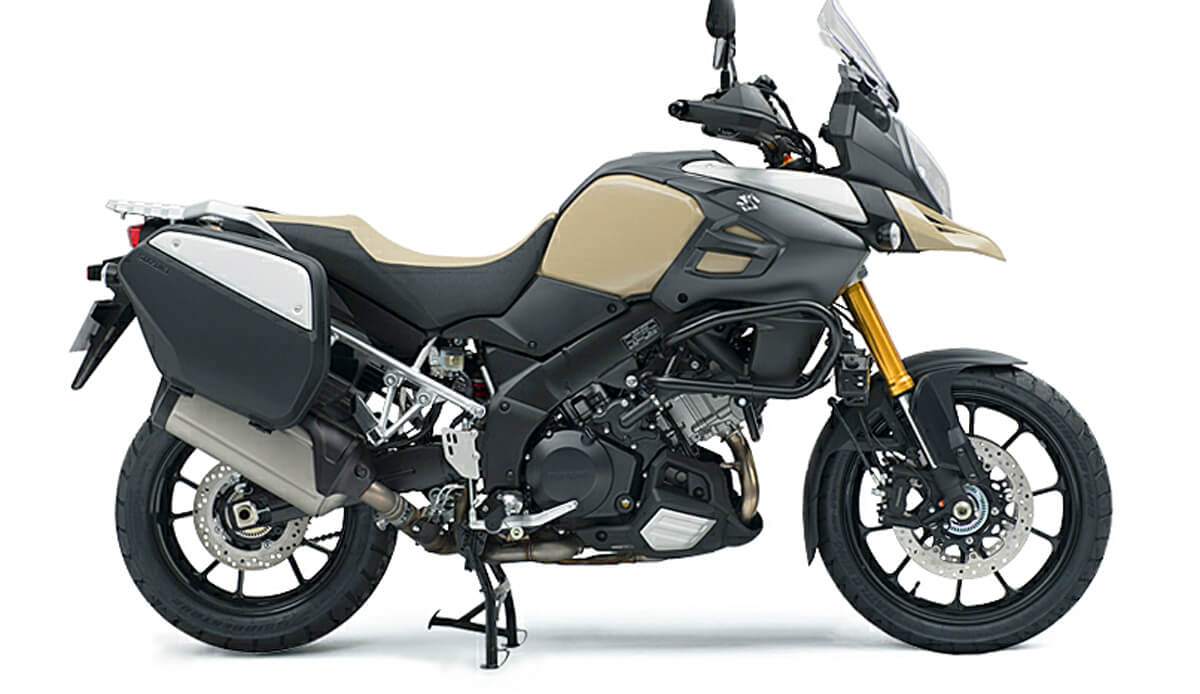 The factory offers two upgrade versions from the basic SUZUKI VStrom 1000 ABS 2015. The ADVENTURE upgrade means plastic hand guards, touring windscreen, street oriented side cases with brackets, radiator crash bars and a light engine cover. This tune up would be called the SUZUKI VStrom 1000 ABS Adventure 2015 and it`s available for some of the major markets like the US and the UK. Another factory upgrade would be the SUZUKI VStrom 1000 ABS Desert 2015 which is available for only few markets like the UK. The DESERT tune up version comes with a center stand, plastic hand guards, radiator protecting crash bars, auxiliary LED lights, plastic engine cover, heated grips, street oriented side cases with mounting brackets and a GARMIN Zümo 590LM navigator with a handlebar mounting bracket. GIVI offers a full set of luggage solutions for the VStrom.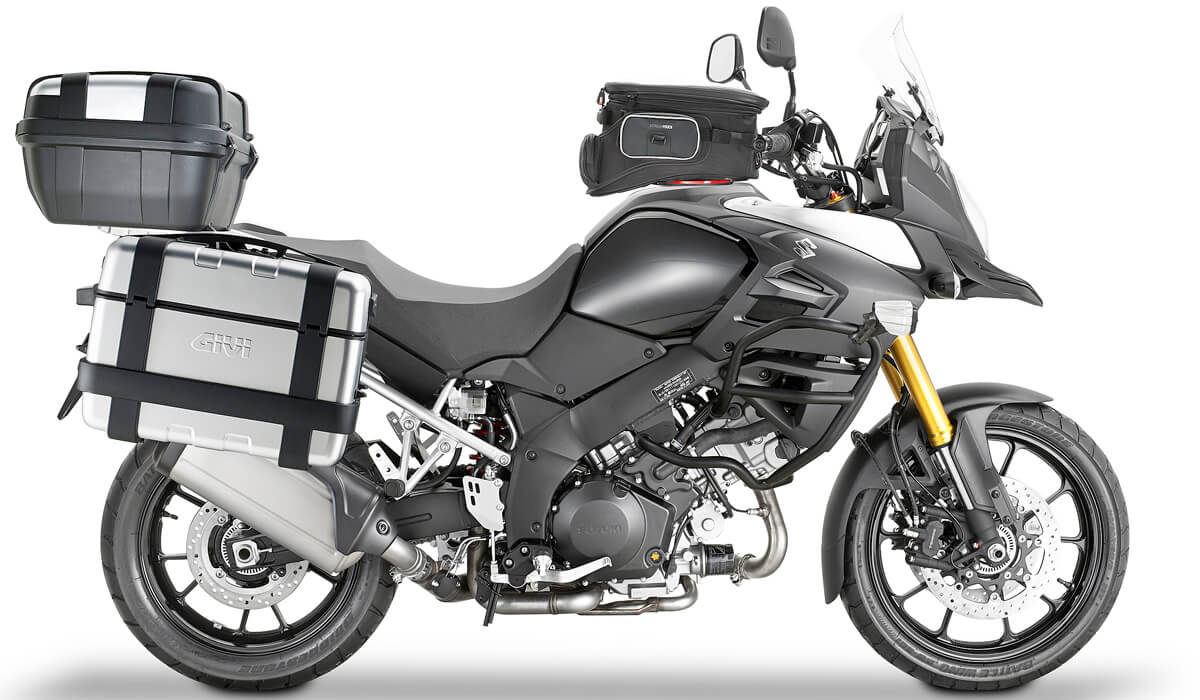 SUZUKI VStrom 1000 ABS 2015 Comparison
Compared to the MotoGuzzi STELVIO 1200 ABS 2015, the SUZUKI VStrom 1000 ABS 2015 is 39kgs (86lbs.) lighter, but also offers 6HP/10Nm. less engine performance and 12L (3.2USgal. – 2.6UKgal.) less fuel capacity,. Although 8,4kgs (18.5lbs.) comes from the difference in fuel capacity alone and then some from the different drivetrain type. The VStrom is chain driven which is much lighter than the shaft. They are both top heavy and hardly sporty. Basically they are quite traditional urban touring enduros in today`s standards and therefore more similar than different.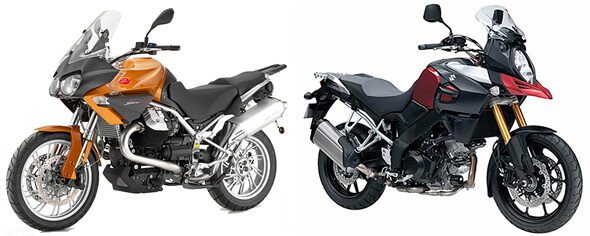 They both have cast aluminium wheels, modern instrumentation with onboard computer, basic riding aid systems, power outlet in the cockpit and an average alternator capacity. The traction control systems are more simple and less advanced without any offroad features, but the STELVIO ABS can be also switched off unlike the VStrom ABS. The VStrom is ride by wire throttled, but has still no cruise control either. Neither has low octane fuel settings which is not alarming for urban bikes, but a kind of small short coming if use in allroad touring. The STELVIO has slightly better ergonomics with larger windscreen and adjustable rider seat, but the VStrom single piece seat can be only changed to higher or lower seat option. The MotoGuzzi STELVIO 1200 ABS 2015 is more comfortable and stronger in touring especially with the long fuel range. The SUZUKI VStrom 1000 ABS 2015 is slightly more agile and stronger in everyday biking.
Share Your Passion On