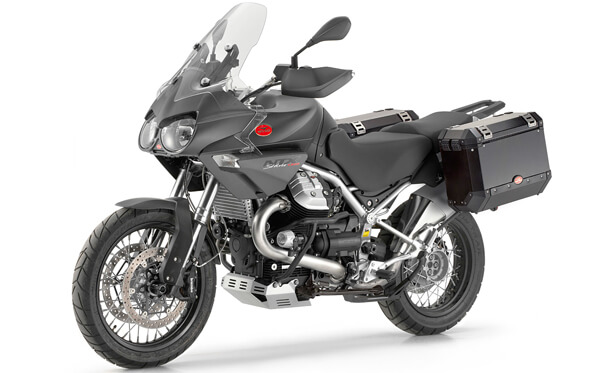 MotoGuzzi STELVIO 1200 NTX 2014 is a more traditional allroad touring motorcycle with today`s standards. The factory upgrade version consists of few basic allroad touring related accessories, providing an interesting package for those who are looking for a comfortable ride, proper basics without the leading MC -technology and an extensive fuel range. With appropriate allroad tyres, the STELVIO handles dirt & gravel roads as long as the routing is not very demanding. The bike is top heavy, but surprisingly fluent in reasonable offroad conditions, thanks to the torque V2 -engine. On the other hand, the big fuel tank counter balances the rear end payload which becomes very relevant factor with the full load. The STELVIO has a traditional suspension system with preload adjustments and there are no electronic upgrades. The MotoGuzzi STELVIO 1200 NTX 2014 is also very practical everyday bike and embraces the highway speed.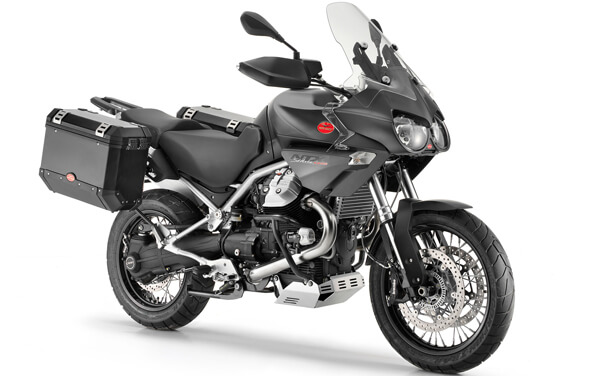 The MotoGuzzi STELVIO 1200 NTX 2014 provides up to date touring performance and one of the most useful ready to travel tune up level. The STELVIO has ABS and traction control systems as standard feature. Both electronic riding aid systems can be also switched OFF, but they offer no advanced offroad modes like the high tech competitors. In addition, the ABS is not integrated and the STELVIO -rider has to practice simultaneous foot braking in order to maintain the feel to the rear end. One short coming would be the absence of the cruise control for such an all-rounder. The MotoGuzzi STELVIO 1200 NTX 2014 -ergonomics are above the average and the wind cover is one of the largest. Added protection comes in form of crash bars and engine skid plate, but also with a pair of fog lights. The NTX -package is completed with aluminium side panniers, giving an impressive overall appearance.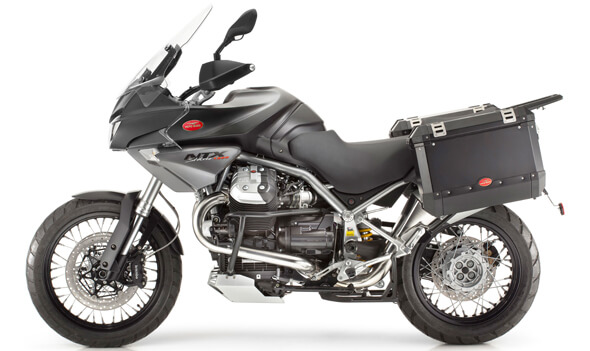 The MotoGuzzi STELVIO 1200 NTX 2014 provides an average alternator backup for electronics, but there are two 12V power outlets to plugin. The STELVIO -instrumentation is modern and supports the navigation, but there are no dashboard structures for mounting an accessory GPS -navigator above the cluster. Although the STELVIO has the largest fuel tank and longest range, there are no low octane fuel settings. That`s in line with the overall features and the true potential, but also good upgrades for the next generation. The STELVIO competes more directly with the CrossTourer, Explorer and the SuperTenere, but without any doubt it has a clear clientele and it`s arguments in favor. Read more about the MotoGuzzi STELVIO 1200 NTX 2014 here.