Alpinestars GTS X-Trafit Motorcycle Gloves with Long Cuffs
Alpinestars GTS X-Trafit motorcycle gloves with long cuffs and a waterproof layer are very competitive alternatives for riding in moderate, low temperature and changing weather conditions. The GTS gloves offer extensive protection features against the weather and aggressive abrasion during a slide. Slim, adjustable and long cuffs offer additional weather protection and can be placed both on top of the jacket or below the sleeves according to personal preferences and conditions. A strong VELCRO® wrist closure secures the GTS gloves well in place. The Alpinestars GTS X-Trafit motorcycle gloves have a combination of light weight leather and elastic textile structure which provides long term comfort, excellent fit and improved feel to the bike. The X-Trafit comes with a Gore-Tex® membrane providing a full wind and waterproofness, but also allowing breathability when temperature goes up. The significant amount of textile panels in the GTS keeps the overall weight low and dries the gloves fast after the rain.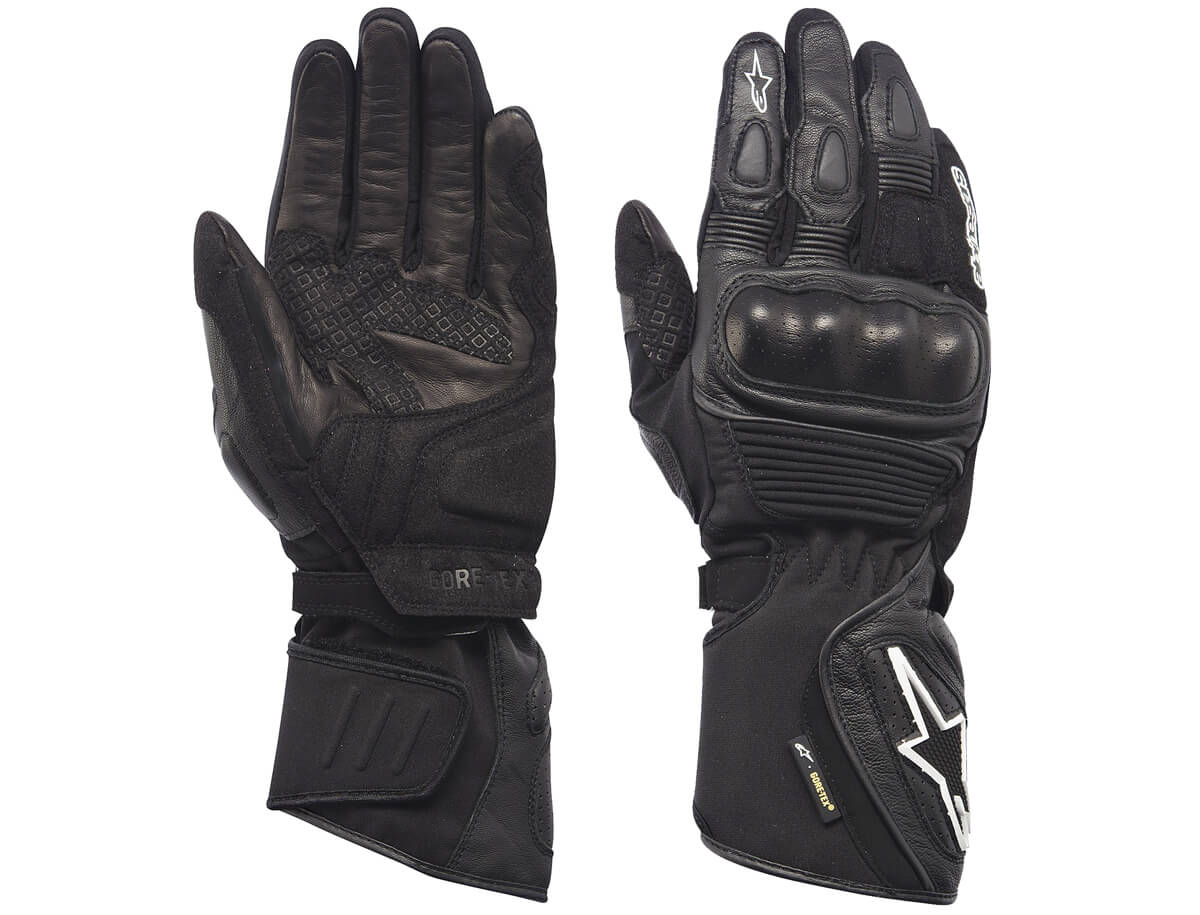 The Alpinestars GTS X-Trafit motorcycle gloves offer most extensive protection against the elements. In addition to long cuffs which can be placed on top of the sleeves, the 3 layer X-Trafit includes the wind and waterproof Gore-Tex® membrane keeping the hands dry. When conditions warm up, the X-Trafit is breathable and able to evaporate the excess heat which keeps the hands more comfortable and the skin feels dry. The GTS 3 layer X-Trafit is laminated together and feels like a single layer. This means also that the layers are not rubbing each other, nor forming any wrinkles which could damage the skin over time. The lamination also extends the lifetime of the Alpinestars GTS X-Trafit motorcycle gloves. The X-Trafit gloves simply fit better, offer improved grip and feel to the handlebar. Improved feel translates to better control and handling of the bike. The pre-curved GTS structure, flex panels on articulations, textile finger fourchettes and backhand eliminate the pull effect in the grip posture completely.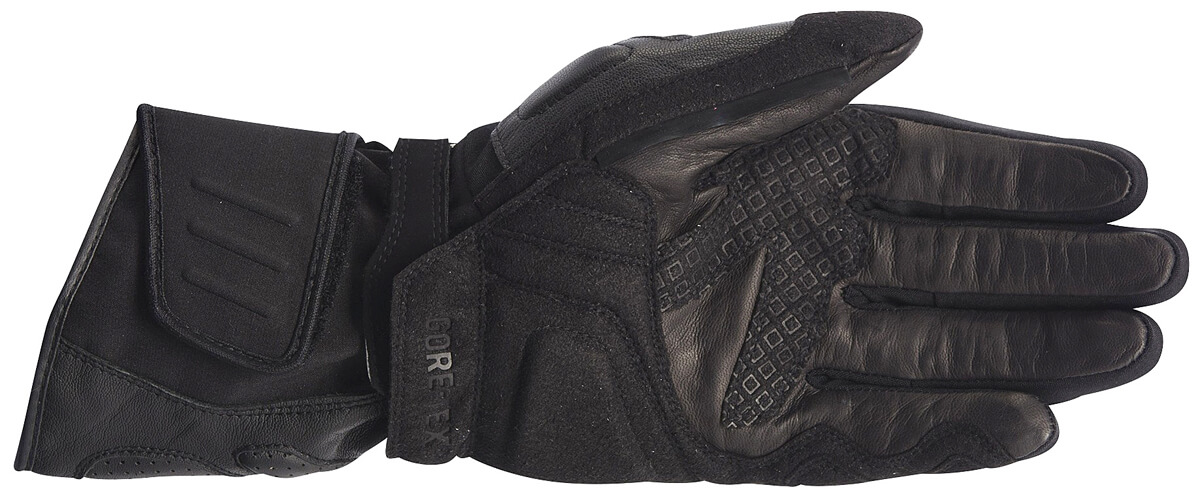 The Alpinestars GTS X-Trafit motorcycle gloves offer versatile crash protection features in addition to extensive weather protection. In general the GTS gloves are abrasion reinforced with synthetic suede on palms and high wear areas. Long cuffs offer additional abrasion protection around the ULNA bone area in addition to EVA foam padding and leather reinforcements. On the GTS glove backhand side 4 fingers have EVA foam cushions with leather overlay. An anatomically molded PU knuckle guard with leather reinforcements offers the best impact protection. The pinky and the ring finger are linked together with a suede bridge to ensure that the smallest finger follows the ring finger during a slide. In general the pinky has an extensive suede overlay all around, providing excellent abrasion protection. The GTS palm area is protected with a large foam padding and the suede abrasion reinforcement extends over the palm on top of the wrist. The left thump has a long and flexible TPR visor wiper which is every now and then very handy if not even necessary. The key Alpinestars GTS X-Trafit motorcycle glove features are:
Leather & elastic textile shell construction
X-Trafit technology with
Gore-Tex® waterproof membrane
3 layer laminated structure
50% polyamide
29% real leather
14% synthetic suede
6% polyurethane
Lining 85% polyester & 15% polyamide
Pre-curved shape
Full leather palm
Textile finger fourchettes, backhand & cuff
PU knuckle guard & leather reinforcement
Elastic backhand & finger articulations
EVA foam padding on heel & 4 fingers
Reinforced suede heel tab extension
Pinky & ring finger suede bridge
ULNA bone foam padding & leather reinforcement
VELCRO® suede wrist closure & cuff adjustment
Long TPR visor wiper (left thump)
Color alternatives full BLACK or White & Red accents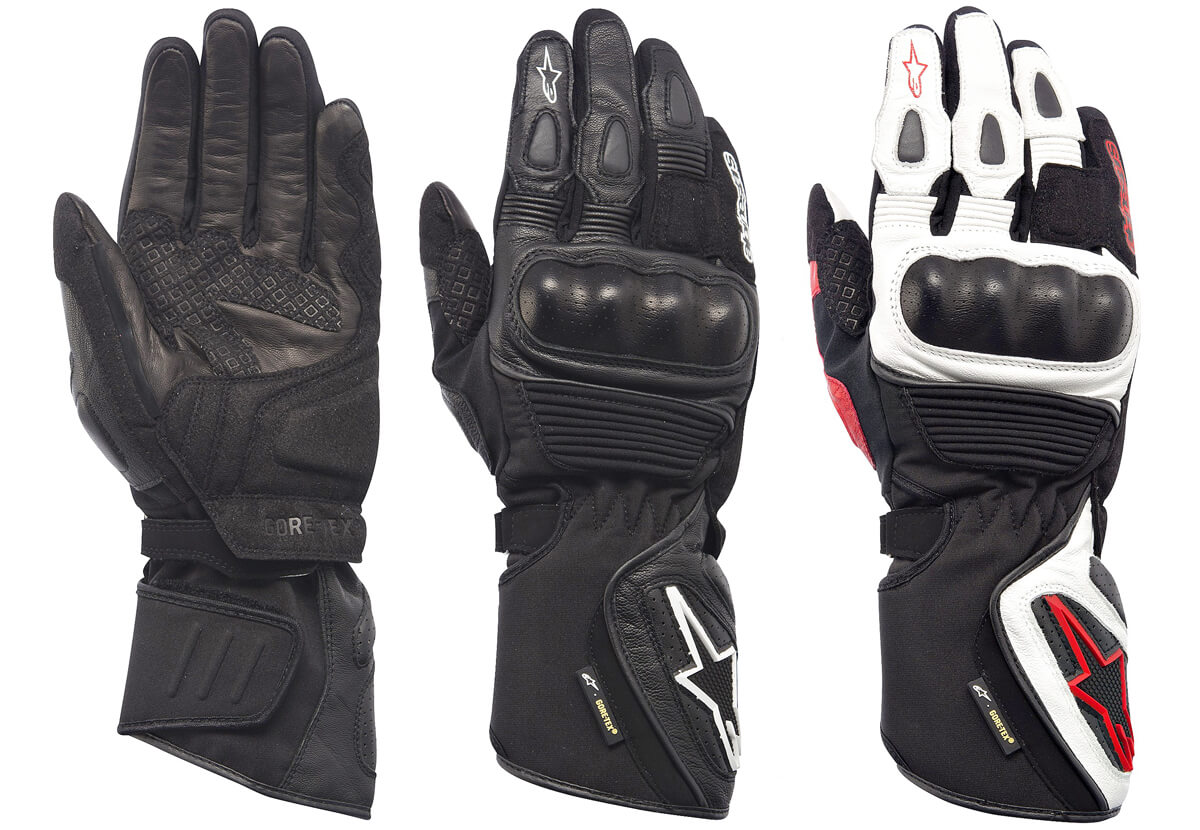 Share Your Passion On