Allroad Motorcycle Riding Boots & Dual Sport Footwear
Appropriate allroad motorcycle riding boots play a significant roll in touring comfort and riding safety from the motorcycling apparel point of view. There are plenty of interesting alternatives in several categories for various preferences and riding conditions. Ventilation, crash- and rain protection become very important due to the nature of offroad motorcycling. Depending on the character of routing in question and weather conditions to be expected during the tour, the adventure motorcyclist is able to determine the best compromise. Basically there are 3 kind of protection levels, the MX -offroad, adventure or dual sport and the normal street motorcycling boots with moderate crash protection. There are both waterproof and highly ventilated riding boots with very limited rain protection. Either way, I would recommend to keep the safety more important than the rain protection since there are also Gore-Tex® -motorcycling socks on the market. The proper ventilation is actually a more complex issue to deal with the motorcycle riding boots and since adventure touring is rather active riding, temperature in the boots tends to rise.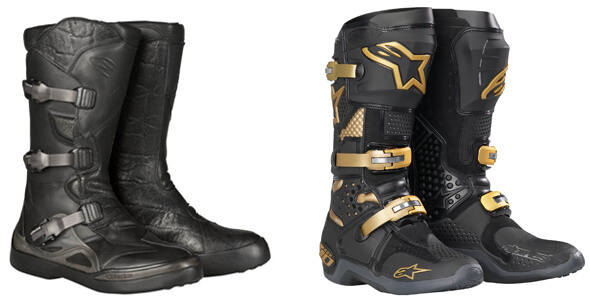 From the motorcycling footwear functionality and adventure motorcycling point of view, there is a big difference between a motocross and a typical street motorcycle riding boot. Traditionally the MX -offroad riding boots are quite inflexible and bulky when operating the gear and rear brake levers. Due to the level of crash protection and limited ankle rotation, most of the offroad boots remain stiff and there is no feel to the more sensitive on-road type of leavers. The offroad motorcyclist simply punches the gears in and steps on the rear brake lever. Another down side with the offroad riding boots is that the stiffness prohibits natural walking all too well. The distance the offroad rider is willing to go is clearly much shorter than with typical street motorcycling boots. On the other hand, the offroad boots are much better when riding in standing posture due to the stiffer structure and a frigid sole. Note that typical street motorcycling boots are not designed for riding in standing posture and the sole is simply too soft for that.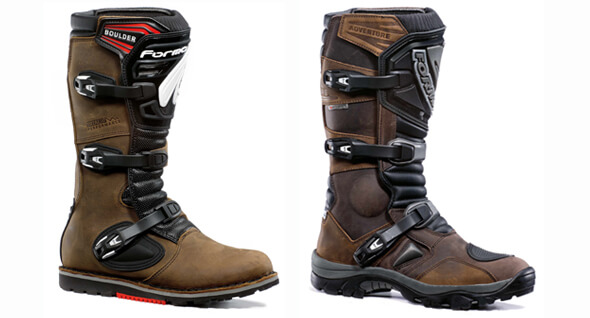 Fortunately there are also less stiffer offroad trial, ATV and enduro motorcycle riding boots with lighter protection and higher freedom of ankle rotation. There are also dual sport and adventure motorcycling boots with higher protection than what is offered in the street MC -footwear selection. This is all good news and fits very well to allroad and adventure motorcycle touring. Those who plan to exercise more adventurous routing in challenging conditions, take more risks and turn naturally to offroad riding boots with higher crash protection. Those who prefer to stay on all kind of roads, manage with slightly less protection features and can enjoy the broad hybrid boot`s selection.
Allroad Motorcycling & Hiking Boots
Some of the allroad motorcycle riders, me included, use hiking boots for motorcycling. Even though they offer no crash protection, hiking boots are waterproof, have stiff soles, they are simply the best boots for walking and camping conditions. After a long day of riding you probably want to walk at least a little bit and stretch the legs. Never the less, hiking boots offer no ankle support nor shin protection, but toe boxes and heel cockpits are more common. Usually hiking boots have also long laces which must be kept in control or they will catch the foot pegs or something else and lead easily to problems. Another disadvantage is that the hiking boots have rather rough foot prints which prevents slipping on all surfaces. On the other hand the rough foot print grabs to the offroad pegs as well which makes leg work every now and then less smooth. All motorcycle boots have much smoother outer sole surfaces in order to avoid any interference with the pedals. On the other hand smooth outer soles are slippery in muddy and wet conditions.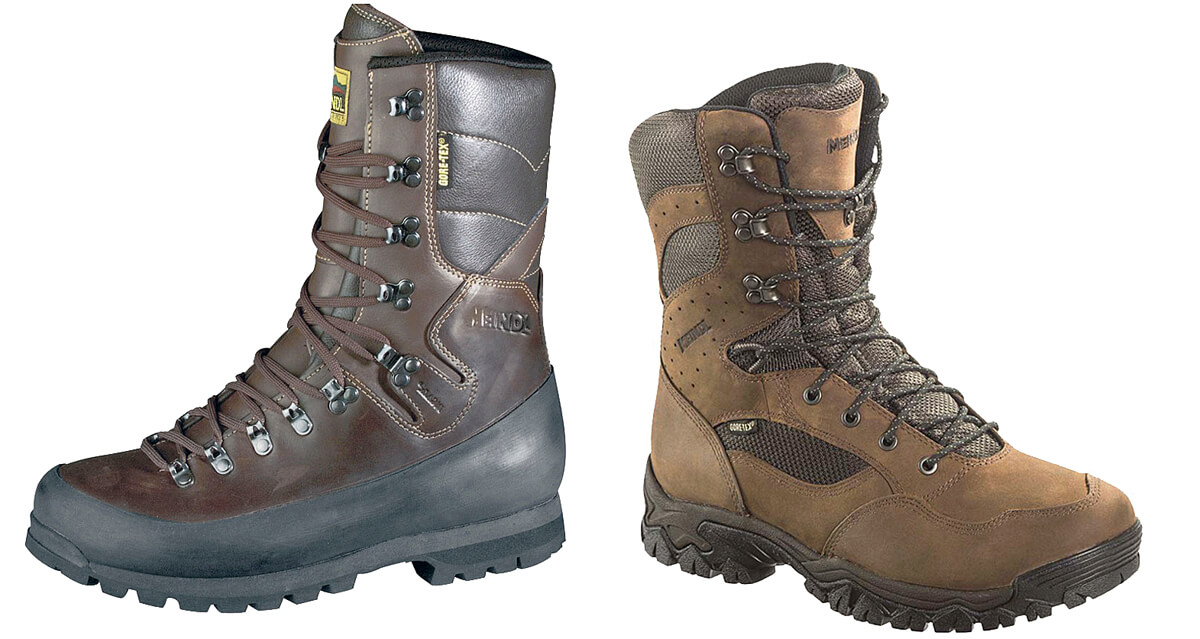 Adventure Motorcycling Boots & Offroad Protection
Adventure motorcycling and offroad riding is not the safest MC -segment from the footwear perspective. Riding conditions and surfaces vary a lot, changes in grip come frequently and surprises more than often enough. The adventure motorcyclist should expect to crash sooner than later and prepare accordingly. Offroad routing usually takes the rider far from the urban safety, medical assistance and the passing traffic which could help if something happens. Therefore riding safety becomes even more important than otherwise. Luck can take the rider very far away, but even small crashes can be traumatic enough to end the journey right there. Good and protective motorcycling boots are always in order and the first step for safety in offroad conditions.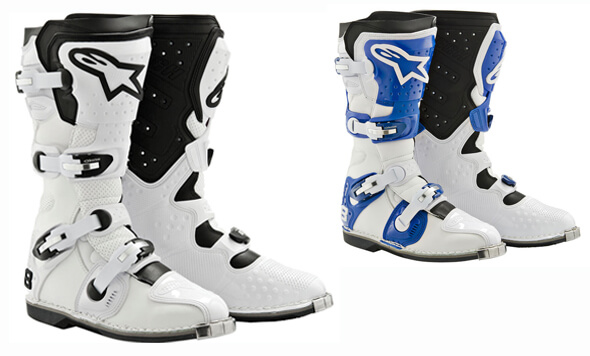 The best riding boot abrasion resistance and crash protection comes from the offroad motocross world. The sole is frigid, the ankle rotation is limited, the heel is covered like the toes are in a tough box and the tall boot with a shin pad protects the upper leg from the impact. The offroad motocross boots can shield a lot, but they are designed for racing and frequent crashes which is often a little bit off and extreme from the allroad touring requirements point of view.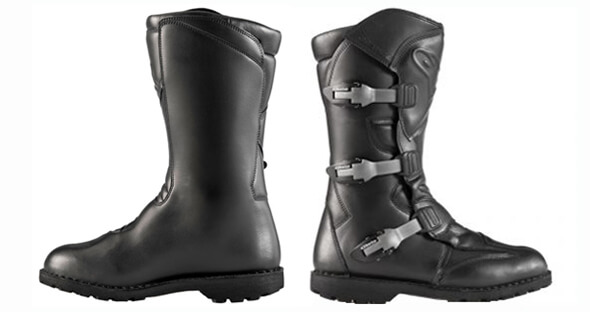 Good road riding boots have typically a small toe box and a little bit heel and ankle guarding features, but no ankle rotation limiter, achilles support what so ever or proper shin padding. They are clearly designed and constructed for road riding and not for crashing. The road riding boots offer adequate abrasion resistance when sliding on the tarmac, but not really beyond that and therefore I recommend to choose either a pair of adventure touring boots which are hybrids between the offroad and the road riding boots, or lighter offroad riding boots with more feel and slightly less protection.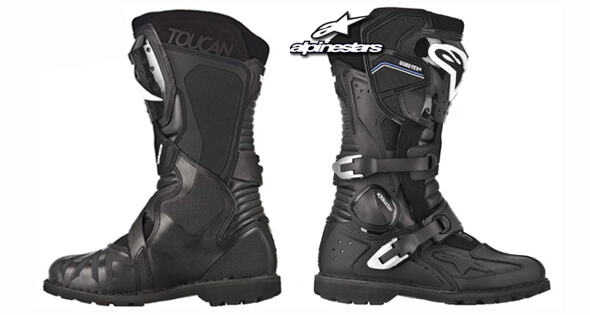 The adventure riding boots have the best parts of the offroad riding boots combined with the best parts of the road riding boots, simply a hybrid between those 2 worlds. These boots can offer enough protection for allroad touring purposes, but may come short when riding mostly in challenging conditions and doing hard core adventure riding. Then proper offroad boots are clearly the only real choice.
Allroad Motorcycle Riding Boot Ventilation & Heat
One of the most complex issues to handle with the allroad riding boots, is the proper ventilation. The offroad MX riding boots are usually more open from the surfaces and provide at least some kind of ventilation through perforation and basically better breathability. Unfortunately riding boots have no mesh panels like highly vented offroad riding gloves. Having an Outlast® lining in the riding boots helps too due to the reason that the Outlast® thermo molecules encapsulates moisture along with the extra heat and releases it again when appropriate. Especially with allroad riding boots, the Outlast® lining is very useful.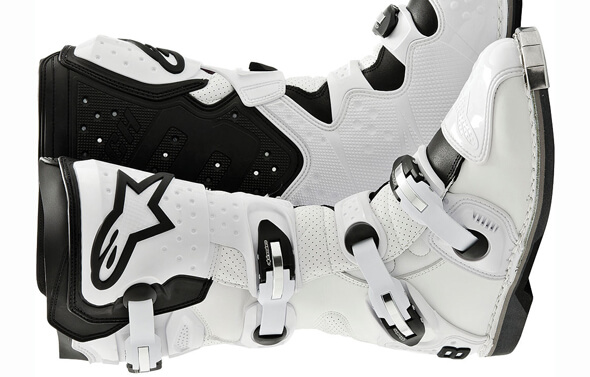 It is not just the sun boiling the feet. The motorcycle itself generates a lot of heat which becomes even more clear and problematic in hot conditions. Therefore also riding boot heat shielding on the calf side for example with aluminium foils is one of the major offroad riding boot features against excessive heat from the exhaust and the engine generally. A lot of allroad enduros bring the exhaust pipes close to the feet and therefore heat shielding is a relevant factor even in allroad, but especially in adventure touring.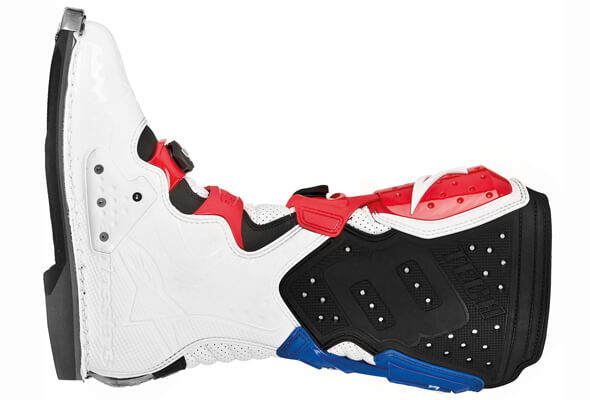 Another temperature related feature is the main colour of the riding boots. For example some of the Alpinestars offroad MX boots are made in all white with ventilation features, unlike all other colours. Today a lot of MX riders use white racing boots due to better ventilation and heat protection features. Fortunately there are today more and more proper allroad riding boots with lighter colours, even the most sensitive white.
The traditional road riding boots have typically very air tight surfaces without perforation and when the boots are also water proofed, they can be even more sealed from the elements which makes them even hotter to ride. Anyone who had a pair of traditional back leather riding boots know how hot those boots are in the sun and if the engine or the exhaust blows on top more hot air, the toes are really boiling. Today I prefer simply light colours even when the weather is in favour of black riding boots.
Allroad Motorcycling Boots & Maintenance
From the daily allroad touring maintenance point of view, drying the riding boots is necessary and can be even problematic. At home this is usually not an issue. There are even special dryers for riding boots, gloves and helmets, but on the road or especially at the camping site things get more complicated. Once the riding boots are completely wet, drying takes time and requires efficient ventilation. Having a simple riding boot structure without extra padding and inserts, makes drying easier. The more there are materials to keep the feet comfortable, the longer it takes to dry the riding boots properly. Although having a highly moisture wicking Outlast® or CAMBRELLE® lining makes a clear difference. A new day of riding does not begin very well when putting moist riding boots on in the morning.
Typical offroad motocross boots have quite a lot padding and some of them even inserts. Inserts can be taken out of the boot for drying which is very good for those who remember to go through maintenance after a long day of riding. The offroad MX boot padding is there for a reason and materials are usually moisture wicking kind, but still it takes quite some time to dry MX boots and if not properly maintained, the MX boots are still very moist in the morning. This is one of the reasons, why typical offroad MX boots are not ideal for allroad touring in hot conditions, although they may be necessary from the protection point of view. Note that also air humidity is usually very high which makes drying even harder. Again ventilation is one of the key issues when drying the riding boots in hot conditions.
Share Your Passion On