Big Allroad Touring Enduros
Start around 1000cc upwards and provide you the hightest performance, capacity and comfort especially for long tours and riding with a passenger. They carry the biggest amount of luggage and equipment without a doubt. Big allroad touring enduros can take you almost anywhere as long as the ground is able to carry the weight. Therefore I would not take them as my first choice to the most extreme adventure riding conditions.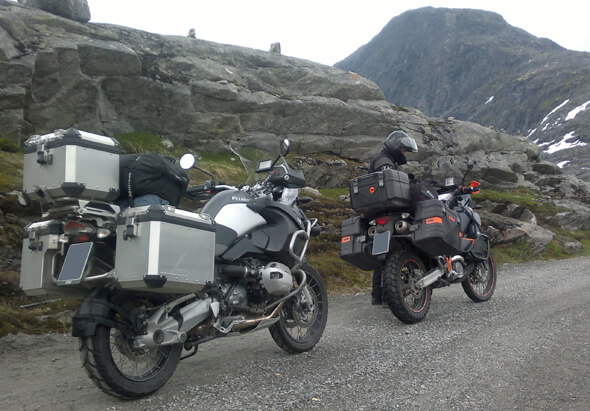 The king of this category has been the BMW R1200GS, but finally few producers have been able to provide good alternatives. Now we can choose at least from the KTM 1190 Adventure, TRIUMPH Tiger 1200 Explorer, YAMAHA XT1200Z SuperTenere, MotoGuzzi STELVIO 1200, HONDA VFR1200 CrossTourer, SUZUKI VStrom 1000 ABS, APRILIA 1200 Caponord and the DUCATI Multistrada 1200S. The widest range of touring accessory and equipment is provided to this category.
Big Touring Enduro Riding Controls
Big touring enduros deliver more than an adequate amount of power which is in rain, on gravel surfaces and trails often a lot. Therefore a range of riding controls are available for safety (integrated ABS, traction- and stability controls). The ABS is superior on tarmac and dry gravel roads with clean tyre trails, but when the bike starts to live on gravel and tyres seek for grip, the ABS becomes useless. At that point you want to set it off and the quicker the better. The traction and stability controls are practical on rain, mud, snow and ice when it`s very slippery and you could easily go over the limits.
Big Touring Enduro Instrumentation
Big touring enduros also provide the widest range of riding instrumentation such as fog lights, heated grips-/ seats, on board computer, navigation, tyre pressure-, electronic suspension- and cruise control. They may not be necessary, but they are practical.
Starting an early season or ending it late, you would probably appreciate heated grips and seat. The navigation systems are today very common and practical tools, but still the traditional map or laptop with a map software provides a better info source for spontaneous routing and destination planning on the road. If you do not check your tyre pressure frequent enough, it would be practical to leave the matter for your on board computer and tyre pressure censors. They can save your tyres and perhaps even alarm you about a slow puncture before it is too late. An electronic suspension provides you quick and easy adjustments when riding requirements in terms of weight (luggage and passenger) and road conditions change frequently. The cruise control simply relieves your hand and focus from the throttle service keeping a steady pace accordingly. Your right hand appreciates this and you do not need to focus on speed limits.
Handling Big Touring Enduros
Big allroad touring enduros are not the most agile, but in relation to the weight in question, they are surprisingly nimble and able. Depending on the amount of equipment and tyres, the limits are mainly set by the rider. Due to the large frames and the height of the seats, big allroad enduros are not for everyone. Managing an allroad bike on a trail differs a lot from the ordinary urban biking. For safe riding and getting comfortable with the size and weight to maneuver, everyone should train on tarmac, gravel and even offroad. The training gives you the sense of weight, needed power delivery and momentum for different situation.
Big Touring Enduro Differences
Big touring enduros can be divided mainly for tarmac or gravel road use. The difference comes from the riding geometry, tyres and rims. The bigger 21inch front tyre with a spoked rim is a clear sign of strong gravel road and trailing features. These enduros have less aggressive steering for gravel. The smaller 19inch front tyre is generally used for allroad touring.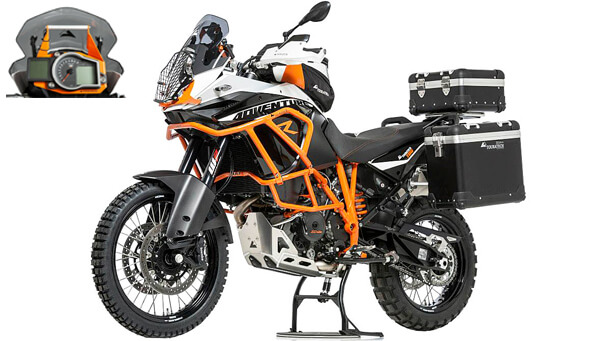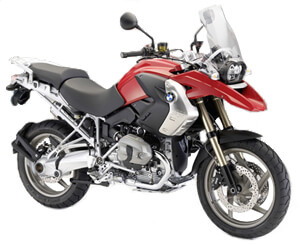 Allroad Tyres and Rims
The cast aluminium wheels are harder and less flexible for hits from the road surface. The cross spoked rims are much more comfortable on gravel. The tyre tread contact pattern tells you right away the basic character of the tyre in question. A deep tread pattern with small pawns is designed for gravel roads and trails, but smooth tread patterns and narrow grooves are designed for tarmac and clean gravel roads. Most of allroad touring enduros come with tarmac road tyres as standard.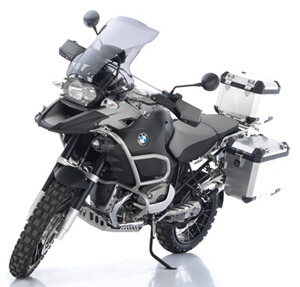 Other Differences
Shaft drives are often used in big touring enduros instead of chains in order to reduce the maintenance during the tour, but today there are also automatic chain lubrication devices. Therefore both drives fit well to the category. There are some variations in the size of fuel tanks. The biggest standard tank is in the previous generation BMW R1200GS Adventure 2013 (33 litres) and in the MotoGuzzi STELVIO 1200 NTX 2013 (32 litres). The rest has 20-23 litre tanks which is not much when you are touring far from urban areas. Therefore additional fuel canisters may be necessary.
Share Your Passion On