Allroad Touring and Motorcycle Gloves
Allroad Touring conditions vary a lot and a single pair of motorcycle gloves is hardly sufficient. The variety of allroad tour MC -gloves is enormous and finding a good pair usually comes after disappointments, when shortcomings have become clear. Riding gloves have significant effect on comfort and especially the quality of contact with the handlebar and the instruments, but also riding gear adjustments etc. Allroad motorcycling gloves that fit exactly and provide precise feel on top of weather protection and safety, tell to the rider what the bike is doing in demanding riding situations, but also allow to concentrate on riding without unnecessary tinkering. Bad MC -gloves give a vague touch, finish the hands quick and lead to fumbling with the instruments and adjustments. That can be also dangerous.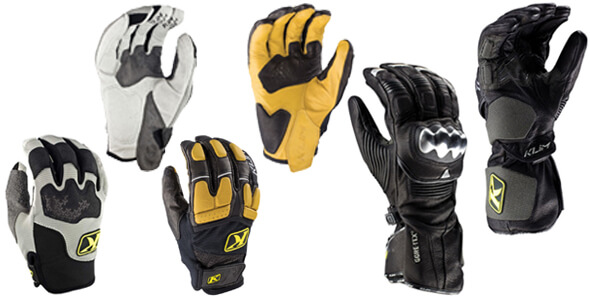 I would recommend to choose at least 2-3 good pairs of allroad riding gloves. One pair of MC -gloves for the hottest conditions with maximum ventilation features, short cuffs and textile fabric or densely perforated leather on top of the hand. The second pair of MC -gloves close to the first, but slightly more for milder conditions, semi long cuffs and with less ventilation efficiency. The third pair of gloves would be for riding in the rain with Gore-Tex®, long cuffs and slim lining. The grip warmers would be also a nice plus for the coldest rides in order to compensate the need for thick thermal insulation.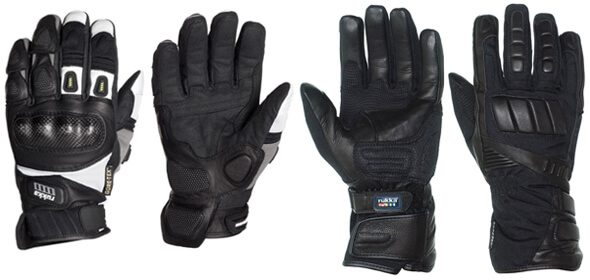 Allroad Motorcycling & Glove Protection
When considering allroad touring and motorcycle gloves from the protection point of view, usually the hands take a part of the hit when the fall comes and the damage is easily done. The hand consists of 27 bones and alone the wrist of 8. Heeling some of those bones takes several weeks and the impact to the quality of daily life is clearly significant. Interrupting the tour due to hand injury could be also quite problematic. Therefore impact and slide protection surfaces and materials are always in order. There are riding glove reinforcements, knuckle, bone and heel protectors, palm sliders and reactive molecular paddings etc. Pay attention to how those protectors are integrated and are they somehow resisting the normal grip posture by pulling the cuff for example. No matter what brand in question, just make sure that your new gloves have enough protection for your safety.
Abrasion Resistant CORDURA® Fabric
CORDURA® fabrics are often used as shell construction on the backhand side. The ballistic nylon fabric is good for warm and hot weather riding conditions when constant and slow air flow through the shell fabric is meaningful and preferred. The CORDURA® fabrics are highly abrasion, tear and puncture resistant which makes it generally ideal for motorcycling and active allroad riding. The nylon is also lightweight and flexible. CORDURA® AFT is mesh like fabric which allows even higher air flow through the structure and therefore AFT would be ideal for the hottest conditions.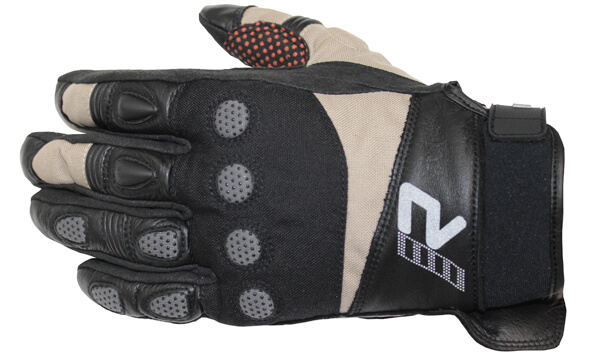 Abrasion Resistant Pittards ARMORTAN® Leather
The advanced riding glove protection against highest abrasion and sliding is achieved with highly reinforced leather such as Pittards ARMORTAN® which is 25% more abrasion resistant than regular PITTARDS® leather. On top of that the ARMORTAN® leather will not absorb water which would could be problematic for Gore-Tex® membrane and breathability. The ARMORTAN® leather structure is covered and reinforced with microscopic ceramic armour plates that are very resistant to abrasion and efficiently prevent wearing which increases the overall durability of the genuine riding glove leather structure.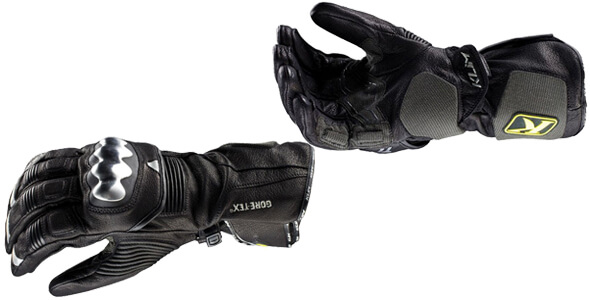 Abrasion Resistant Synthetic CLARINO Leather
Synthetic CLARINO leather or suede is 3 times stronger and lighter than real leather. It is more durable and able to resist abrasion and tearing efficiently, but still remains flexible due to the finest PU -impregnated fiber construction. There are also similarities to high quality leather and the CLARINO nylon component allows extra humidity to pass through and the rest to be stored in the microporous as a buffer and released when the temperature drops again. Therefore the CLARINO suede does not dry out, wear down or become brittle. The rain leaves no spots and the gloves can be hand or machine washed as delicates 30C/ 86F without spinning or tumble dry. The CLARINO suede is generally use in motorcycle garments and riding gloves.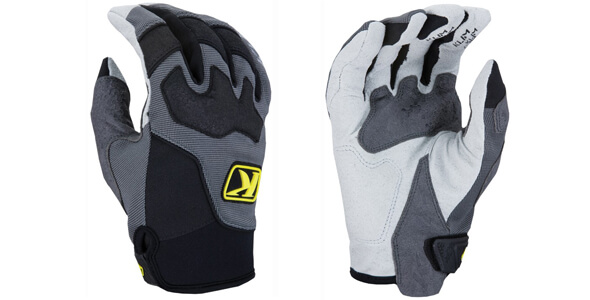 Abrasion Resistant SuperFabric® Textiles
There are also fabrics with high abrasion resistance such as SuperFabric® which is use for riding glove slide protection both for finger back side, palm and heel protection. The SuperFabric® consists of tiny hard epoxy armour plates that are covering the riding glove base fabric surface. On top of abrasion and scuff resistance, the SuperFabric® is also stain resistant against oil and due to plate spacing flexible and breathable. The abrasion resistant riding glove surface allows to minimise the amount of base fabric, making the structure thinner and light weight.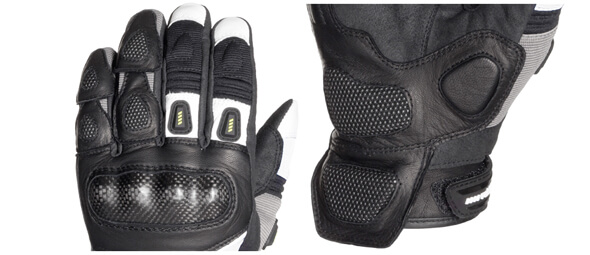 Cut Resistant KEVLAR® Aramid Fabrics
KEVLAR® aramid fibre fabrics are commonly used riding glove sliding protector materials. KEVLAR® is generally known from the ballistic armour applications, but also from heat, cut and abrasion protective apparel. The KEVLAR® aramid fibres are 5 times stronger than steel and therefore highly cut resistant. It is also light weight and extremely strong in low temperatures. Within motorcycling KEVLAR® is used in areas with the highest abrasion such as shoulders, elbows, knees, knuckles and palms. It is also used to reinforce riding glove carbon fibre knuckle protectors.
PORON® XRD Impact Protection
Today there are also reactive molecular impact protection materials such as PORON XRD® urethane foam which is light weight and in normal condition soft and flexible adapting to movement and forms, but on impact react by creating a shield which absorbs up to 90% of the hit again and again throughout the riding glove`s lifespan. Such materials increase the riding comfort, functionality and most of all the level of protection in allroad motorcycling.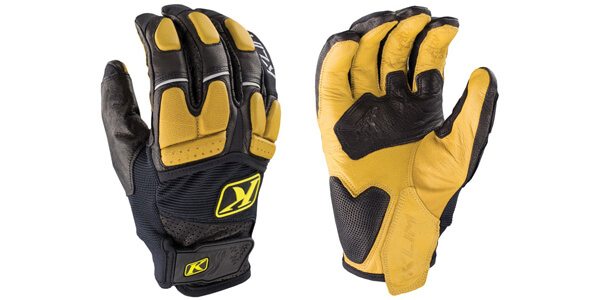 Allroad Motorcycling Gloves that Fit
They say; "It must fit like a glove". That is the first requirement and without testing, one could not know. Testing with a handlebar grip would be the best. The most important thing is to ensure that the size of the palm and fingers are matching exactly the hand and the palm surface follows the form of the hand easily without wrinkling against the grip. When the glove fits, opening all the fingers straight and back to the grip position, does not pull the glove in your hand to any direction, nor resist the posture. No matter how many times you open your fingers straight and back in a fist, the glove should not move or pull in your hand at all. Note that your hands can be slightly different size and in hot conditions the right hand can swell a little bit more than the left hand due to throttling. Therefore test always both the right and the left hand gloves.
Gore-Tex® XTrafit
Gore-Tex® XTrafit is 3 layer shell construction with CORDURA® surface, Gore-Tex® membrane and polyester lining on the inside. Those layers are laminated together and form a single layer which provides proper handlebar feel, no lining shift or wrinkles and clear feedback from the controls. On top of that the Gore-Tex® is wind- and waterproof, but also breathable glove construction.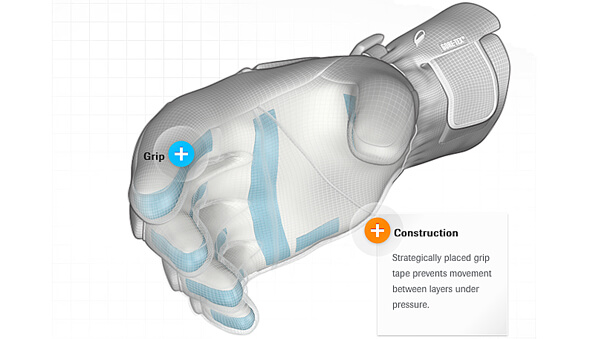 Allroad Motorcycling Glove Materials & Structure
When selecting new allroad riding gloves, pay attention to materials and finishing such as the quality of seams and stitches. Compare premium riding gloves with the alternatives. Determine the level of safety features, operational temperature requirement and structural features.
Riding glove finger stretch panels on the back side allow to keep the hands around the grips tightly without structural resistance. By having a single layer palm structure, all materials laminated and stitched together, which is also not too thick, you can avoid abrading and wrinkling. The riding glove seams are important also from the abrasion and pressure point of view. If there are yarn ends hanging or untight stitches visible, especially in the surfaces exposed to the highest abrasion, the seams will probably soon brake and open. Most of the seams are hidden inside the glove and may press slightly against the finger side, -tip, nails etc. At first it may seem a small issue which could even eliminate itself in use, but it can also get much worse and take your attention from riding. Therefore some of the riding gloves have outside seams in fingers.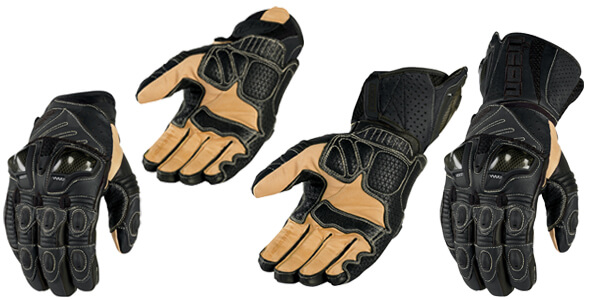 The riding glove TPR wrist closures are usually made with hook and loop VELCRO fastener, but today the Micro VELCRO is replacing it due to the reason that it is not hocking and pulling the base- and mid layer cuffs. It also lasts longer than the predecessor. A pull tab on palm side is also practical in use and protects the riding gloves from on pulling resistance in high temperatures with sweaty skin.