Motorcycle Side Stand Foot Extension
The allroad touring enduro side stand has more requirements than a regular GT bike. The side stand is also mostly used parking stand and probably the safest on soft surfaces. A standard side stand foot is in most of the cases relative small and it far too easily sinks into the gravel, sand, grass, forest soil and even tarmac when it is hot enough. These surfaces are everywhere and allroad riders know this problem very well by experience. In order to prevent your bike falling a side, you should perhaps install a side stand foot extension of some kind. Otherwise you have to keep on looking for rocks and something else which would do the trick.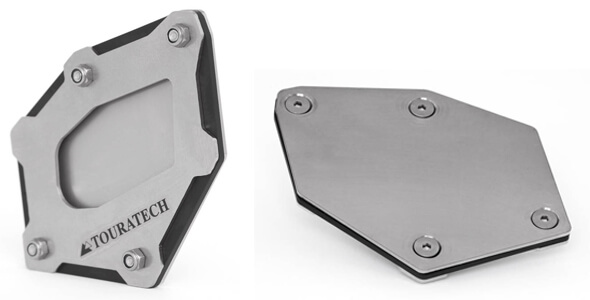 Handyman Motorcycle Foot Extensions
If you are a handyman and do it on your own from the nature, you could weld a simple side stand foot extension plate permanently onto your ride, but not everyone has a welding machine and few basic metal machining tools to finalize the design. Nor everyone is sure how to protect the bike`s electrical system against welding itself. For example BMW R1200GS has since 2004 a sophisticated, fuseless, computer controlled electrical system called CAN Bus which is for sure sensitive for welding. Therefore removable side stand foot extension is a small, quick to install and a practical allroad touring enduro accessory.
Model Specific Motorcycle Foot Extensions
There are make and model specific side stand foot extensions. There can be big and even bigger extension which would be more ideal for extra soft parking surfaces and the heaviest touring loads. For example TOURATECH provides also an additional lean angle adjustment plate which is good for side stands that have too low angle especially for heavy loads. The BMW R1200GS Adventure 2014 may be one of those. At least I am a little bit troubled with it. There are also too steep leaning side stands such as KTM Adventure 950S which really needs to be slightly shorten, but not overdone. At the same time one should weld a simple foot extension.

Share Your Passion On