ALPINESTARS SMX3 Air Gloves with Short Cuffs
The ALPINESTARS SMX3 Air gloves are made for active motorcycle riding especially in warm and hot weather conditions. The SMX3 gloves provide efficient ventilation through the back hand mesh paneling and when choosing on top the white back hand colour option, the sun shine has even less effect on glove temperature and riding comfort in the hottest conditions. There are 2 basic colours to choose from, full back and white back hand with coloured details. The ALPINESTARS SMX3 Air gloves offer a thin structure with very light protection for allroad riding, but when the ventilation is everything, there is usually very little room for rugged components.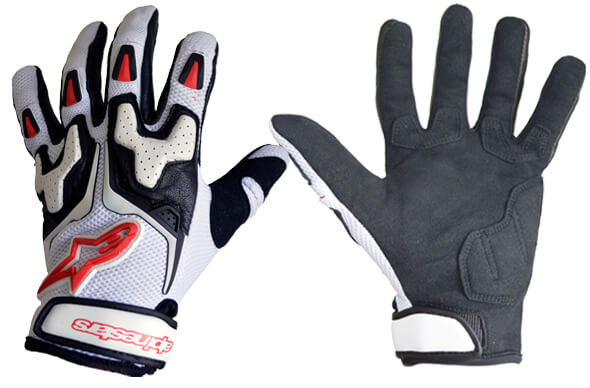 The ALPINESTARS SMX3 Air gloves have short cuffs and the single layer palm structure provides a sharp handlebar feel. From the durability and abrasion point of view, the SMX3 riding gloves offer goat skin palms with CLARINO® reinforcements that double the material around the finger joints and against the handlebar. On the palm side the heal reinforcement has additionally EVA foam padding which eliminates some of the handlebar vibrations. On the back hand side, there are finger TPR cushions and EVA foam paddings with perforated leather reinforcements on the knuckles to provide light protection. The ALAPINESTARS SMX3 Air gloves have split gussets for all fingers giving a light grip posture all day long without any structural resistance what so ever.

The key ALPINESTARS SMX3 Air glove features are:
Goat skin palms
CLARINO® leather palm reinforcements
Breathable stretch corded nylon back hand
Split gusset on all fingers
TPR reinforcements and protection on back hand
Leather reinforcements with light EVA foam knuckle protectors
Heal padding with CLARINO® leather reinforcements
Micro VELCRO® wrist closures
Alternative colors all BLACK or with white details, WHITE back hand with red or yellow details

Share Your Passion On