Rukka CERES Gore-Tex® Gloves with Short Cuffs
Rukka CERES Gore-Tex® motorcycle gloves with short cuffs are good for allroad and dual sport touring in changing weather conditions. The CERES gloves are very strong alternatives in moderate temperatures around 15 to 20 degrees celsius (59-68F) when light rain showers are expected. In other words, wind and water protection but also proper breathability are all essential factors. Heavy rain would require longer cuffs such as the Rukka VIRIUM Gore-Tex®. Higher temperatures would need better ventilation features such as the Rukka HIM gloves. The Rukka CERES Gore-Tex® motorcycle gloves offer one of the highest protection features also from the crash protection point of view and an excellent feel to the bike. In addition the CERES gloves are equipped with touchscreen conductive fingertips. The Gore-Tex® membrane is laminated in the X-Trafit 3 layer shell and liner construction which makes the CERES feel like a single layer glove. The fixed layers eliminate forming wrinkles and rubbing injuries on palms, but also increase the lifetime of the glove. The CERES gloves offer one of the very best adaptation features on the market.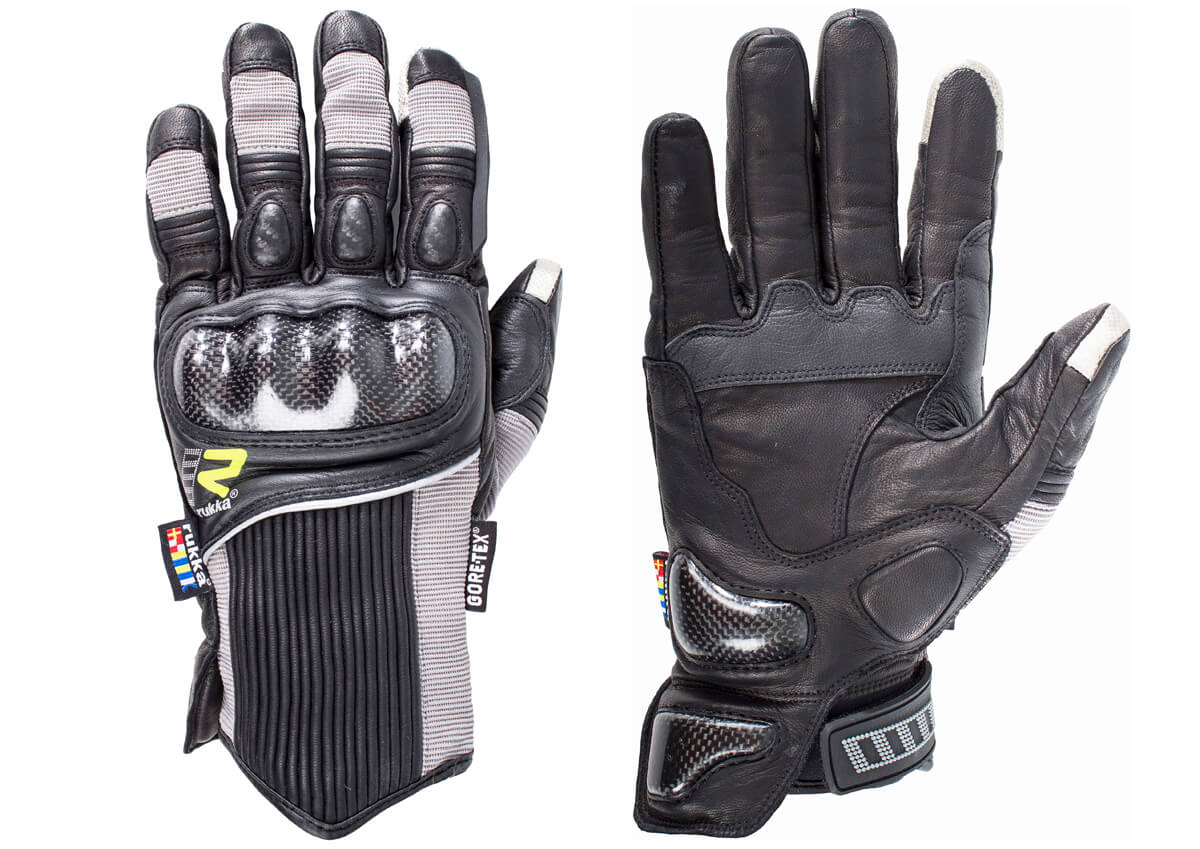 The Rukka CERES Gore-Tex® motorcycle gloves have extensive crash protection features corresponding exceptionally well with the demanding allroad requirements. Both the palm side and the back hand are well protected with leather reinforcements, foam padding, carbon and kevlar shields. This is very important for dual sport riders since loose offroad conditions vary a lot and adventures include often few surprises along the road. Therefore a high level of protection is necessary for the hands too. The Rukka CERES Gore-Tex® motorcycle gloves use generally real leather abrasion protection, but 3 fingers are additionally equipped with kevlar cushions. From the lever handling point of view, all the fingertips are fully abrasion protected with the leather. A large carbon knuckle guard with foam padding and leather reinforcements shields most of the backhand. A large leather panel with elastic piping protects the CARPAL bones and completes the backhand side.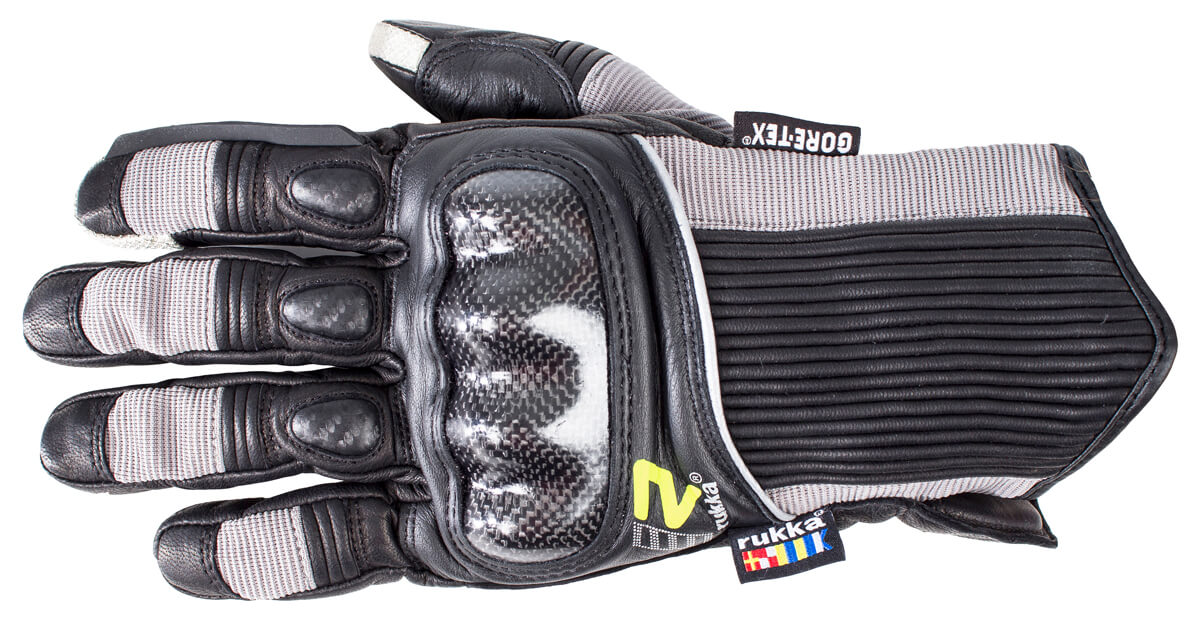 The Rukka CERES Gore-Tex® motorcycle gloves have on the palm`s side leather reinforcements on high wear areas. Around the CARPAL bones the CERES has a carbon heel guard, ULNA bone protector with foam padding and a METACARPAL foam padding with leather reinforcements, protecting the highly vulnerable lower palms. The carbon protectors are anatomically formed and thanks to the shape in question, the extension tab is not able to turn forward and expose the ULNA bone. The extended CARPAL and ULNA bones protection is very important and often forgotten aspect with short cuff gloves. Once broken these bones take very long to heal. In generally this amount of protection is without any doubt one of the very best levels, especially for short cuff motorcycle gloves. In addition the Rukka CERES Gore-Tex® motorcycle glove crash guards are ideally integrated in the structure without creating any grip posture resistance.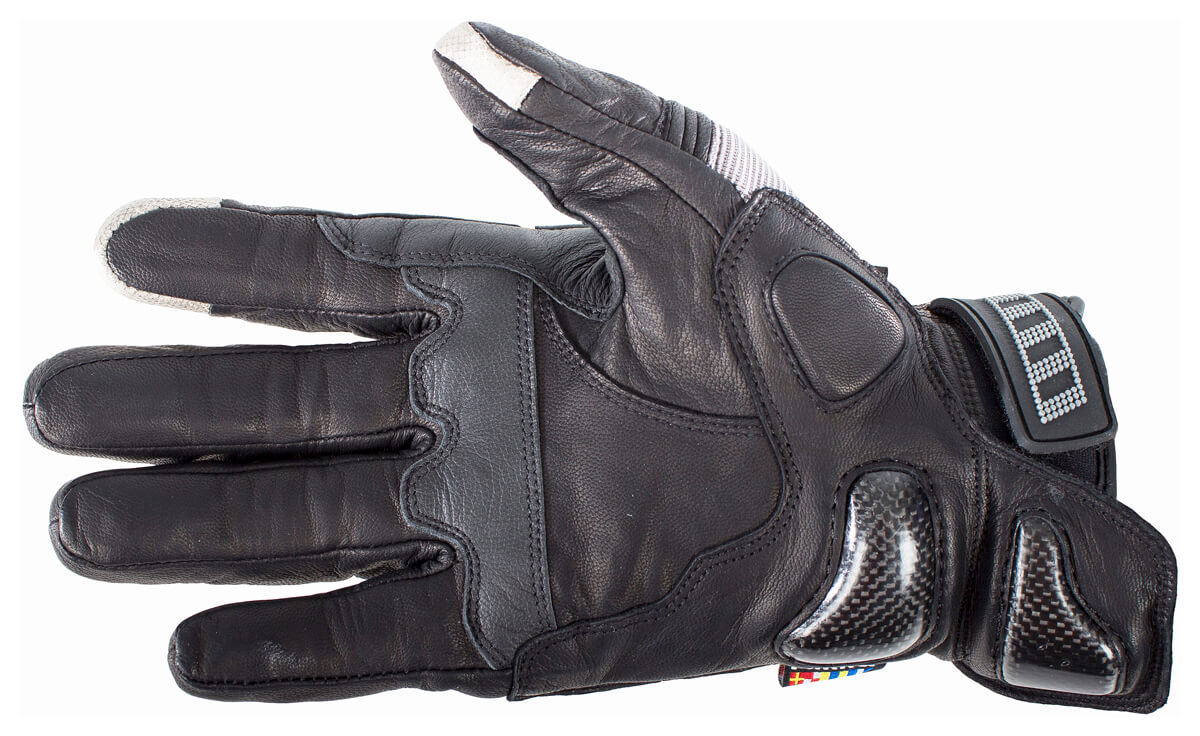 The Rukka CERES Gore-Tex® motorcycle gloves are water and windproof, but the Gore-Tex® membrane allows also to evaporate the excess heat. This increases the comfort zone at both ends and brings the CERES gloves beyond the conventional short cuff scenario. There are plenty of countries that have significant daily temperature fluctuation. Both the early morning and the evening feels chilly, but the day time is warm. This would be ideal for CERES. Those who are using hand protectors and grip warmers, would benefit the most during the chilliest hours. The Rukka CERES Gore-Tex® motorcycle gloves are pre-curved, have elastic finger articulations and elastic panels which improve both fit and comfort. The CERES utilizes +Gore Grip technology which improves feel to the handlebar and the controls. The better feel increases both comfort and control in demanding offroad conditions. The gloves are secured in place with a VELCRO® and TPR closures. The key Rukka CERES Gore-Tex® motorcycle glove features are:
Real leather & elastic textile construction
14% nylon
3% neoprene
2% polyester
Lining 87% polyester & 13% nylon
X-Trafit technology with
Gore-Tex® waterproof membrane
+Gore Grip technology
Leather reinforcements
Elastic finger articulations
Flex panels at backhand
Carbon knuckle & heel protectors
ULNA bone carbon protector
Kevlar protectors on index, middle & ring finger
METACARPAL foam padding & leather reinforcement
Smartphone touchscreen conductive fingertips
Visor wiper (left index)
VELCRO® & TPR wrist closure
3M Scotchlite reflector piping on backhand
Color alternatives BLACK with Gray accents or full BLACK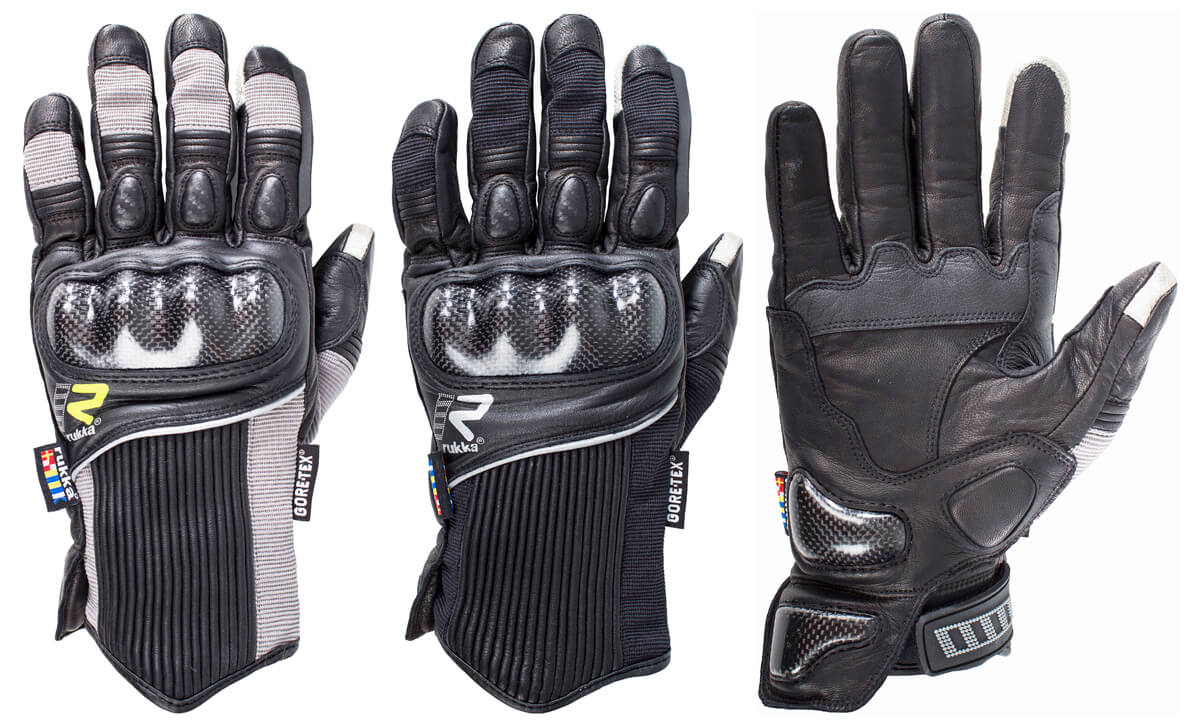 Share Your Passion On