Light Adventure Touring Enduros
Light adventure touring enduros are upgraded from the offroad or street enduro category. Basically all these bikes require upgrading for touring purposes. Light touring enduros are especially good for extreme adventure touring to exotic destinations through challenging and demanding road and trail conditions which are too difficult for any less than an hard core offroad capable enduro. Therefore the nature of these tours and enduros is different and the comfort is reduced by extreme necessity and functionality. These bikes are solo ridden, often in standing posture and the seats are designed for very active riding with limited comfort features. There is a wide rage of items available for example at TOURATECH and Wunderlich.
The most extreme light touring enduros are basically not used on tarmac roads and if so, then for as short time as possible due to the fact that the frames are usually more flexible which is good for offroad, but not ideal for high speed riding, especially with a touring payload. A standard offroad enduro provides basically no wind coverage what so ever, but that can be changed by installing DAKAR -rally style front cover panels which gives also room for additional instrumentation and better headlights. Typical offroad enduro fuel tanks are also too small for adventure touring and therefore bigger tanks and separate rear tanks or extra canisters are absolutely necessary. Tyres used in extreme adventure touring are no longer allroad type. Instead they are road legal knobby offroad tyres.
Racing and Street Enduros
Light Touring Enduros can be build up from a wide range of enduros that can be registered road legal. There is at least one significant difference which divides these enduros in two groups. It is the need for maintenance. When the enduro is made mainly for racing, the engine oil and filters among other things should be serviced in touring every other day at the latest. On a tour this is hardy possible even when the use is not as hard as racing and the service frequency would be prolonged to the maximum. Therefore the second group including the enduros that are not designed for racing, basically street enduros, become relevant. For example the KTM 690 Enduro R 2013 and the LC4 engine requires service every 10 tkm which is again normal service frequency and realistic for adventure touring purposes.
Extreme Adventure Touring Enduros
Light touring enduros are very agile from nature, light in weight and have high suspension travel. These bikes are designed to be ridden actively in standing posture. Perhaps the most extreme adventure bike at the moment would be the KTM 450Rally which is in fact designed for DAKAR -rally racing. The KTM 450Rally needs very little upgrading, just few items for the load you are carrying. Less extreme, but excellent choice to start with would be the KTM 690 Enduro R 2013 which has been popular for long and represents long experience in the category. Therefore you can expect to find equipment for tuning and at least TOURATECH and AdventureSpec provide a nice selection of applicable items.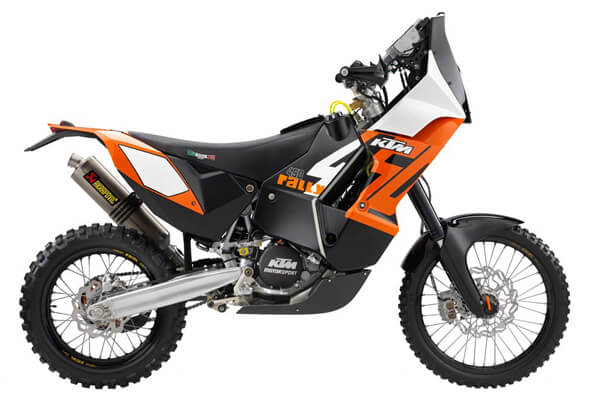 Offroad & Trail Riding Skills
The extreme adventure touring requires significant offroad riding skills. Those skills can be learned only by training in real offroad conditions. By riding in standing posture on loose, even slippery and soft trails, the rider learns to maneuver and balance the bike against the gravity and offroad obstacles. The confidence to the handling and the tyres in question is very important and therefore limits should be found in as safe environment as possible. Trail riding in a group of offroad enthusiasts is one of the safest way to practice those skills before taking the tour. Trail riders usually know very well the best routes and trails to find suitable offroad challenges. In addition trail riding is very enjoyable in a group of same minded, having brakes in scenic spots and getting to know local surroundings better. Offroad and trail riding helps to understand what is realistic for you and the adventure touring bike in question, but also how to overcome versatile offroad challenges.

Share Your Passion On