MotoGuzzi STELVIO 1200 NTX 2013 Allroad Touring Enduro
The italian MotoGuzzi provides two interesting allroad touring motorcycles, the basic model MotoGuzzi STELVIO 1200 ABS 2013 and the more adventurous MotoGuzzi STELVIO 1200 NTX 2013 factory upgrade. The NTX challenges the category leader BMW R1200GS Adventure 2013. Also MotoGuzzi has long experience in the allroad touring category and the NTX was first time introduced around 1986 when african desert rallies and adventure bikes were popular. Now MotoGuzzi has achieved the level were the competition becomes again interesting.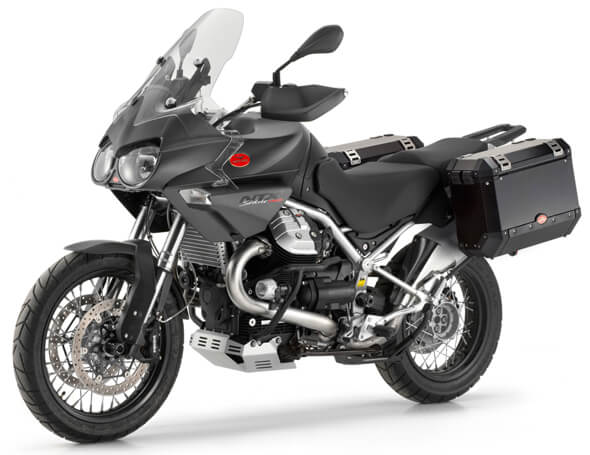 MotoGuzzi STELVIO 1200 NTX 2013 Touring Character
The MotoGuzzi STELVIO 1200 NTX 2013 provides very good rider ergonomics and a good overall package for comfortable allroad touring with a passenger. STELVIO has a clear allroad touring enduro character due to the cross spoked rims, better windshield with wind deflectors, engine skid plate and crash guards as standard, but also a big long range fuel tank. As an exception the STELVIO has lower seat height and riders at least 170cm tall should be able to master the weight. Without a doubt the STELVIO 1200 NTX 2013 can be used for reasonably adventurous routing, but the NTX is not ideal for really challenging roads and trails due to the overall weight. By choosing proper allroad tyres with wider and deeper grooves the STELVIO -rider can easily open the gravel and dirt road options for more adventurous routing.
MotoGuzzi STELVIO 1200 NTX 2013 Considerations
A standard MotoGuzzi STELVIO 1200 NTX 2013 is very close to the level of ready to go for an allroad adventure. Some small tuning may be in order such as side stand foot extension, front mud guard extension and perhaps also heated grips. Fortunately the fuel tank is big enough giving true long range capabilities, but there are no low octane fuel settings which limits the remote exploring. The long range fuel tank is an quite exceptional feature and gives the advantage to use the whole payload capacity at the back without fuel canisters. Therefore MotoGuzzi STELVIO 1200 NTX 2013 is certainly capable for light allroad touring and good for riders that are not looking for the highest performance nor hard core offroad agility. In stead they look for a comfortable allroad touring bike which takes easily two people on a long tour and suits also for every day biking.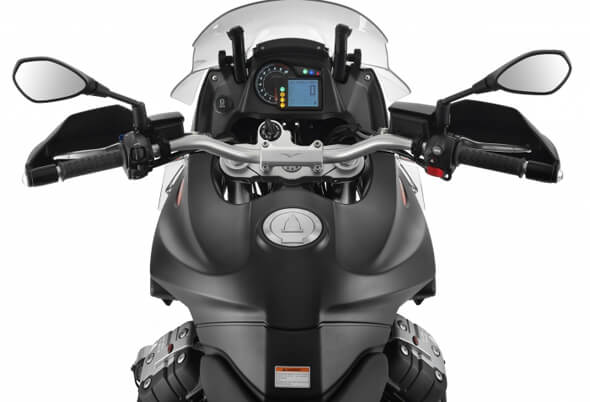 MotoGuzzi STELVIO 1200 NTX 2013 Comparison
Compared to the basic MotoGuzzi STELVIO 1200 ABS 2013, the MotoGuzzi STELVIO 1200 NTX 2013 model has also cylinder head-, engine- and hand guards. The windshield is bigger, wider and there are wind deflectors at the sides. There are also auxiliary long range driving lights installed to the crash bars providing better visibility to both directions and in all conditions. Compared to the BMW R1200GS Adventure 2014, the MotoGuzzi STELVIO 1200 NTX 2013 has a pair of auxiliary fog lights and a pannier set as standard feature. The NTX is at least 36kgs heavier and the ABS is not integrated. The key MotoGuzzi STELVIO 1200 NTX 2013 features are:
Seat height 820 / 840 mm. or 32 / 33in.
Cross spoked rims
Tyres 110/80 R19 and rear 150/70 R17
Engine type V2
Max performance 105HP / 113Nm. or 83ft-lb.
Alternator 550W
12V cockpit power outlet
Shaft driven
ABS (off switchable)
Traction control ATC (off switchable)
Onboard computer
Auxiliary lights
Weight fueled 296kgs or 652.6lbs.
Payload 199kgs or 438.7lbs.
Fuel tank 32L, 8.5USgal., 7.04UKgal. (min. 95RON – 89AKI)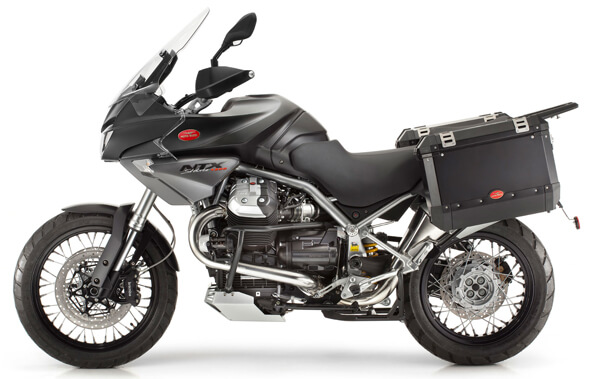 MotoGuzzi STELVIO 1200 NTX 2013 Equipment Accessory
There are plenty of universal equipment that can be used with the MotoGuzzi STELVIO 1200 NTX 2013, but perhaps due to the limited numbers of STELVIOs on the road, there are not many model specific options available and most of them are provided by the MotoGuzzi dealers. One of the few equipment providers that pay attention to STELVIO riders are the SW Motech and Twisted Throttle US.