TRIUMPH Tiger 1200XC Explorer 2013
The 2013 TRIUMPH Tiger Explorer 1200XC is the allroad adventure version of standard Explorer. Depending on tyres in question, the XC can take you beyond the tarmac roads for distant tours. The XC is capable of carrying a load of two with the luggage providing comfortable allroad touring and high performance. 3 cylinders in line with great riding features translate easily to allroad sports touring. The Tiger Explorer 1200XC is also an excellent every day bike having great rider ergonomics and providing easy riding.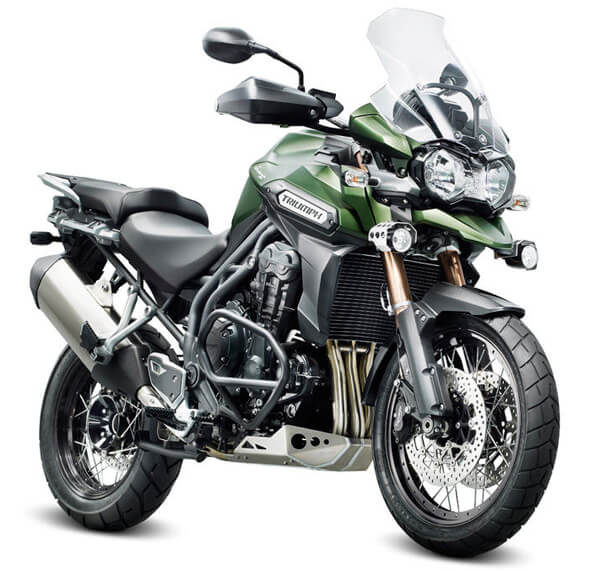 The XC challenges the king of the category BMW R1200GS Adventure 2013 by offering additionally an onboard computer, traction & cruise control, heavy duty engine guard and fog lights as standard. In addition the Explorer is equipped with a powerful alternator providing the highest output in the category. The 2013 TRIUMPH Tiger Explorer 1200XC has become a true competitor in every way. The bike is agile and offroad capable. A small draw back is the fuel tank which is only 20 litres and the absence of low octane fuel settings. Therefore the XC requires at least additional fuel canisters such as ROTOPAX for the outback with long refueling intervals.
TRIUMPH Tiger 1200XC Explorer 2013 Engine
The 2013 TRIUMPH Tiger Explorer 1200XC triple cylinder in line engine is powerful and generates much more than an adequate performance for touring. Therefore the traction control comes every now and then handy. The traction control reads both wheels and smoothens the over throttling, still allowing a reasonable amount of wheel spin without slipping. Especially when wet or slightly muddy, you can really appreciate such safety features. The TRIUMPH Tiger Explorer 1200XC 2013 is heavier than the BMW R1200GS Adventure 2013, but delivers more power and has a better HP/kg ratio.
Exceptionally the 2013 TRIUMPH Tiger Explorer 1200 has a powerful alternator which produces staggering 950W, allowing the widest range of electronics used simultaneously. This feature is relevant as long as the power consumption level remains as high as it is at the moment. The use of LED is just in the beginning of it`s life cycle and only few has the advantage on their side. Riders simply need to pay attention to the power consumption, unless they ride the 2013 TRIUMPH Tiger Explorer 1200.
TRIUMPH Tiger 1200XC Explorer 2013 Cruise Control
The 2013 TRIUMPH Tiger Explorer 1200XC is electronically throttled (ride by wire) which means, that a sophisticated cruise control can be installed (standard feature). The cruise control is especially practical when riding long distances on good road conditions, by allowing relaxed arms and releasing the focus from maintaining a constant speed. It is not necessary for an allroad touring enduro, but a useful feature.
Standard 2013 TRIUMPH Tiger Explorer 1200XC technical specifications: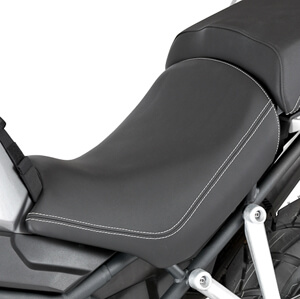 Seat height 837 / 857 mm.
Cross spoked rims
Tyres 110/80 R19 and rear 150/70 R17
Engine type 3 cylinders in line
Max performance 137HP and 121 Nm.
Alternator 950W
Shaft driven
ABS (off switchable)
Traction control
Cruise control
Onboard computer
Cockpit 12V power outlet
Weight fuelled 267 kg
Payload 222 kg
Fuel tank 20 litres (min. 95RON)
TRIUMPH Tiger 1200XC Explorer 2013 Adjustments
The Explorer XC allows you to quick adjust few ergonomic factors such as the seat and the windshield. The rider seat can be placed between 810 and 880 mm. which is achieved with accessory seats. This is interesting feature for a lot of tall and shorter riders looking for allroad touring enduros. The standard seat can be quick adjusted +/- 2cm. The handlebar can be moved with few basic tools +/- 2cm. Further adjustments can be done by changing the foot pegs and the handlebar riser. The standard foot pegs are designed for urban touring. Therefore I recommend to change them into wider offroad pegs with better grip and support. The XC windshield is the same as in the standard Explorer, but you can change it at the TRIUMPH dealer to a 50 mm. higher and 30 mm. wider touring screen. If you are slightly taller than what is covered with the standard windshield, you could fine tune the aerodynamics also with a spoiler.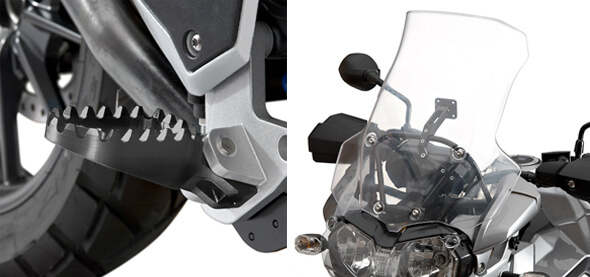 TRIUMPH Tiger 1200XC Explorer 2013 Equipment Accessory
The TRIUMPH provides a wide set of accessory, instrumentation and riding controls, but generally this adventure touring enduro is relative new and the equipment providers are not yet providing the fullest scale. For example TOURATECH and Twisted Throttle US offers a nice variety of specific and universal equipment that fits to Explorer. The Tiger Explorer XC is very prominent allroad touring enduro and I do not see any reason why the offering would not get only better. Anyhow there are plenty of equipment and accessory to turn the TRIUMPH Tiger Explorer 1200XC into a serious allroad adventure touring.