HONDA VFR1200X CrossTourer 2013 & DCT
HONDA VFR1200X CrossTourer 2013 is the factory basic model for urban touring. There is also an upgrade from it, the HONDA VFR1200X CrossTourer Highlander 2013. They are both available with the HONDA dual clutch transmission -DCT and present the vision of HONDA about the big allroad touring enduros. The world biggest motorcycle manufacturer HONDA has been long present in the adventure touring category and they have a lot of experience in the desert rallies. Still there was no real challenge against the category leader BMW R1200GS 2013. Those 2 models get around the general requirements and offer another answer to our prays.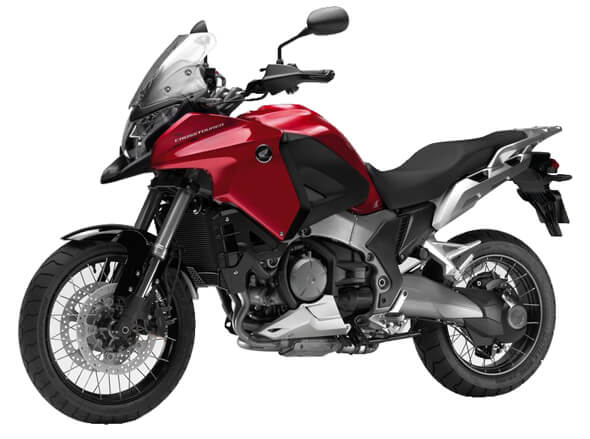 The HONDA VFR1200X CrossTourer 2013 is designed clearly for urban touring due to the average fuel tank size, small windshield, street type foot pegs, soft suspension and minimal protection for offroading. Also the ABS can not be switched off without taking the fuse off and the overall weight is little bit too much for challenging adventure touring on bad roads and trails. Without a doubt the CrossTourer can be used for gravel roads with appropriate tyres, thanks to cross spoked rims as standard.
HONDA VFR1200X CrossTourer 2013 Features
The HONDA VFR1200X CrossTourer 2013 is also a very good everyday bike. The CrossTourer carries very well the load of two with the luggage as any other big touring enduro. Although Crosstourer is ride by wire throttled, it has no cruise control which would be ideal for such touring bike. I hope HONDA takes care of this asap and turns it into a standard feature. On the other hand, the CrossTourer handles very well on gravel due to centralised mass and wide handle bar. The overall weight is simply not that obvious. Unlike any other, you can also quickly switch the traction control TCS off from the left side panel by pressing a single on/off switch. This is most practical when you are riding frequently on and off tarmac roads. Most of the competitors have something more complicated than that. HONDA kept it simple. The key HONDA VFR1200X CrossTourer 2013 features are: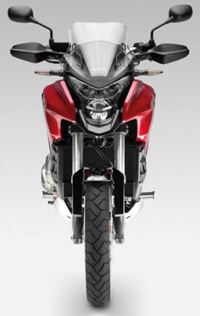 Seat height 850 mm.
Cross spoked rims
Tyres 110/80 R19 and rear 150/70 R17
Engine type V4
Max performance 129HP / 126Nm.
Shaft driven
ABS integrated (off without the fuse)
Traction Control TCS (off switchable)
Onboard Computer
Electronic immobiliser system HISS
Weight fueled 275kgs or 606.3lbs.
Fuel tank 21,5L, 5.7USgal., 4.7UKgal. (min. 95RON – 89AKI)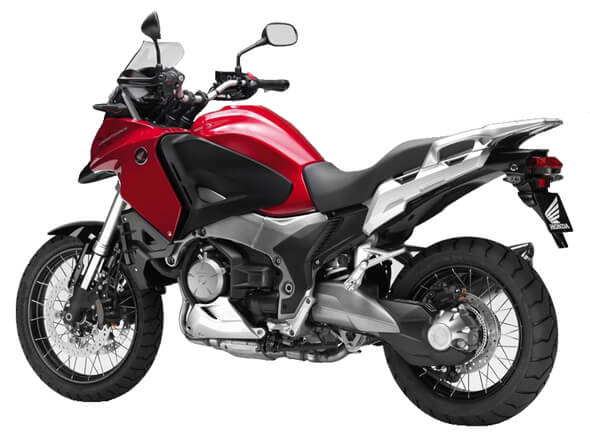 HONDA VFR1200X CrossTourer 2013 Engine
The HONDA VFR1200X CrossTourer 2013 has a unique engine type compared to any other allroad touring enduro. Although it is not a new engine for HONDA. The compact V4 engine delivers a turbine smooth torque which is very practical for touring and everyday biking. The sound of a V4 engine is also very sophisticated and tells all about how experienced manufacturer the HONDA really is. For sure the V4 is reliable and fits very well to allroad touring.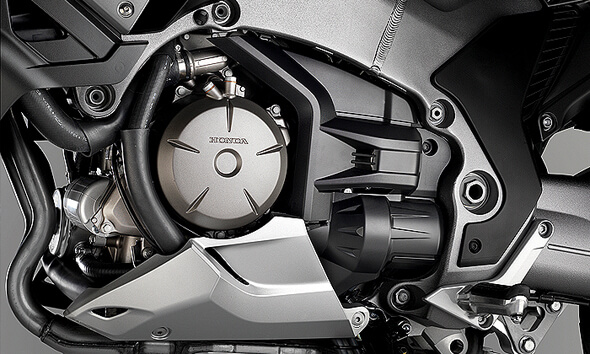 HONDA VFR1200X CrossTourer 2013 DCT
The HONDA VFR1200X CrossTourer 2013 can be equipped optionally with a Dual Clutch Transmission operates the clutch and gearshifting automatically with convenience. DCT has two clutches, one for 1st, 3rd and 5th gear and another for 2nd, 4th and 6th gear. By pre-selecting the next gear and transferring the drive between two clutches when optimal, the DCT provides swift, smooth and seamless gearshifts. Smooth gearshifts are especially relevant for comfortable riding with a passenger.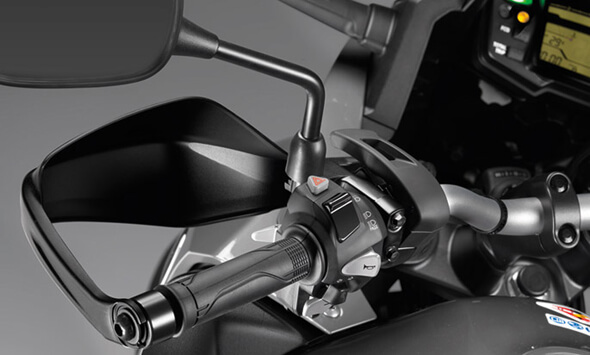 The HONDA VFR1200X CrossTourer 2013 dual clutch transmission DCT has three modes of operation providing flexibility for different riding styles and situations. The manual MT mode allows the rider to shift gears with the handlebar trigger control buttons. There are 2 automatic shift modes. D mode is ideal for city and highway riding, maintaining a good fuel efficiency. The engine control unit monitors several parameters and can choose between 2 throttling maps. One for normal conditions minimising the number of gear shifts for smooth progress. The other for higher load, changing gears more readily, increasing the acceleration and providing stronger engine braking. In the sporty S mode the transmission lets the engine run a little bit higher before shifting up, giving more performance and also shifts sooner down when decelerating. In either D or S mode the dual clutch transmission allows immediate manual intervention when required. The rider simply selects the preferred gear using the MT -shift buttons. The DCT returns back to automatic mode when parameters are again appropriate.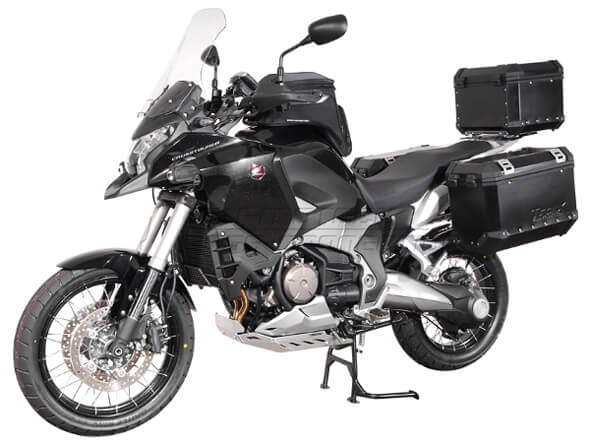 HONDA VFR1200X CrossTourer 2013 Equipment Accessory
Some of the equipment are so far available only at the HONDA dealers and I would recommend to choose the 145 mm. higher touring windscreen, the crash bars and since the HONDA VFR1200X CrossTourer 2013 has no center stand as standard, that should be in the accessory list too. Due to the small fuel tank, I would also recommend fuel canisters such as ROTOPAX for long legs and refueling intervals. The CrossTourer is relative new model and the numbers on the road are small. For example there are no robast crash bars which would be relevant for a serious allroad touring on gravel. Therefore the equipment providers have only few model specific items and most of the equipment is universal from nature. The SW Motech and Twisted Throttle US provide the widest selection so far.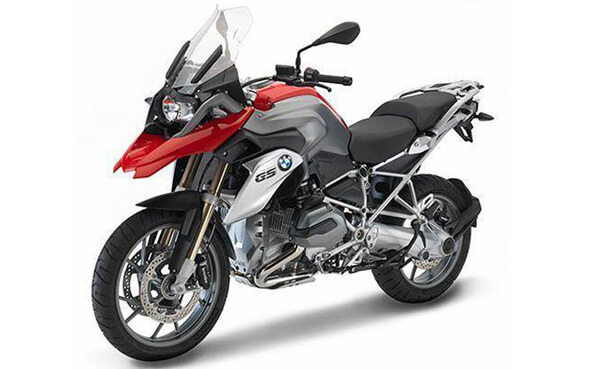 HONDA VFR1200X CrossTourer 2013 Comparison
Compared to category leader BMW R1200GS 2013, the HONDA VFR1200X CrossTourer 2013 offers additionally hand guards as standard and cross spoked rims in stead of cast aluminium wheels, but no center stand. On the other hand, the Crosstourer has single piece seat which is not adjustable and a limiting factor for a lot of shorter riders. There is only one thing, you can adjust with the Crosstourer. The small windshield which you can setup into 2 positions. Rider ergonomics are generally OK, but not for everyone. For more adjustments, you need to turn to accessories such as adjustable foot pegs, handle bar raisers and touring windscreens. Perhaps even seat tuning would be in order.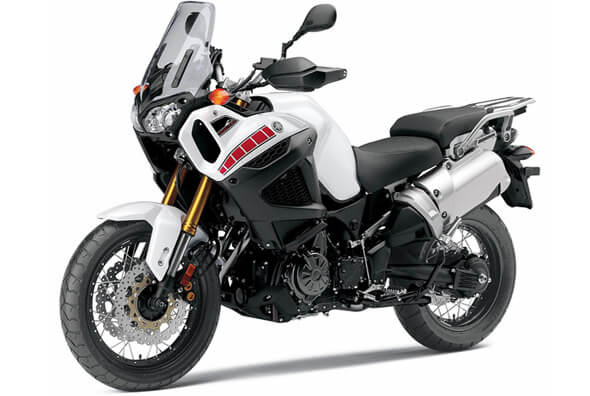 Compared to the YAMAHA XT1200Z SuperTenere 2013, the HONDA VFR1200X CrossTourer 2013 is 14kgs (30.9lbs) heavier, offers 1,5L (0.4USgal./ 0.33UKgal.) less fuel capacity, but 19HP and 12Nm. more smooth engine performance. They are quite similar on paper. They use the shaft drive, have similar cross spoked rims the same size, offer very modest wind coverage, include traction control and onboard computer as standard features. The VFR1200 windscreen can be placed in 2 positions, but is still very old school from nature. The XT1200 two piece seat is adjustable, but the VFR1200 single piece seat is not which limits the basic ergonomics slightly more. The HONDA VFR1200X CrossTourer 2013 is a basic urban touring enduro and a practical everyday bike with the finest engine performance. The YAMAHA XT1200Z SuperTenere 2013 is more versatile and agile allroad touring enduro with a bite of an adventure.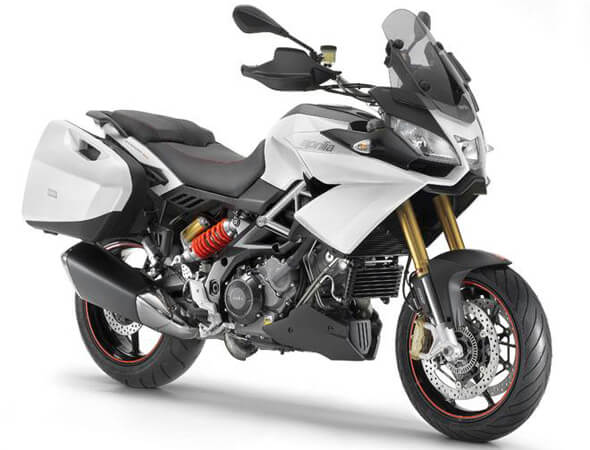 Compared to the urban sport touring enduro APRILIA 1200 Caponord 2013, the HONDA VFR1200X CrossTourer 2013 offers 4HP / 11Nm. more engine performance, 2,5L (0.66USgal./ 0.55UKgal.) more fuel capacity, cross spoked rims and a shaft drive, but is 24kgs (52.9lbs) heavier. The HONDA V4 engine together with the shaft drive are a perfect combination for urban touring. Even though the CrossTourer has slightly more power, the Caponord is more sporty from overall nature. They both offer very similar equipment as standard, but Caponord has slightly better wind coverage. The HONDA VFR1200X CrossTourer 2013 has quite limited allroad capabilities and the cross spoked rims are a clear plus, but the APRILIA 1200 Caponord 2013 is entirely an urban sport touring motorcycle with the 17 inch cast aluminium wheels and enduro like riding posture.