APRILIA 1200 Caponord 2013 Urban Touring Enduro
APRILIA 1200 Caponord 2013 is a kind of urban sport touring motorcycle with an enduro style riding ergonomics. The CAPONORD has no offroad features what so ever and the wheel size & type is entirely made for the pavement. For sure it takes a spin on a well maintained dirt road with clean tracks like any other GT -bike, but it`s not an allroad touring enduro or a dual sport at all. The competition comes from the more similar models such as DUCATI 1200 Multistrada and perhaps even the SUZUKI VStrom 1000 ABS etc. with cast aluminium wheels. The APRILIA 1200 Caponord 2013 has been technically rediscovered and oriented for comfortable touring and everyday biking without any offroad features.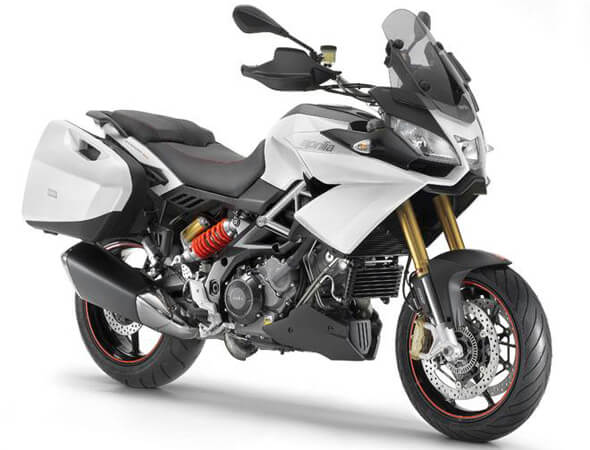 The APRILIA 1200 Caponord 2013 is equipped with a sophisticated traction control and riding modes as standard. The CAPONORD Travel Pack version includes additionally a suspension and cruise control systems along with a center stand and a set of side cases. The CAPONORD is hardly offroad capable due to the 17inch aluminium wheels, street tyres, low 170 mm. (6.69in.) ground clearance and narrow foot pegs which are very typical tarmac touring bike features. Even the fuel tank is only 24L which is fine for urban routing. Since the CAPONORD is designed entirely for tarmac, the factory has been able to tune the bike more specifically beyond a general allroad riding nature. Therefore the CAPONORD is very competitive alternative in urban sport grand touring without any allroad compromises.
APRILIA 1200 Caponord 2013 Features
The APRILIA 1200 Caponord 2013 -windscreen is basically a little bit short and the adjustments traditional. To change the position, the CAPONORD -rider needs to stop and release 2 locks in order to adjust the windscreen. It works just fine, but this is an old school method and even when if it`s not adjusted using electronics, the control mechanism should be operated with left hand only. The BMW R1200GS has the right adjustment style, but perhaps with less sturdy support mechanism. The key APRILIA 1200 Caponord 2013 features are:
Seat height 870 mm. or 34.25in
Cast aluminium wheels
Tyres 120/70 – 17 and rear 180/55 – 17
Engine type V2
Max performance 125 HP and 115 Nm.
Alternator 690W
Onboard computer
Electronic immobiliser system
ABS (off switchable)
Traction control ATC
Chain driven
Weight fueled 251kgs or 553.4lbs.
Payload 209kgs or 460.8lbs.
Fuel tank 24L, 5.28USgal., 6.34UKgal. (min. 95RON – 89AKI)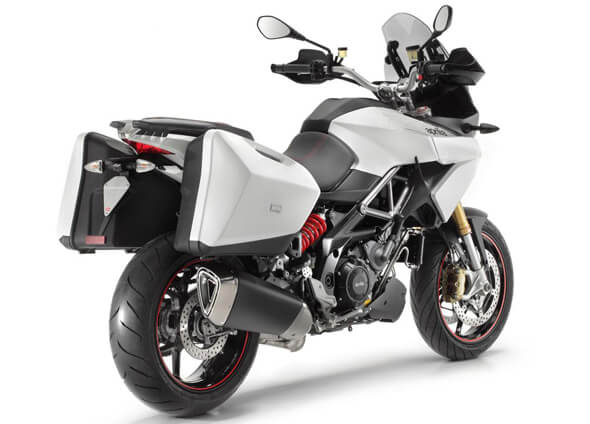 APRILIA 1200 Caponord 2013 Riding Aid Systems
The APRILIA 1200 Caponord 2013 has a powerful V2 -engine, delivering more than an adequate amount of force in any situation. Therefore riding aid systems are in order with the CAPONORD and the ATC Aprilia Traction Control system comes as standard. The intelligent traction and stability control systems provide additional safety for situations and conditions that are challenging for the speed, load and riding capabilities in question. The CAPONORD -traction control system has simply 3 levels and an off stage. A full performance, comfortable touring and a low grip mode for conditions such as the rain. The ATC keeps the settings even after turning the engine off which is more practical than returning to a safe stage. Especially when the CAPONORD -rider prefers having the ATC off most of the time. Simple is better and I prefer to ride instead of playing with the settings.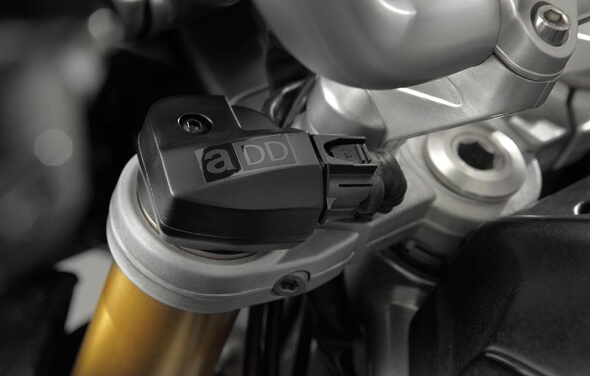 The APRILIA 1200 Caponord 2013 is designed with comfort in mind. Sophisticated suspension control systems provide additional comfort in changing road and load conditions. If anything touring is very much that. The ADD Aprilia Dynamic Damping system with SACHS -chock absorbers and advanced pressure measurement together with an intelligent management, is highly comfort oriented and successfully so. The ADD offers 4 typical preload modes and an automatic preload determination which saves the trouble of playing with the settings even further. Simple 2 -modes both for solo and with the passenger including and excluding the luggage. The ADD fits very well with the CAPONORD `s character and offers practicality for urban touring. The extra weight (14 kg / 31 lb.) of ADD along the Travel Pack is not a problem on pavement, but the extra comfort and ease are a big plus. Therefore investing in an ADD system makes a lot sense with the CAPONORD as long as the bike is used for touring.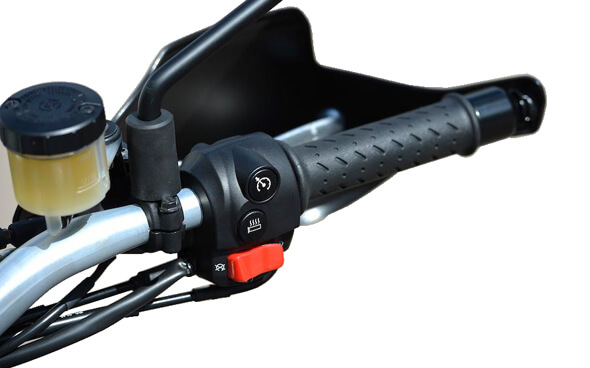 The APRILIA 1200 Caponord 2013 is ride by wire throttled, but offers as optional extra an APRILIA Cruise Control – ACC. The cruise control system offers relaxed highway mileage also for the right hand and the shoulders. Having and using the cruise control simply extends the daily range due to better riding comfort. Surprisingly the right hand ACC has only a single button to set / reset the speed and switch the ACC on and off which makes adjusting the speed a little bit odd. I prefer having the cruise control at the left hand side entirely due to a faster and more accurate operations. Anyhow the rider needs to put off the ACC first with a long hold and then back on to set a new speed which is a strange method, but perhaps not avoidable with the single press button technique. The APRILIA 1200 Caponord 2013 ABS system can be turned off, but it will automatically turn itself on when starting the engine next time. This is just fine for an urban touring motorcycle, but quite unpractical for an allroad touring enduro which is designed for gravel & dirt road riding.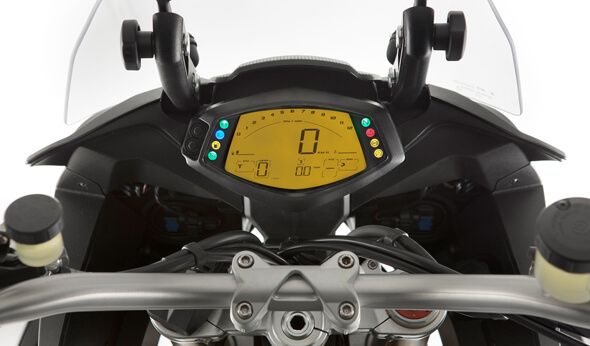 APRILIA 1200 Caponord 2013 Instrumentation
The APRILIA 1200 Caponord 2013 has no traditional gauges, even the RPM is shown graphically which is not famous from readability. There is even room for a GPS -navigator above the instrument cluster, but no factory support, even when the GPS is today a standard GT -equipment for a lot riders. Everything is provided with a large LCD -display and in digital form. An onboard computer is naturally included and there is even a smartphone application to connect the onboard computer with the phone in order to view the engine data, even in real time while riding. Anyhow riding itself should be more interesting than those readings and I prefer to keep things simple. There are quite many LCD settings to work with, especially with the ADD -system, but only 2 buttons which is an old school method compared to the genius BMW R1200GS Multi Controller. The key APRILIA 1200 Caponord 2013 onboard computer and LCD -display features are:
Speed (Kph / Mph)
Engine RPM
Odometer total
Time
Trip journals 1 & 2
Trip odometer
Traveling time
Average traveling speed
Maximum speed
Fuel level with reserve travel counter
Coolant temperature
Riding modes S – T – R
Gear in use
Service due indicator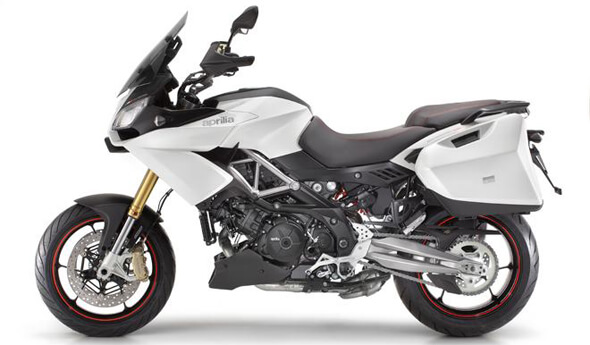 APRILIA 1200 Caponord 2013 Equipment Accessory
There are few interesting APRILIA 1200 Caponord 2013 parts offered by the APRILIA -dealers such as 2 seats (normal height / low) with gel insert which should provide additional comfort. There is a mudguard for the front wheel which is practical to keep the engine cleaner. In addition the center stand helps to service the chain during the tour. The hand guards come as standard, but the slightly small wind coverage could be extended with a spoiler and since there seems to be some turbulence at the highest position, perhaps it would eliminate that too. At the moment there is no taller OE -windscreen available. A pair of grip warmers would be nice too, if the season starts early or ends late.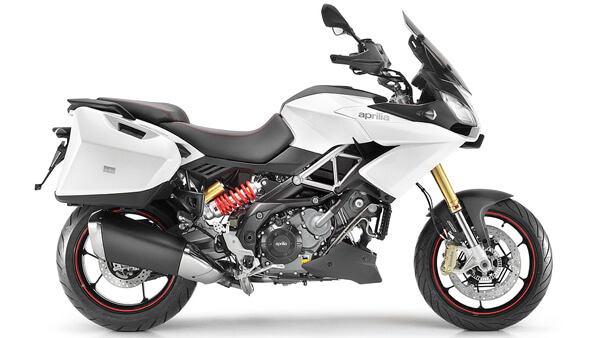 APRILIA 1200 Caponord 2013 Comparison
Compared to the urban touring enduro DUCATI 1200 Multistrada 2013, the APRILIA 1200 Caponord 2013 is very similar, as if the MULTISTRADA would have been the goal to beat. They both have 17inch wheels, V2 -engines, modern instrumentation etc., but the CAPONORD is 27kgs heavier, offer 25HP and 9Nm. less engine performance. Therefore the MULTISTRADA is more sporty and quicker. The CAPONORD is perhaps slightly more comfort oriented, but they could both have better wind coverage, although the MULTISTRADA offers slightly more wind coverage with a tall windscreen and a 60 mm. adjustment. They are both excellent sports touring enduros from the finest end and a lot of fun, but hardly any allroad enduros.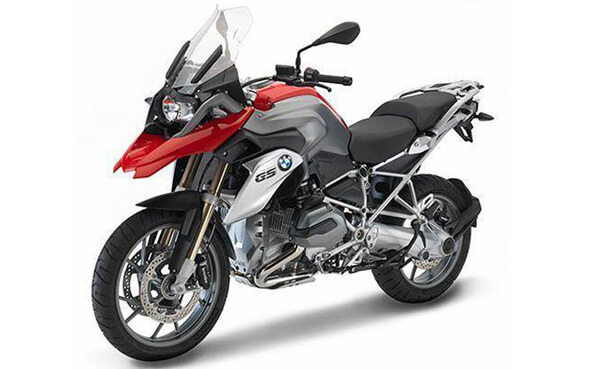 VS BMW R1200GS 2013
Compared to the urban touring model BMW R1200GS 2013, the APRILIA 1200 Caponord 2013 offers the same amount of engine performance, but slightly weaker power to weight ration (+13kg / 28.6lbs.), smaller 17inch front wheel, 3kgs (6.6lbs) less payload, less ground clearance and the joy of the chain maintenance during the trip, but also 4L (1.06USgal./ 0.88UKgal.) more fuel capacity and 110W more alternator performance. The GS offers additionally seat adjustment and a center stand as standard, but no hand guards like the CAPONORD. In addition GS provides maintenance free shaft drive which is better, but hardly a problem today. Basically they seem a lot alike on paper, but the GS is very different from nature and first of all, clearly allroad capable touring enduro.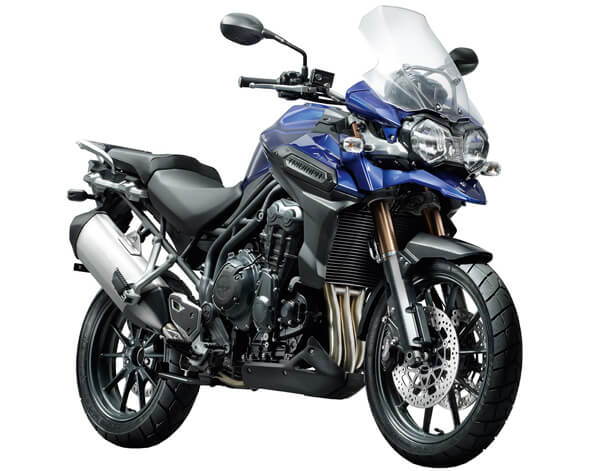 VS TRIUMPH Tiger 1200 Explorer 2013
Compared to the urban touring model TRIUMPS Tiger 1200 Explorer 2013, the APRILIA 1200 Caponord 2013 is 8kgs (17.6lbs) lighter, offers 4L (1.06USgal./ 0.88UKgal.) more fuel capacity, but it also offers 12HP/6Nm. less engine and 260W less alternator performance, 13kgs (28.7lbs) less payload capacity, smaller 17in. front wheel and no seat adjustments. The EXPLORER provides additionally a cruise control as standard and the joy of the shaft drive. Again they look very much alike on the paper and both bikes have a sporty riding character too. Never the less the TRIUMPS Tiger 1200 Explorer 2013 is allroad capable touring bike and the APRILIA 1200 Caponord 2013 stays on pavement surfaces.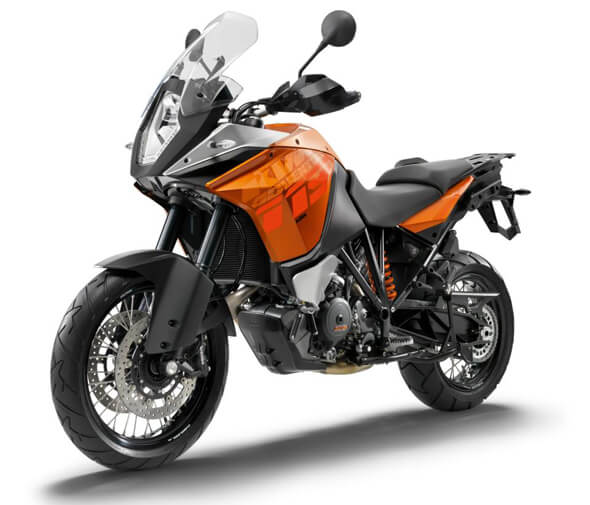 VS KTM 1190 Adventure 2013
Compared to the KTM 1190 Adventure 2013, the APRILIA 1200 Caponord 2013 offers 1L (0.26USgal., 0.22UKgal.) more fuel capacity, but it`s also 21kgs (46.3lb.) heavier, carries 19kgs (41.9lb.) less payload, offers 23HP less engine performance and no cross spoked rims as standard. The Adventure has very sophisticated stability control systems for the pavement and offroad conditions, but the CAPONORD has only tarmac support. From the instrumentation point of view, the Adventure offers one of the most versatile features, but no cruise control like the CAPONORD. They both are chain driven and sporty touring enduros from nature. The APRILIA 1200 Caponord 2013 sporty character has an urban advantage of a 17inch front wheel which in better in tight bends and maker it very competitive in GT. The KTM 1190 Adventure 2013 is very strong in everything and offers much wider spectrum of routing alternatives on top.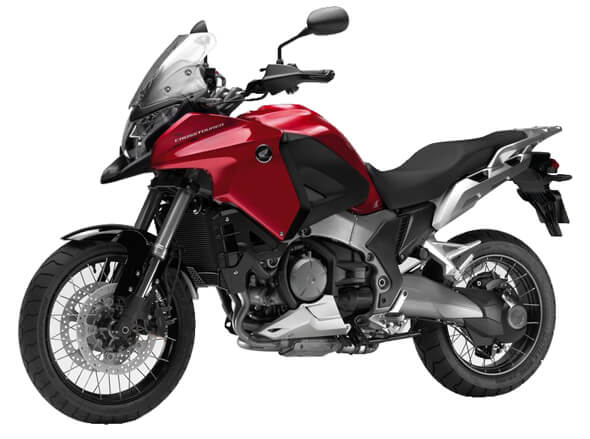 VS HONDA VFR 1200X CrossTourer 2013
Compared to the quite urban touring enduro HONDA VFR1200X CrossTourer 2013, the APRILIA 1200 Caponord 2013 is 24kgs (52.9lbs) lighter and offers 2,5L (0.66USgal./ 0.55UKgal.) more fuel capacity, but also offers 4HP/11Nm. less engine performance, no cross spoked rims or a shaft drive. The silky smooth HONDA V4 -engine together with the shaft drive are a perfect combination for urban touring. Even though the CrossTourer offers slightly more raw power, the CAPONORD is more sporty from nature due to better power to weight ration and more agile handling features. They both offer similar standard equipment, but the CAPONORD has slightly better wind coverage and offers optionally an electronic damping system. Although the CrossTourer has a double clutch transmission option. The HONDA VFR1200X CrossTourer 2013 is more versatile from the routing point of view, but it also has very limited offroad capabilities and the cross spoked rims are a clear plus out side the tarmac. The APRILIA 1200 Caponord 2013 is entirely an urban sports touring motorcycle with the 17inch cast aluminium wheels and road handling features, but clearly a very competitive package.