KTM 1190 Adventure R 2013 Allroad Touring Enduro
The KTM 1190 Adventure R 2013 is a serious competitor in a more challenging adventure touring class. Due to the fact that the KTM factory has very strong offroad enduro competence and long Dakar Rally experience, we can always expect leading handling features, state of the art agility with impressive offroad performance. About a decade ago came the KTM950 Adventure and the Adventure S model which were followed by the KTM990 Adventure and the R model. Those models were the best big adventure touring enduros by far and came closest to the Dakar Rally features.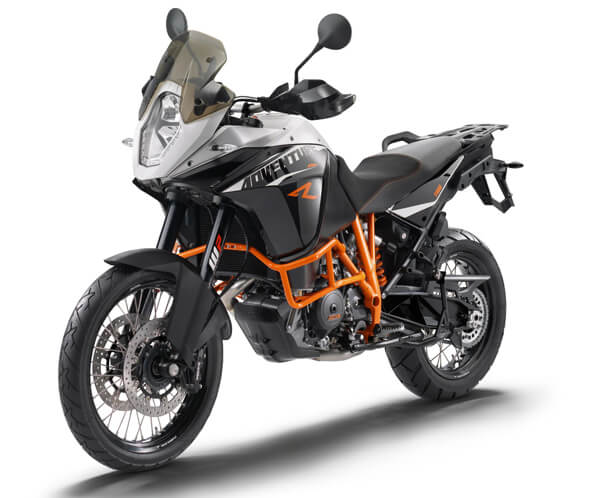 The KTM 1190 Adventure R 2013 is designed for more challenging adventure touring especially on the poorest end of roads in the outback. The bike`s character could be also described as sport touring enduro which can be easily found in active riding conditions. When ridden in standing posture, the KTM1190 Adventure R feels comfortable and natural. The R model has good riding ergonomics and you can adjust the foot pegs (10 mm.), handlebar clamp (+/-10 mm.), hand levers and the windscreen (25 mm.). Without a doubt KTM1190 Adventure R 2013 is also an interesting every day bike.
KTM 1190 Adventure R 2013 Features
What the KTM really can and is able to deliver, is the state of the art offroad handling features and best power to weight ratio which are all in the very essence of the KTM 1190 Adventure R 2013. The WP suspension is one of the finest, fully adjustable and delivers outstanding suspension performance. The KTM 1190 Adventure R 2013 is on top of that also intelligent adventure touring machine. The ABS can be switched to offroad allowing rear wheel locking and sliding while the front wheel is controlled by the ABS. The traction control provides 4 riding modes and a real off setting for those who can handle it. The 1190R is also ride by wire throttled which translates together with the anti-hopping clutch into a sophisticated throttle response to both directions giving flowing rider control without the chatter. Technical features of KTM 1190 Adventure R 2013:
Seat height 890 mm. or 35.04in (single piece seat)
Cross spoked rims
Tyres 90/90 ZR21 and rear 150/70 ZR18
Engine type V2
Max performance 148HP
Alternator 450W
Chain driven
Day time running lights DRL & LED indicators
ABS integrated (off switchable)
Traction control MTC (off switchable)
Riding modes
Onboard computer
12V power outlet
Electronic immobiliser system
Tyre pressure monitoring system
Weight fueled 235kgs or 518.1lbs.
Payload 223 kgs or 491.3lbs.
Fuel tank 23L, 6.08USgal., 5.06UKgal. (min. 95RON – 89AKI)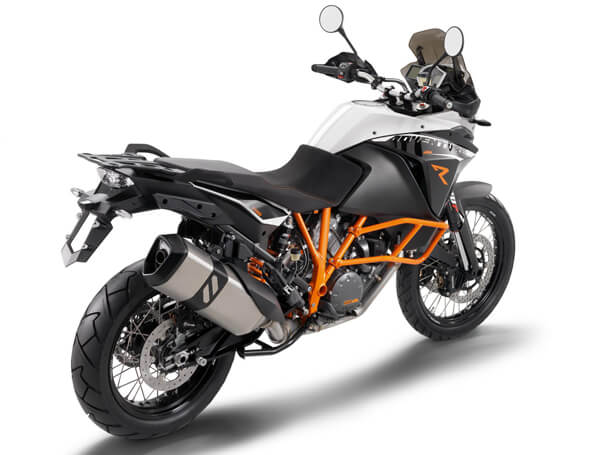 KTM 1190 Adventure R 2013 Considerations
Like every other bike, there are few things to keep in mind with the KTM 1190 Adventure R 2013. The Continental Trail Attack II tyres are clearly very urban from nature and need to be changed when used as an adventure bike on gravel and sand. The average size of the fuel tank makes the 1190R rider aware of the nearest fuel station and carrying a reserve canister such as ROTOPAX for long legs, even with the improved fuel economy. The 1190R alternator offers a moderate 450W capacity which requires downright energy consumption. The daytime running lights DRL and LED indicators help to save energy, but grip heaters and traveling devices can get you into trouble. The seat is designed for active adventure riding which means that easy tarmac legs are not very comfortable from that perspective. The KTM 1190 Adventure R 2013 regular windshield is also quite modest and speaks of less comfortable tarmac touring features. The windshield and turbulence elimination around the rider helmet has not been the strongest area by the KTM. Perhaps someone from the equipment providers takes care of this soon enough.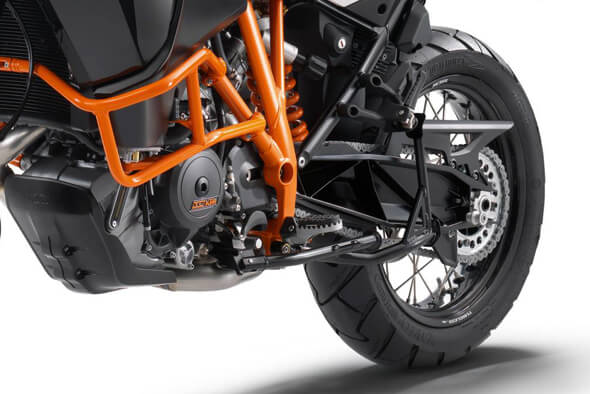 KTM 1190 Adventure R 2013 Chain Drive
The absence of a driveshaft is standard for KTM factory and expected from the KTM 1190 Adventure R 2013. The chain drive is the most efficient way of transferring the power on the ground, but it also keeps the overall weight as low as possible and therefore maintains the best possible maneuverability. Although X-ring chains are today extremely good and require less maintenance, the KTM 1190 Adventure R 2013 rider needs to take care of the lubrication every now and then. Therefore a lubrication system could be a practical way of taking care of it. Otherwise the chains need to be regularly sprayed.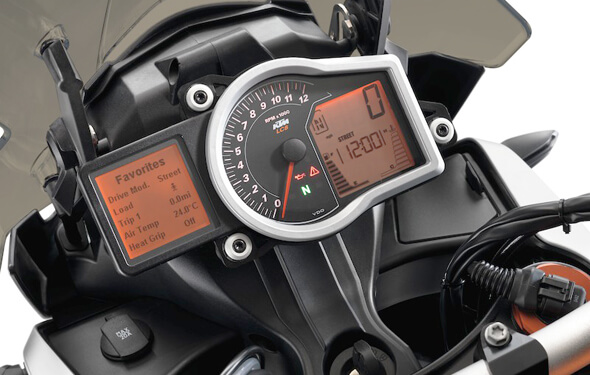 KTM 1190 Adventure R 2013 Instrumentation
The KTM 1190 Adventure R 2013 cockpit instrumentation is very much up to date and clearly comprehensive which is even important from the refuelling point of view. There are 2 LCD displays, warning symbol lights and a traditional tachometer in the middle. At the left there is also 12V power outlet for electronics. The left hand matrix LCD display provides detailed onboard computer information which can be also grouped individually and set into a favourite display: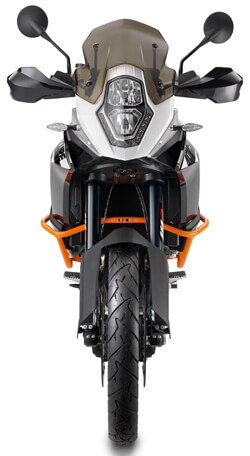 Odometer total
Date & time
Service due month/km
Trip 1 & 2
Trip time counters
Average speed
Average fuel consumption
Fuel range
Air temperature
Battery voltage
Oil temperature
Warning messages
Traction control & ABS settings
Riding mode settings
Day time running light DRL settings
Payload EDS settings (optional)
Shifting indicator settings
Tyre pressure
Grip heater settings (optional)
The KTM 1190 Adventure R 2013 right hand main LCD display offers the basic riding information such as:
Speed
Fuel level
Coolant level
Gear in use
Riding mode in use
Time
KTM 1190 Adventure R 2013 Equipment Accessory
The KTM 1190 Adventure R 2013 is one of the most interesting touring enduro from the tuning point of view. The KTM factory offers quite versatile basic touring equipment, but there is a huge variety of travel and safety equipment by the equipment producers such as the TOURATECH. The 1190R is very interesting model for a lot of companies. There is almost everything, but personally I would wish for a taller touring windscreens since this is the shortest straw of the 1190R. Although the factory offers a basic 1190 model windscreen of 385 mm. (15.16in), but for the tallest 1190 -riders it`s not enough.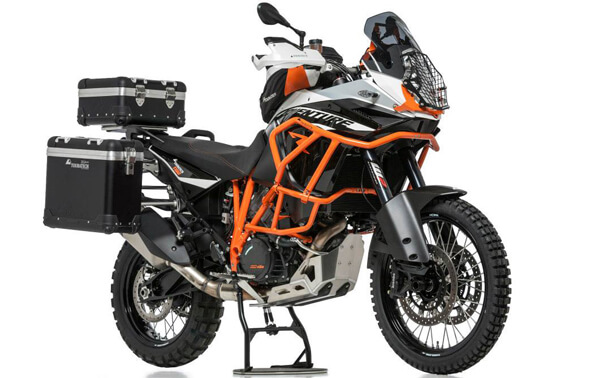 Another short straw is the KTM 1190 Adventure R 2013 single seat which is fixed at 890 mm. (35.04in) hight and clearly quite adventurous from nature. Those who spend time also on tarmac and better gravel roads, would benefit from custom made seats. Fortunately there are a lot of seat tuning companies and some of them know 1190R very well. Seat tuning is very popular due to various preferences and the KTM is basically not know from comfortable seats.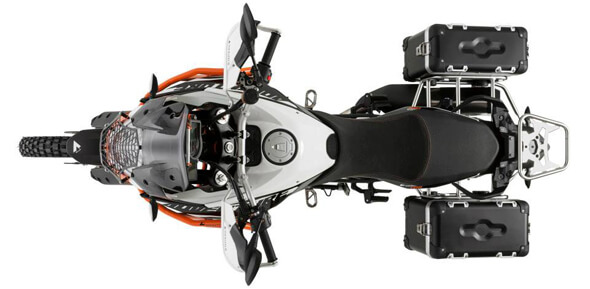 Since the KTM 1190 Adventure R 2013 is highly adventurous touring enduro and good for the outback, I would recommend to buy a set of proper fuel canisters such as ROTOPAX. Even if they are most of the time empty, there are plenty of long LEGs that require extra fuel on board and if those canisters are not there, the rider tends to reroute easily and miss the adventure.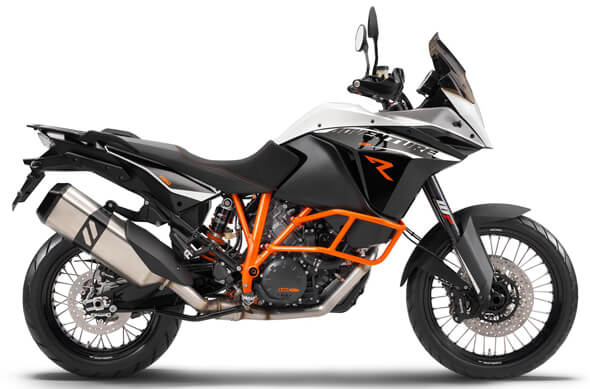 KTM 1190 Adventure R 2013 Comparison
Compared to the next generation BMW R1200GS Adventure 2014, the KTM 1190 Adventure R 2013 is 25kgs (55.1lbs) lighter, offers at the front 10mm. more suspension travel and 23HP more engine performance, but 7L (1.85USgal./ 1.54UKgal.) less fuel capacity and is chain driven instead of the shaft drive. In addition the KTM has bigger 21 inch front wheel, a steering damper and offers tyre pressure monitoring as standard. The bigger wheel and the steering damper are clearly better on loose surfaces and outside the tarmac roads. On the other hand, the GSA offers a small skid plate, much better wind protection with a taller and wider touring screen. Also the adjustable GSA rider seat provides better ergonomic features and comfort than the more adventurous 1190R single piece seat, although the KTM has adjustable foot pegs.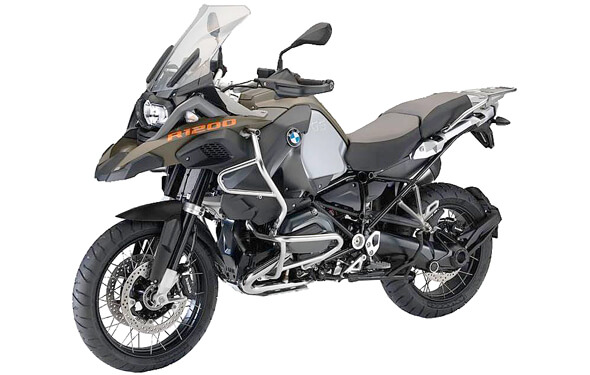 Today also KTM 1190 Adventure R 2013 provides electronically controlled suspension systems EDS as an option, but I find that less relevant for adventure riders. The WP suspension is very good and diversely adjustable. Once you find your setup, there is no need to play with it and generally it is another weight saving factor. These touring enduros seem very different even though, they are both designed for adventurous touring. The KTM 1190 Adventure R 2013 is clearly much more sporty and capable for demanding solo adventure riding. The BMW R1200GS Adventure 2014 is more comfortable and capable for extremely long global tours with a heavy payload and a passenger.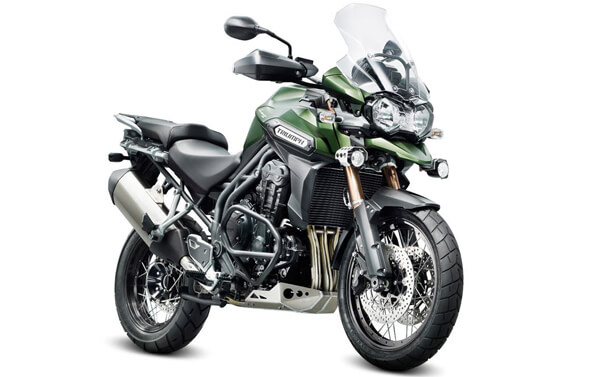 VS TRIUMPH Tiger 1200XC Explorer 2013
Compared to the TRIUMPH Tiger 1200XC Explorer 2013, the KTM 1190 Adventure R 2013 is 32kgs (70.5lbs) lighter, offers 13kgs (28.7lbs) more payload capacity, 11HP more engine performance, but 500W less alternator capacity and no shaft drive. The Tiger offers more wind coverage and rider seat adjustments. On the other hand, the 1190R has a WP -steering damper and bigger 21 inch front wheel which translate together with the offroad geometrics into better handling on loose surfaces and poor roads. These touring enduros are both very sporty, but the TRIUMPH Tiger 1200XC Explorer 2013 is generally stronger in comfortable allroad touring. The KTM1190 Adventure R 2013 is even sportier, sophisticated, slightly aggressive and handles exceptionally well in demanding conditions and surfaces.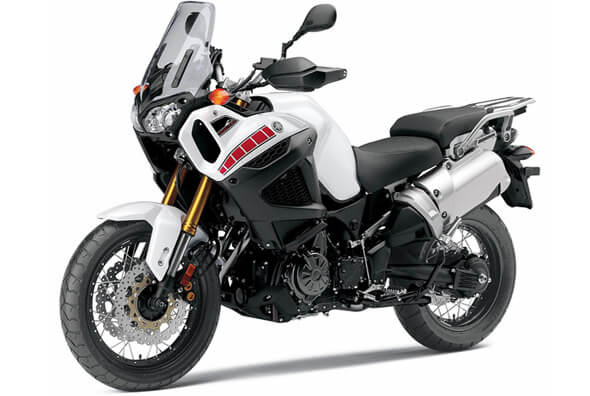 VS YAMAHA XT1200Z SuperTenere 2013
Compared to the YAMAHA XT1200Z SuperTenere 2013, the KTM 1190 Adventure R 2013 is 26 kgs (57.3lbs) lighter, offers 14kgs (30.9lbs) more payload capacity, 38HP more engine performance, the same fuel capacity, but 150W less alternator capacity and no shaft drive. From the equipment point of view, the standard XT1200 has no crash bars like the 1190R. They both have electronic riding aids, but the 1190R is more sophisticated and advanced. Also they offer moderate wind coverage due to the small windscreens, but 1190R windscreen can be adjusted easily. From the handling point of view, the KTM 1190 Adventure R 2013 stands at another level. Bigger wheels and offroad alike handling features match with the demanding adventure touring requirements. The 1190R is the sportiest adventure touring enduro for demanding conditions. The YAMAHA XT1200Z SuperTenere 2013 is more comfortable and traditional allroad touring enduro for reasonable conditions.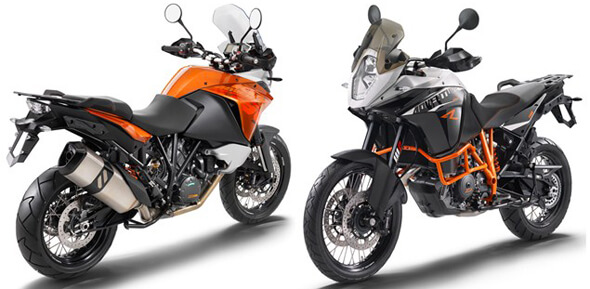 VS KTM 1190 Adventure 2013
In comparison to the basic and less aggressive KTM 1190 Adventure 2013, the KTM 1190 Adventure R 2013 model has 30 mm. more suspension travel and ground clearance which translates also to 30 mm. difference in seat height. The 1190R has also tyre pressure monitoring system, center stand and crash bars as standard leading to +5kgs (11lbs) additional weight. The wheels are also bigger making the KTM1190 Adventure R 2013 model much more comfortable off the road and on gravel roads. The 1190R seat is made of one piece for active riding which means slightly less comfortable ride on two.