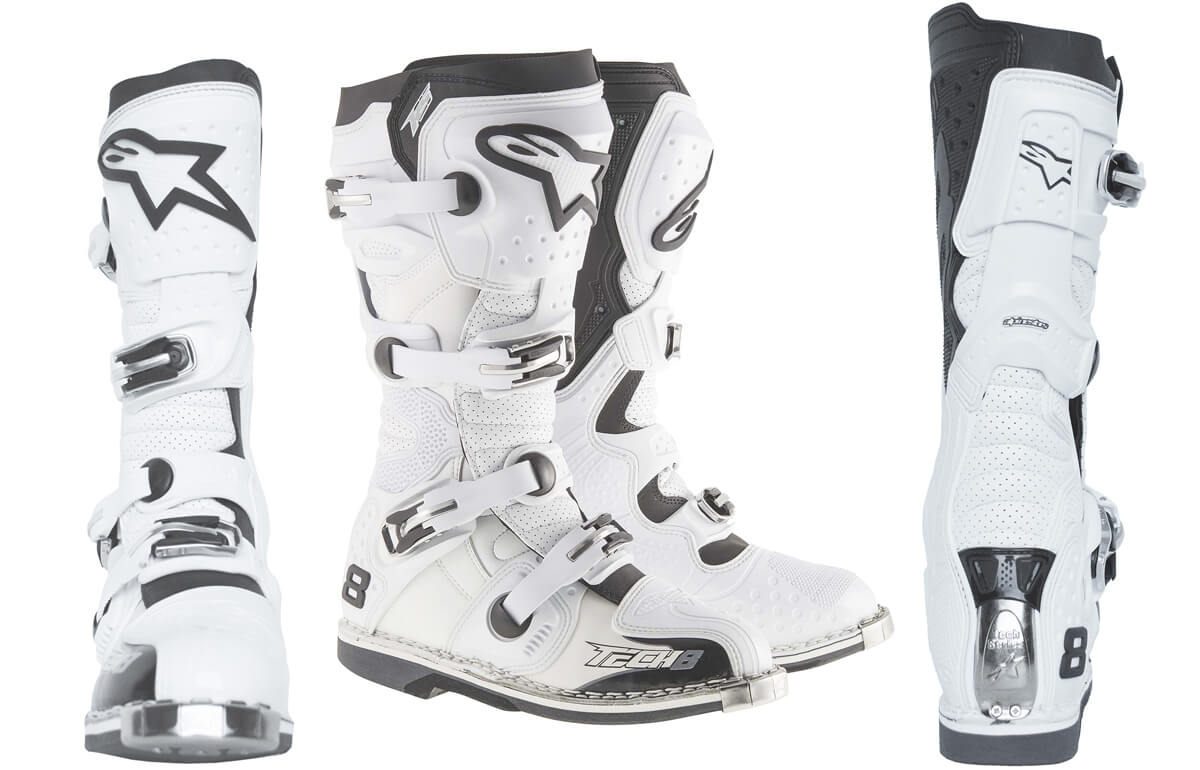 Alpinestars TECH8 RS offroad boots in white are a very interesting footwear alternative for adventure motorcycling and demanding routes. The TECH8 boots offer a lot of impact protection features and the necessary support for riding in standing posture, but the white version has also one of the best ventilation for riding in high temperature conditions. The traditional looking TECH8 is surprisingly light and flexible, but it also provides more feel to the bike. The white version is perforated all around the shank which increases the moisture evaporation features together with the sunshine color protection and fast wicking 3D mesh liner beyond the conventional. The Alpinestars TECH8 RS offroad boots are very competitive choice for adventure motorcycling as long as the rider is able to switch to a pair of waterproof MX socks when the rain hits and the walking distances are rather short.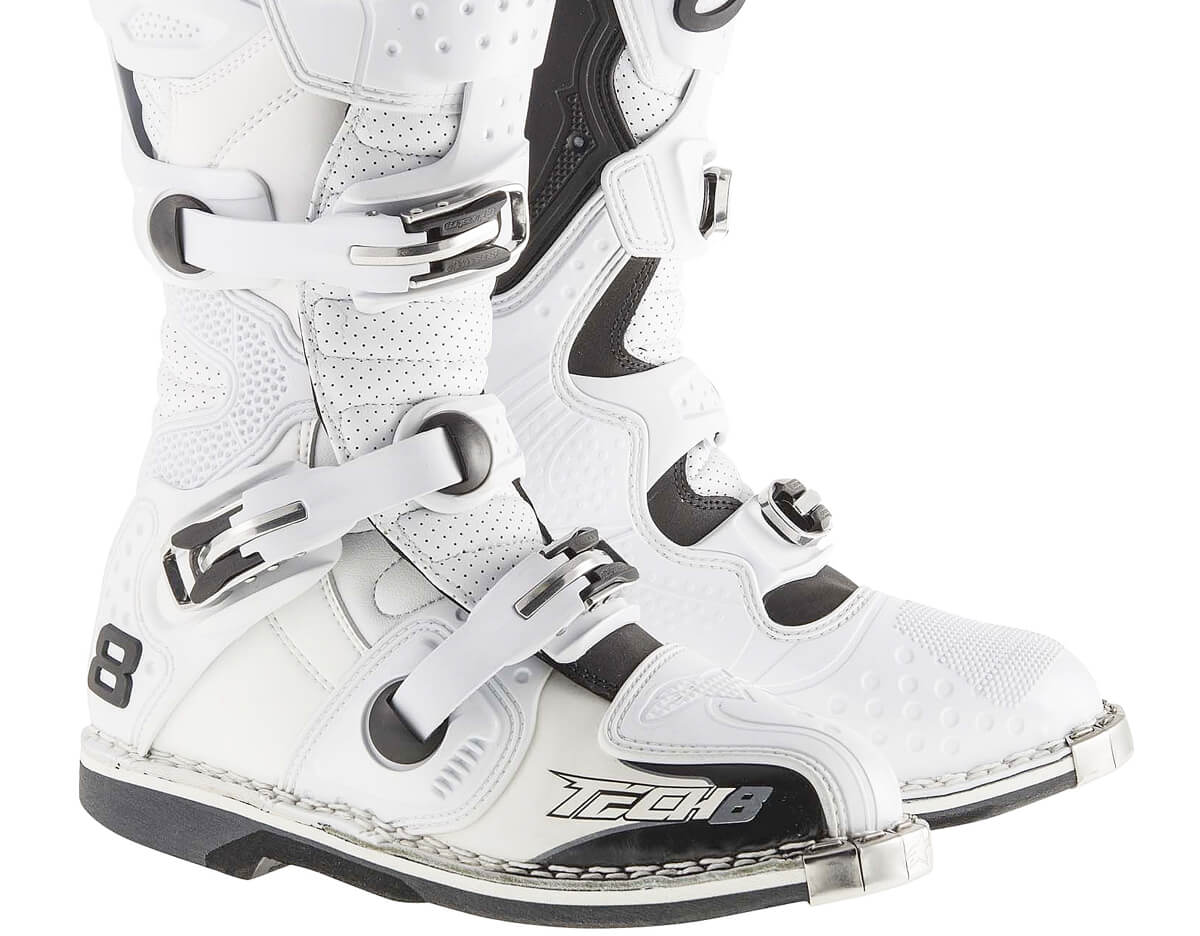 The Alpinestars TECH8 RS offroad boots offer proper protection features. The tall footwear has a full size shin guard which protects the leg against the offroad pegs. On the medial side the TECH8 has large TPU paneling which provides both support and protection. A rubberized grip zone with heat shielding complete the contact to the bike. A reinforced heel cockpit is on top of the protection also very comfortable, thanks to the inner booties with comfort padding. A low profile TECH8 toe box with TPU overlay gives more feel to the foot leavers and the steel guards at both ends protect the carcass in harsh riding conditions. A dual density TECH 8 outsole incorporates a full size steel shank and a replaceable midsole, providing the necessary support and comfort. The Alpinestars TECH8 RS offroad boot`s outsole is double stitched to the carcass which speaks of a long lasting joint together with the steel guards.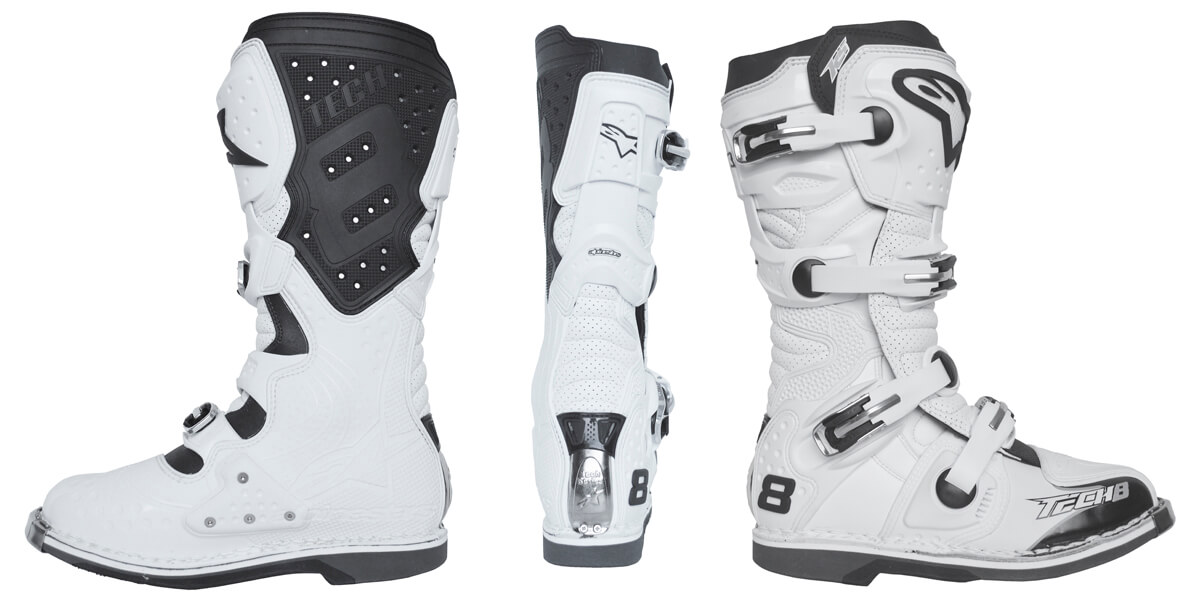 The Alpinestars TECH8 RS offroad boots provide proper support and comfort for riding in standing posture. The full size steel shank with optimized outsole takes care of the footbed on the offroad pegs. The TECH8 achilles support has one of the largest playroom with so called Dual Flex plates and elasticated flex zones. The larger ankle rotation allows to lean forward more deeper which translates to better control over the bike in demanding situations. A new buckle system supports the effort even further and the 2ND buckle on the side is not limiting the free movement by colliding with the 1ST and the 3RD buckle in the front. The clever aluminium memory buckle system works beautifully, keeps itself clean and makes the TECH8 profile even slimmer. The inner booties with comfort padding and gel adjustments are both convenient and functional in use. Read more about the Alpinestars TECH8 RS offroad boots over here.