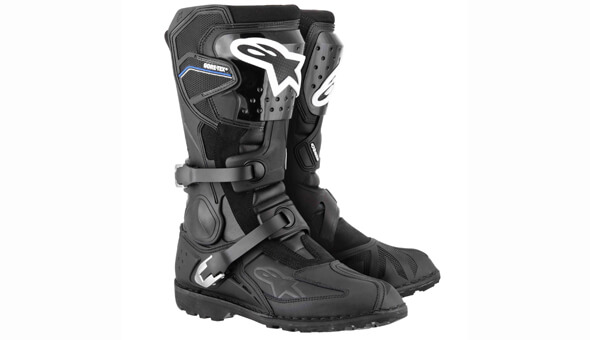 Italian Alpinestars TOUCAN Gore-Tex® motorcycling boots are exactly what the doctor ordered for allroad and adventure riders. The TOUCAN boots offer a significant amount of protection that should keep the rider adventuring on and on day after another. Before adventure touring riders were forced to use traditional offroad riding boots that are typically heavy and bulky. What offroad motocross boots are not offering, is a real rain protection and flexibility to walk around at least a little bit which is quite essential for allroad touring. The Alpinestars TOUCAN Gore-Tex® motorcycling boots can give the ease of mind with the waterproof and breathable Gore-Tex® membrane and slightly less stiffer boot structure in that respect.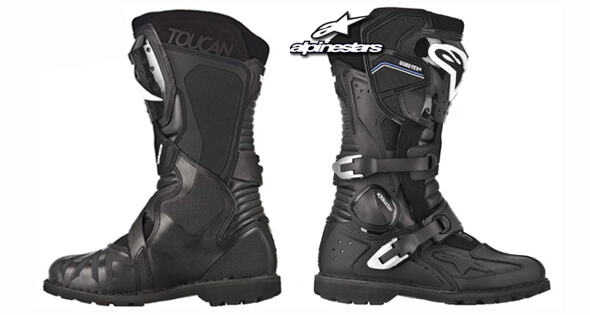 On the other hand, the offroad motocross racing boots offer a great support for riding in standing posture and the Alpinestars TOUCAN Gore-Tex® motorcycling boots come really close to that by offering a 3/4 steel shank with an achilles support and a proper shaft area closure system. The scale flips easily on the side of the TOUCAN riding boots due to the fact that they are on top of everything extremely light and much more flexible to operate the foot levers. Compared to typical road riding and touring boots, the Alpinestars TOUCAN Gore-Tex® motorcycling boots offer additionally much better protection features and the ability to ride long in standing posture which is not possible without a steel shank and proper support.

In order to offer even more touring comfort, the Alpinestars TOUCAN Gore-Tex® motorcycling boots have a moisture wicking mesh lining, air vents and heat shielding against the exhaust. There is no tough competition with all those features. ALPINESTARS has really put up a fine pair of an adventure boots which is almost perfect for a 4 season use. Having all black colouring may be the best compromise, but still I would prefer to have the TOUCAN boots in light grey or light brown. The TOUCAN riding boots are clearly one the finest hybrid boots so far, offering the best offroad riding features together with the best road riding boot features. Read more about the Alpinestars TOUCAN Gore-Tex® riding boots over here.