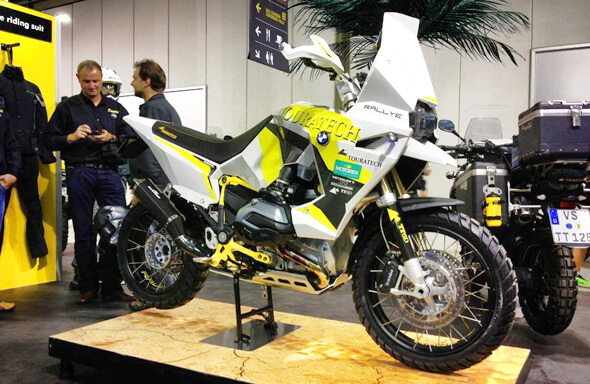 The equipment producer TOURATECH has introduced a concept tune up kit BMW R1200GS Rallye 2014 which is now presented in Milan, Italy at the EICMA 2013 motorcycle exhibition. The Rallye tune up kit is very interesting for the most adventurous riders that want to take the standard BMW R1200GS 2013 into highly remote places and challenging conditions. The BMW R1200GS Rallye 2014 tune up kit provides a full Dakar rally type of fairing kit, 12 inch front wheel with low fender, full length skid plate, grid frame guards, hand guards, handlebar raiser, single piece rally seat, Touratech TT3D suspension, offroad pegs, but no crash bars and the windshield is not adjustable. The Rally fairing parts are removable with quick release connectors allowing easy maintenance and servicing.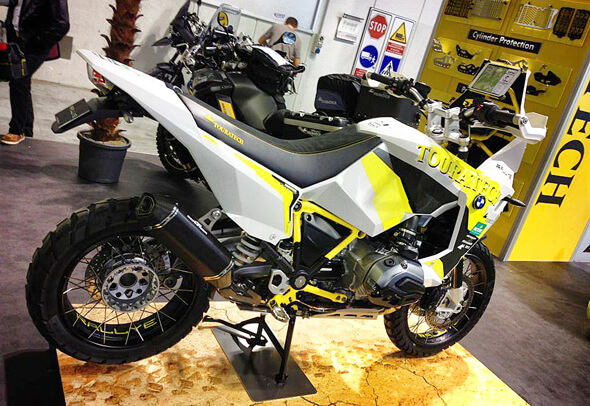 The BMW R1200GS Rallye 2014 Touratech is a hard core match with the former KTM 990 Adventure R 2012 which was the last generation of the famous Dakar racer KTM 950 Rally. This type of enduros have they own riders that are looking for speed on gravel and dirt. They are going places beyond a typical touring route. The Rally rider seeks for challenge and surroundings that are hard to reach for most of us. The BMW R1200GS Rallye 2014 Touratech is perfect for a global tour in the Asia, Africa and South America. At this point it is not know how big is the fuel tank, but perhaps Touratech kept it as a priority since they have a lot of experience in adventure touring.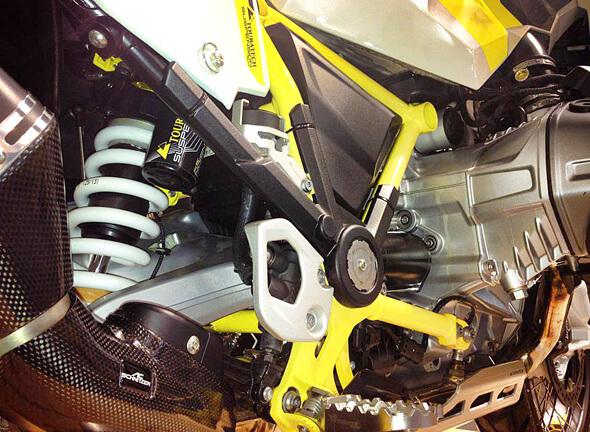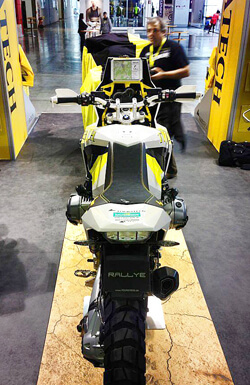 Similar to the BMW R1200GS Rallye 2014 Touratech, I had years ago a KTM 950 Adventure S 2004 which was amazing on gravel and dirt. These Dakar rally type of enduros are perfect for rough riding and demanding routes when the riding comfort comes after handling features and practical issues. They are designed for fast riding outside the tarmac and mainly in standing posture. The rally seats are very moderate and the design suffers from rider maneuvering and active riding requirements. The rally windshields are fixed in one single position which matches the riding position in standing posture and therefore the wind cover is basically too far ahead, too upright and too small when riding in sitting posture. The wind cover easily creates significant turbulence around the helmet. These things may be the down side, but still those enduros are fascinating and ideal for an adventure.
After all the BMW R1200GS Rallye 2014 Touratech seems very interesting and I am looking forward to see the details and specifications if the tune up kit comes in serial production. Today it is a concept tune up kit, but I can see a lot of interest on such conversions as long as they can be also reversed back to standard. Then you would have two very different kind of touring enduros in one. I hope the future brings more this kind of kits. There are many alternative models for tuning and I am sure that adventure riders would appreciate more variety. Read more about the BMW R1200GS 2013 here.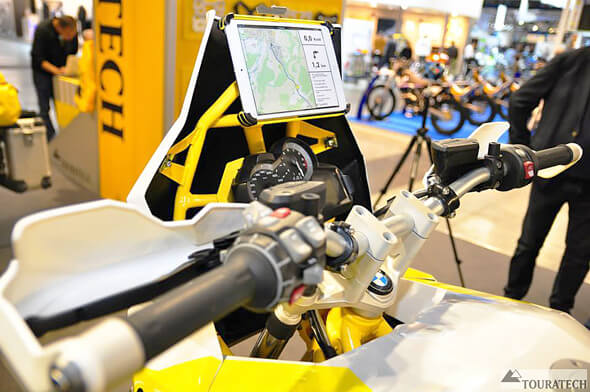 Visit EICMA 2013 Motorcycle Exhibition
If you have time to spare, visit the EICMA 2013 in Milan. The exhibition starts on Thursday 7th November and lasts for 4 days only. It is one of the biggest and oldest motorcycle exhibitions in the world and last year over 510 thousand people from 35 countries visited EICMA 2012. Most of them from Europe, but 6% from America, 13% from Asia and 2% from Africa. The EICMA 2013 is presented the 71st time and without a doubt worth visiting. The BMW R1200GS Rallye 2014 Touratech can be found at the stand E04 and pavilion number 14.