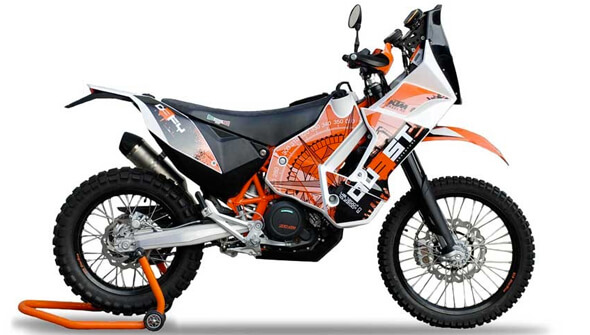 The Swiss KTM dealer KTM Region Basel AG plans to offer in August a special tune up kit for KTM 690 Enduro R 2013 with amazing 32 liters fuel capacity, tall Dakar rally type of fairing with a navigation tower and proper twin headlights. High quality seems to be one of the leading values and the design is good. Everything seems very well thought through and the KTM 690 Quest 2013 Kit is something I have been waiting for.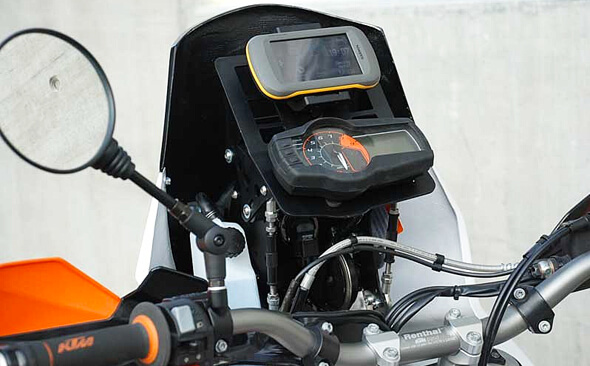 The KTM 690 Enduro R 2013 with Quest kit is ideal for extreme adventure touring with very long legs and demanding riding conditions. The wind coverage is clearly better than with standard equipment, but still very narrow, not very tall and far away in front of the rider when riding in sitting posture. The Quest fairing is designed for desert and dirt road riding in standing posture and the cockpit is turned towards the standing rider for better readability.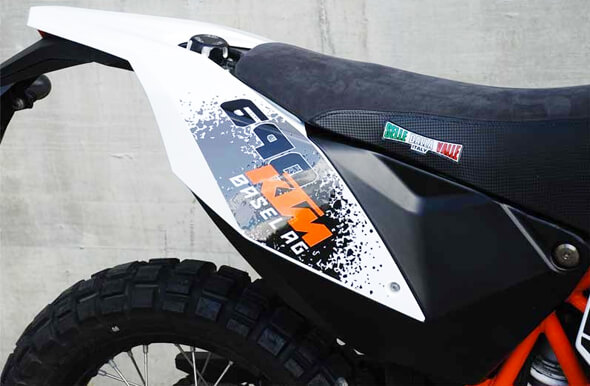 The KTM 690 Quest 2013 kit has glass fibre fairing which is reinforced with kevlar and the fairing can be easily removed with 4 quick connectors for washing or maintenance work for example. That is a very practical and commonly used feature with snowmobiles too, but still a rare thing with motorcycles. The KTM 690 Quest 2013 kit offers an extreme refueling range with 3 fuel tanks. Two 9 liter tanks at the front and one 16 liters tank at the rear. Fueling goes naturally with 3 separate tank caps.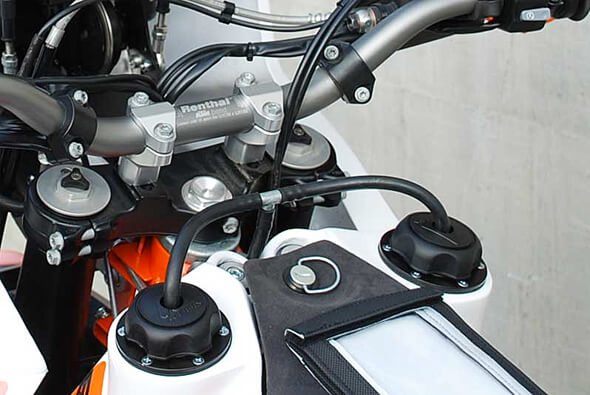 Compared to a standard KTM 690 Enduro R 2013, the KTM 690 Quest kit 2013 offers 20 liters more fuel capacity, much more wind protection and cockpit for touring navigation equipment, better headlights, but also slimmer and higher Selle Dalla Valle seat. The seat is very adventurous and designed for active riding. The comfort comes as last, but most of the adventure riders in the light adventure touring category prefer having it this way. Compared to KTM 690 RallyRaid Kit EVO1 & 2 and including both front and rear tanks, the KTM 690 Quest 2013 Kit offers still 5,5 liters more fuel capacity and a rally seat on top.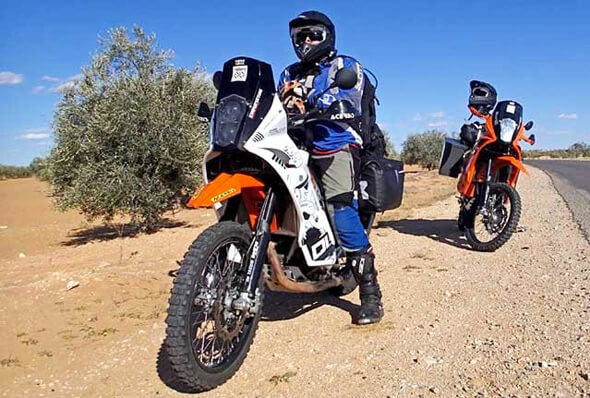 Here is a QUEST TuneUp kit introduction video from the KTM Region Basel AG.