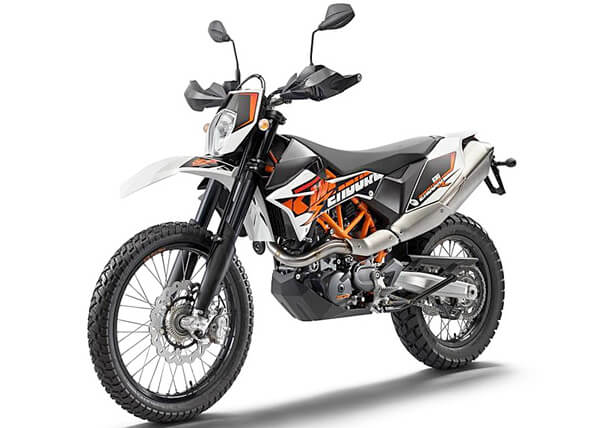 KTM 690 Enduro R 2014 is very potential light weight adventure touring motorcycle which can be upgraded to almost anything. The basic 690R is ideal for practicing offroad riding skills in the local trails and tracks, but it can be also tune up for desert rally riding and demanding adventure touring through the deserted back country. The famous KTM offroad handling, good ergonomics, resilient LC4 engine and light overall weight makes the 690R very capable and interesting for experienced riders too. The 690R is natural to ride in standing posture and by adjusting the handlebar, personal changes can be made easily.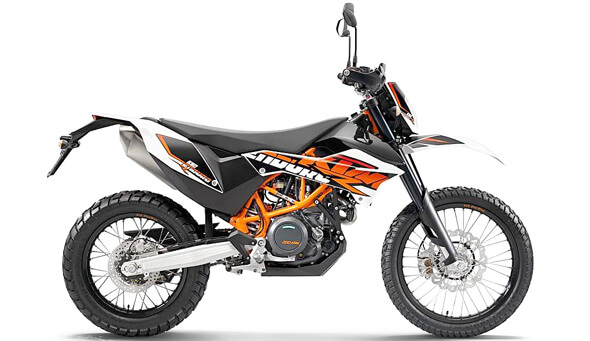 The KTM 690 Enduro R 2014 is ride by wire throttled and the LC4 single cylinder engine is very resilient and fuel efficient. Below the seat there is a switch to tune the engine character according to riding conditions and speed requirements. Due to EU -regulations, the 690R has now ABS supported braking system which is not fully in line with the requirements of adventure touring. The ABS can be switched OFF and set to offroad mode with a plugin, but still.. The WP -suspension can be trimmed for different payload and riding surface conditions easily, but a steering damper and rubberized handlebar clamps would complete the chassis. The KMT 690 Enduro R 2014 instrumentation is very modest and since there is no fuel gauge, a proper GPS -navigator would be good to support the fuel monitoring.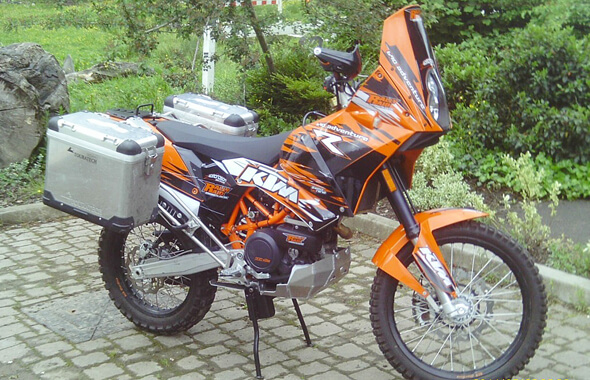 The KTM 690 Enduro R 2014 has few short comings too, but nothing that could not be handled. The rear fuel tank is very small and the 690R requires higher fuel capacity. There are several options and the capacity can be increased over 30L which is enough. The single piece seat is hardly comfortable, but there are alternatives and custom seat makers too. The standard wind coverage is nonexistent, but there are tall fairing parts with desert rally wind screens on the market. Perhaps the moderate alternator is something that limits the most and the 690R -rider needs to be reasonable with the power consumption. Read more about the KTM 690 Enduro R 2014 here.