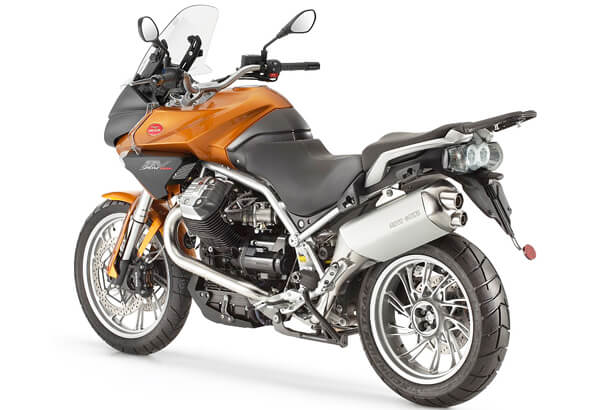 MotoGuzzi STELVIO 1200 ABS 2014 is an interesting touring enduro from the traditional and more urban end of the competition. The STELVIO is mainly designed for riding on pavement surface due to the cast aluminium wheels and absence of crash protection features. The STELVIO is quite heavy and the large fuel tank expresses it even more. Fortunately the weight becomes more relevant in offroad riding and on road it can be also an advantage in high speed cruising. Therefore the STELVIO is a competitive alternative for those who are looking for a comfortable tourer with extensive fuel range which would be also a practical everyday bike. Those who are looking for an allroad touring machine should straight go with the factory upgrade version MotoGuzzi STELVIO 1200 NTX 2014 which has cross spoked rims, better wind coverage and a pair of aluminium side panniers among others.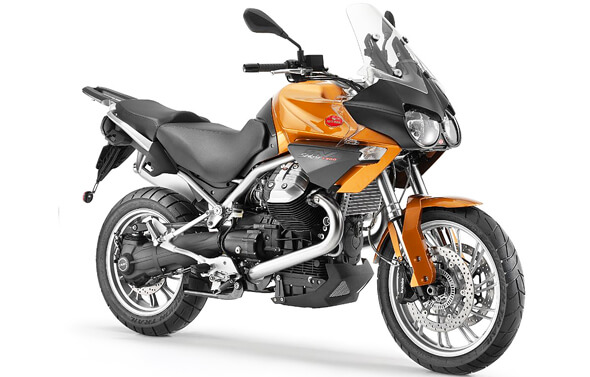 The MotoGuzzi STELVIO 1200 ABS 2014 has basic rider support systems such as the traction control and the ABS. They are mainly designed for the tarmac and provide no settings for offroad conditions other than the OFF -mode. The traditional ABS is no integrated and the STELVIO -rider should practice simultaneous foot braking. The basic instrumentation is up to date and the onboard computer offers few touring features too, but there is no better place for a GPS -navigator other than the handlebar. The diagonal V2 -engine provides useful torque along a smooth throttle control which makes the STELVIO very comfortable to handle and a practical everyday bike. The MotoGuzzi STELVIO 1200 ABS 2014 -ergonomics are good, but the standard wind coverage could be larger already for an average rider. Fortunately the windshield can be adjusted like the rider seat and additional improvements can be easily made.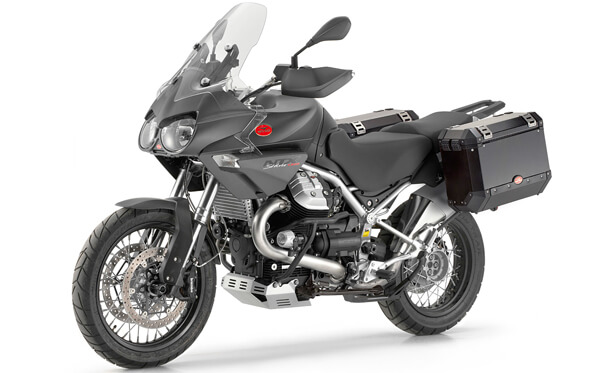 The MotoGuzzi STELVIO 1200 ABS 2014 can be equipped the best at the dealer`s. The factory provides a practical selection of basic touring accessories and the equipment producers the rest with universal solutions. The brother model MotoGuzzi STELVIO 1200 NTX 2014 has an exceptional level of standard touring equipment which makes it very interesting alternative with wider routing potential on top. All the basics are in order and the STELVIO is simply a fine touring motorcycle without the latest MC -technology and the big fuel tank makes it perfect for long LEGs. Since this model has been on the market already few years, I would like to see in the next generation a GPS -support bar above the instrumentation, adjustable foot pegs & handlebar and a cruise control at least. Read more about the MotoGuzzi STELVIO 1200 ABS 2014 here.