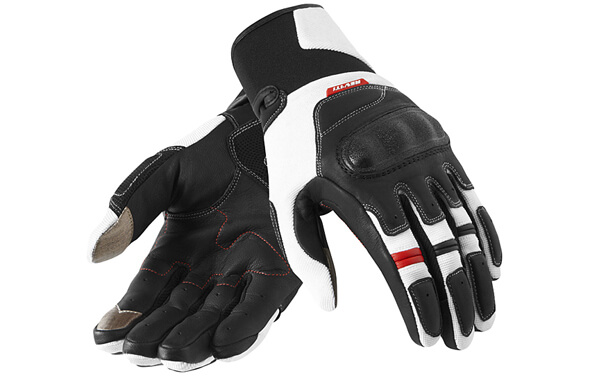 Finally REV`IT has launched one of the first smartphone compatible allroad motorcycle touring gloves called the Striker. The inside surface panels of the forefinger and the thumb conduct electricity like the human skin and allow to use the smartphone and tablet touchscreens gloves on. Earlier it was impossible to tab the smartphone screen gloves on and you really had to take the gloves off which made using smartphones as navigators and multimedia units quite unpractical. Now those days are finally over and more producers probably are working on it too.
REV`IT Striker Glove Features
The REV`IT Striker is designed for hot weather touring and offroad riding. Along with the short cuffs, the Striker offers back side ventilation panels made of stretch materials providing also more comfort and elasticity. The Striker glove provides adequate protection with leather reinforcements, TPR knuckle protector and EVA -foam pads at the fingers, around knuckles and the heal. The finger joints are also equipped with elastications eliminating pressure in the grip position. The palm has a single skin layer construction giving exact feel on the handlebar. The REV`IT Striker is available in 4 colours, black, black & white, silver & red and silver & black.