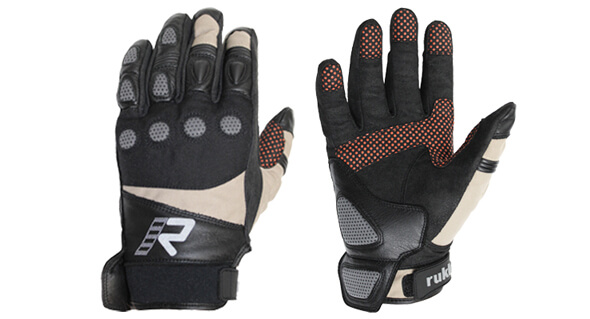 RUKKA Him motorcycling gloves with short cuffs are an interesting choice for hot weather allroad touring. The HIM -gloves are properly ventilated and protected against sliding accidents, but the impact protection suffers slightly from better ventilation features and is therefore on an average level. The shell of the HIM -gloves is made of quality MC garment materials such as highly abrasion and tear resistant CORDURA® and synthetic CLARINO suede. Reinforcements are made of real leather and SuperFabric completes the slide protection. The RUKKA Him -gloves fit very well and adapt the grip posture due to the thin and pre-shaped palm construction. In addition pre-curved fingers with elasticated articulations complete the perfect fit. Extra grip on finger tips and palms are generated with silicone flecking.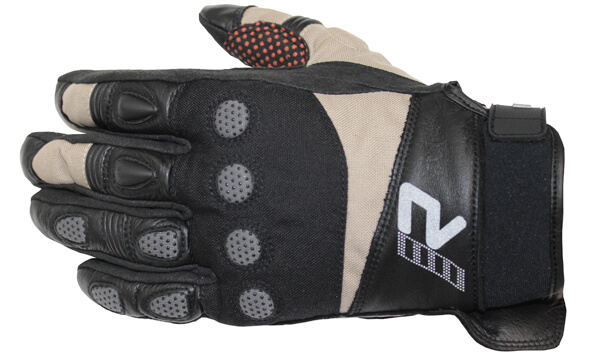 The backhand of the RUKKA Him -glove is made of CORDURA® which allows constant air flow through the shell construction. The air flow keeps the rider`s hands comfortable and operational in hot weather conditions. The HIM -glove ventilates more efficiently due to lighter knuckle guarding and backhand lining, but since these motorcycle gloves are not made of mesh like CORDURA® AFT fabric, the hottest conditions above 30 degree or 86 fahrenheit may be a lot to take. The palm side CLARINO -leather is abrasion and tear resistant material. The thin CLARINO layer is flexible and delivers an exact feedback from the handlebar. The silicone flecking provides extra grip which is beneficial for example in dusty allroad conditions. The RUKKA Him -gloves offer proper heel protection. The heel area is reinforced with real leather and protected with foam padding and ceramic SuperFabric plates on top. Wrist protection is exceptionally good due to extended foam padding with the SuperFabric surface. I hope this sort of clever details became more general in the future.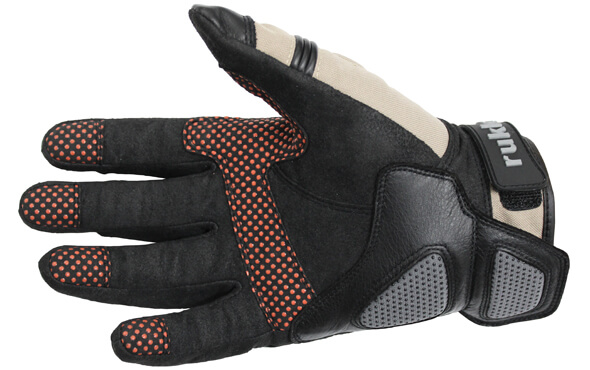 The RUKKA Him -gloves match the requirements of allroad touring in very warm conditions, but I would like to enjoy the benefits of a full sand brown backhand and minimize the black surfaces as much as possible. Even as it is, the HIM -gloves integrate perfectly with the RUKKA Päijänne Gore-Tex® jacket and pants using the same shell material. The CORDURA® AFT would be an interesting shell material alternative and provide even higher air flow in the hottest conditions, but let`s leave that for the near future and wait what RUKKA offers for us along the RUKKA Airman Gore-Tex® jacket. Read more about the RUKKA Him -gloves here.