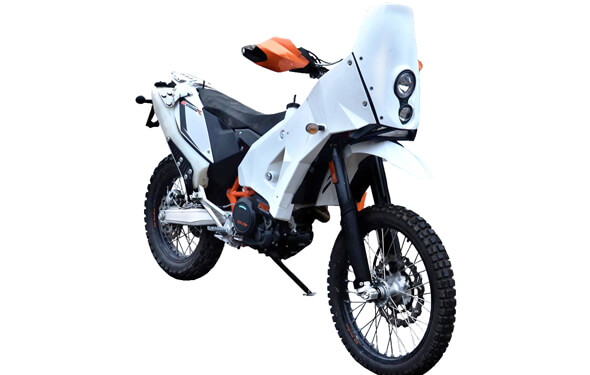 The British tune up kit and accessory manufacturer RallyRaid Products offers interesting options for KTM 690 Enduro R 2013 riders. There are parts for bike protection, ergonomic adjustments and replacements for OE -parts that are not rugged or good enough for hard core riding. RallyRaid provides 2 product lines to build up the standard KTM 690 Enduro R 2013 more further, the EVO1 and EVO2. They are both divided to 2 slightly different kind of requirements, the dakar style racing and adventure type of riding. This means that the 690R cockpit is converted either for a racing navigation tower requirements or regular allroad riding instrumentation. Both fairing kits include twin headlights that are easily better than the regular headlight.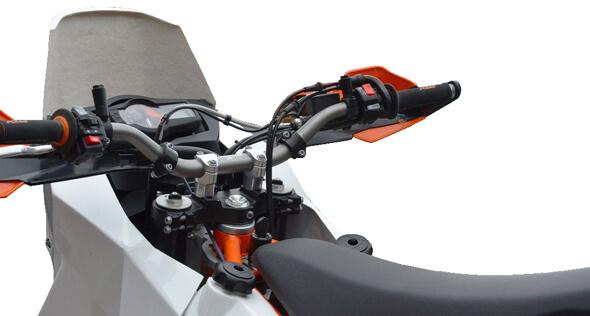 The RallyRaid -tune up kits for KTM 690 Enduro R 2013 can be installed without modifying the frame, drilling holes or welding which is important for most of us having limited selection of tools and ability to work with the chassis. The rugged cockpit and navigator tower support has been tested in racing conditions which applies more than well to demanding adventure touring. The RallyRaid tune up kits can be also removed later on from the bike and the KTM 690 Enduro R 2013 can be turned back to standard which could be interesting when putting the bike back on sale.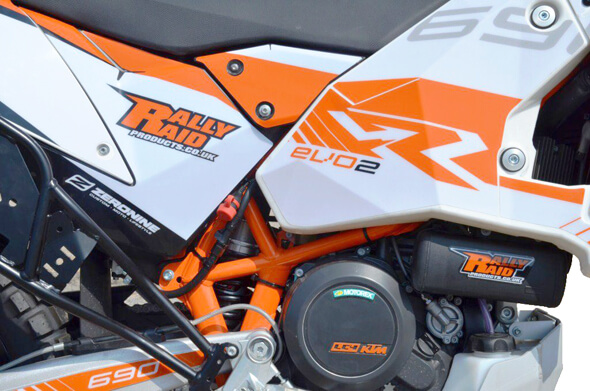 A complete KTM 690 Enduro R 2013 RallyRaid tune up kit consists of a fairing kit, 2 fuel tanks at the front and a graphic set. Note that both of the RallyRaid fairing kits require additional fuel tanks at the front in order to fit and be installed to the bike. A complete RallyRaid Adventure EVO1 tune up kit provides additional 9,5L fuel capacity on top of the standard 12L. The EVO2 provides a half litre bigger fuel capacity (10L), but there is available also an additional rear fuel tank (4,5L) which would increase the fuel capacity up to 26,5L all together (12+14,5L). Depending on routing, payload and riding style in question, that would perhaps be some kind of minimum for adventure touring in the most remote locations.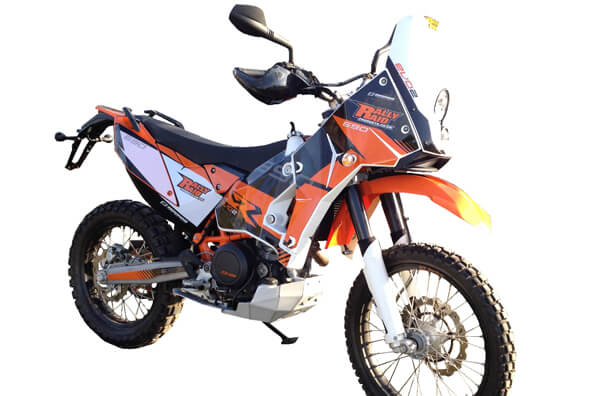 Compared to a KTM 690 Enduro R 2013 Quest TuneUp kit, the RallyRaid TuneUp kit offers 5,5L less fuel capacity and no alternative rally seat. On the other hand, the RallyRaid offers a wider range of tuning parts including low fenders, power sockets, several graphics, replacement parts etc. The RallyRaid seems to be professional and highly dedicated to adventure riding in challenging conditions. Since the KTM 690 Enduro R 2013 is one of the most interesting light adventure touring bikes, the RallyRaid keeps the eye on it and offers interesting alternatives for KTM -riders.