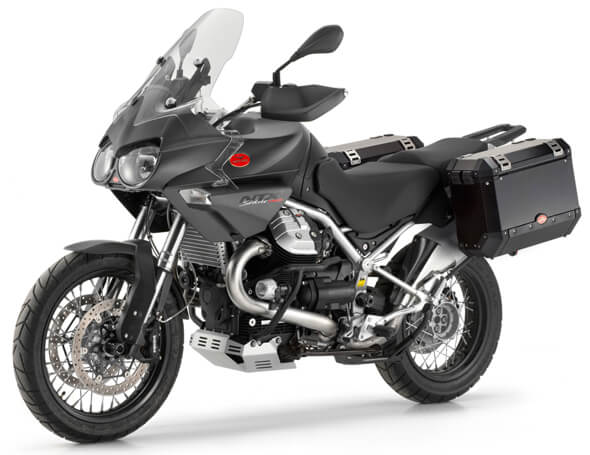 MotoGuzzi STELVIO 1200 NTX 2013 is an interesting allroad touring enduro. More traditional, but still up to date and capable of going remote places. The STELVIO -standard equipment level is exceptional high and provides an interesting start for a lot of riders. The MotoGuzzi STELVIO 1200 NTX 2013 offers proper ergonomics, basic riding aid support and exceptional fuel range. There are ABS and traction control systems that can be also switched OFF. The ABS is not integrated which is the traditional way and the best choice for offroad riding. The STELVIO V2 -engine offers very practical torque and reasonable amount of power which can be also better controlled in offroad conditions. The STELVIO -rider seat is adjustable and below the passenger seat there is a useful compartment for tools.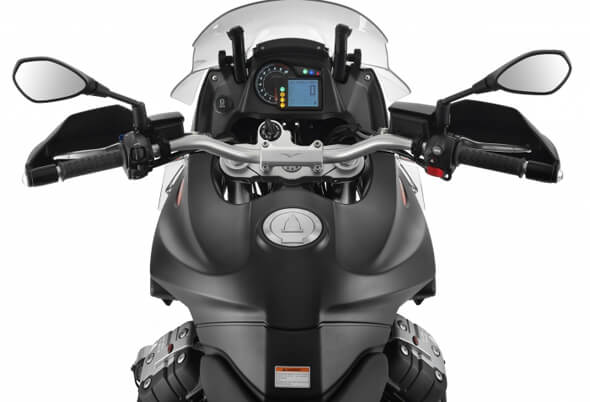 The MotoGuzzi STELVIO 1200 NTX 2013 is not ride by wire throttled and there is no cruise control which is a small draw back from the touring point of view. Never the less, the STELVIO is very comfortable and enjoyable to ride, thanks to the large wind cover and adjustable windshield among others. The average size MotoGuzzi STELVIO 1200 NTX 2013 -alternator backs up the trip with two 12V power outlets. One in the cockpit and another below the passenger seat. A modern instrumentation supports navigation and fuel monitoring. Although the STELVIO has a large fuel tank, it has no low octane fuel settings. On the other hand, the fuel tank counter balances the payload at the back which makes the STELVIO probably one of the best balanced touring motorcycle with a full touring load.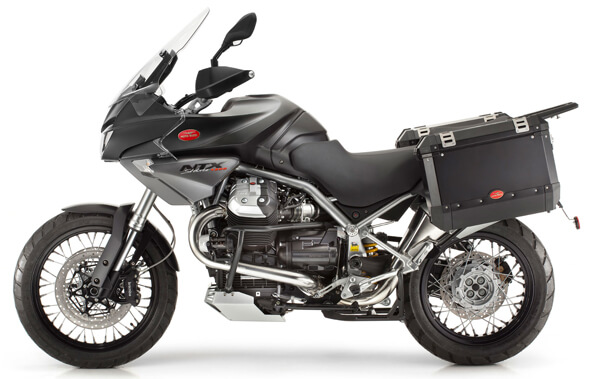 The MotoGuzzi STELVIO 1200 NTX 2013 has also a considerable background. The MotoGuzzi has a long experience in the allroad touring category and the MotoGuzzi STELVIO was first time introduced around 1986 when AFRICAN -desert rallies and adventure bikes were popular. Now the MotoGuzzi has achieved the level were the competition becomes again interesting. The italian MotoGuzzi provides two interesting dual "sport" touring motorcycles, the basic model MotoGuzzi STELVIO 1200 ABS 8V 2013 and the more adventurous MotoGuzzi STELVIO 1200 NTX 2013 factory upgrade which challenges the category leader BMW R1200GS Adventure 2013. Read more about the MotoGuzzi STELVIO 1200 NTX 2013 here.